On December 1, 2022, GMX token price surges upwards, breaking past $50 per unit. They are now cruising at $54.12, their second-highest level in history. The price skyrocketed after traders appraised that the DEX has successfully overtaken their biggest rival Uniswap.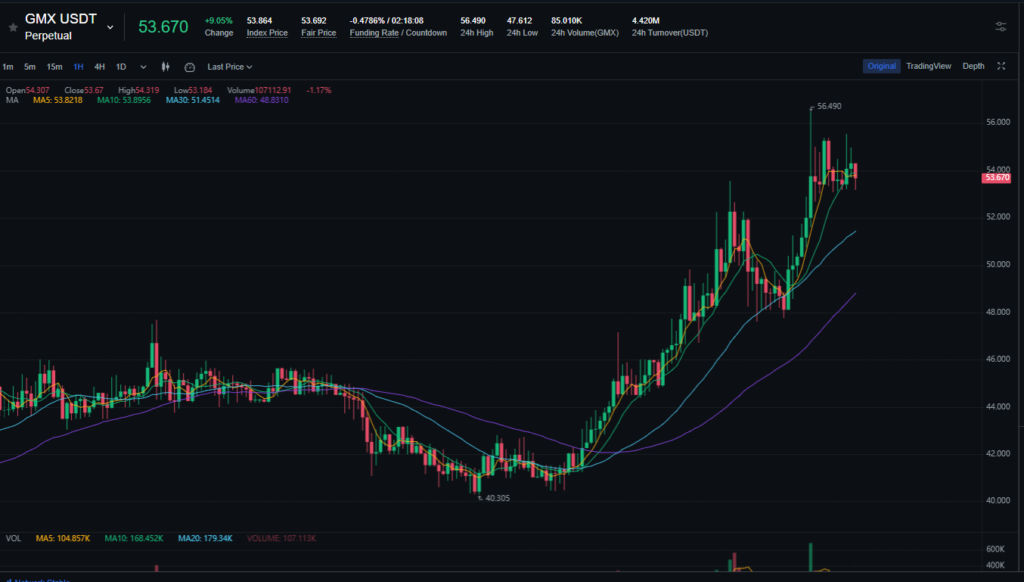 Yesterday, crypto research firm Delphi Digital shed light on Twitter regarding GMX and Uniswap. According to their research, GMX collected $1,167,858 in daily fees. Meanwhile, Uniswap earned $1,061,461 in daily fees. That is a notable 10% lead and it was an amazing feat. For reference, data at DefiLlama shows that Uniswap takes the number 1 spot, dominating the charts with a 24-hour volume of $796.07 million. GMX on the other hand is currently ranked at 18 with an $8.2 million 24-hour volume.
This feat had nevertheless pushed forward the buying momentum in the GMX market, bringing their price up to $56.49. Furthermore, FTX's collapse created a bad name for centralized exchanges and in return, users flocked toward DEX such as GMX. According to data on Token Terminal, GMX racked up a 108% increase in revenue this year. They also have a 30.4% increase in 30 days of daily active users and a 118% increase in annualized trading volume.
Meanwhile, Uniswap saw a 5.9% increase in daily active users and a 71% increase in annualized trading volume. Don't get me wrong, it is still a great achievement. However, it does come off as weaker compared to the star of the show. Currently, GMX is retesting its resistance trendline to see if it can outgrow its ATH, $66.66. However, the market sentiment is still bearish and we might witness some form of a dip toward its $42 support.
Closing Thoughts
Do you think GMX will maintain its current trajectory and breakthrough toward its all-time-high? Or will it fall back down to their $40 range? Nevertheless, it is already an outstanding achievement for the DEX. At one point, their price reached an all-time-low of $11.53. In the meantime, check out our MEXC trading page and find out what we have to offer! You can learn more about crypto industry news and interesting articles to get you up to speed with the crypto world. Happy trading!
Start your travel on MEXC Global