Aptos or APT (APT/USDT – Trade it here) is a proof-of-stake (PoS) Layer 1 blockchain that uses the Move programming language and virtual machine (MoveVM) for dApp development. APT is the native token for network fees, validator staking and governance. MEXC is the very first exchange to list Aptos so don't forget to check us out and see what other hot projects do we have in store!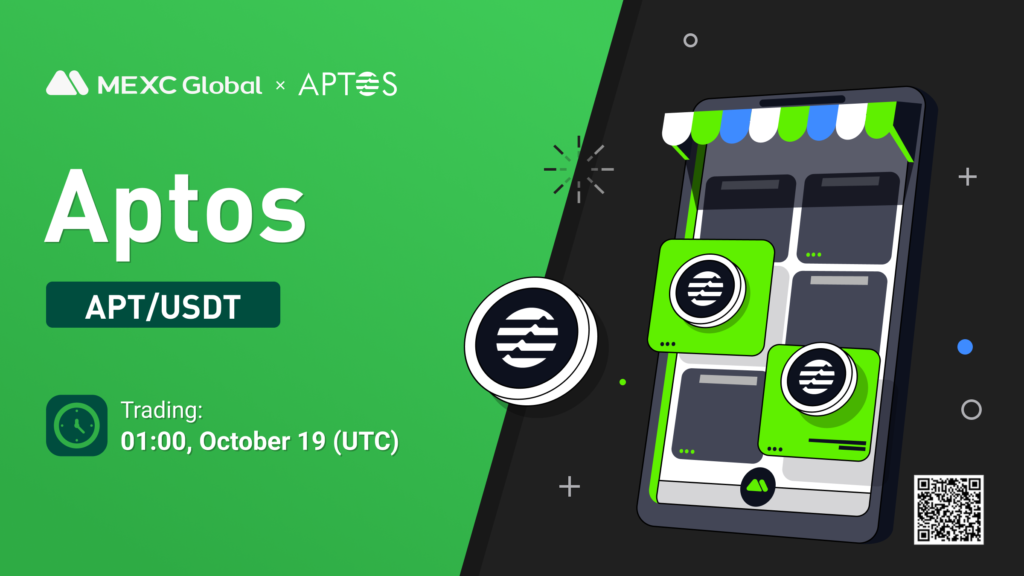 The Idea behind Aptos
Despite the presence of many blockchains today, significant adoption of web3 has yet to occur. Aptos aims to create a blockchain capable of bringing mainstream adoption web3 and empowering an ecosystem of decentralized application ecosystem to tackle real-world user problems. When infrastructure demands increase throughout the world, the blockchain's processing resources should scale up horizontally and vertically to meet those demands. Therefore, the objective of Aptos is to enhance the state-of-the-art in blockchain dependability, safety, and performance. In return, they can provide a flexible and modular blockchain architecture.
Who Is The Brainchild of Aptos Lab?
Mo Shaikh is the CEO of Meridio and was previously the director of strategy at ConsenSys. He is presently a consultant and board member for a number of companies.
Avery Ching has over ten years of experience as a software developer. She was also the vice president of Apache Giraph.
Additionally, all other employees of Aptos Lab has been doxed and provided with full transparency on their LinkedIn profile.
How does Aptos works?
In order to meet the dependability and safety standards set by Aptos's vision, their blockchain is build on a few of these core principles:
Creating a new smart smart contract programming language, Move
Move enables fast and safe execution as well as simple auditability and mechanical analyzability. It began with the forerunner of the Aptos blockchain and has continued to evolve alongside the project.
Creating an extremely high throughput and low latency through a batched, pipelined, and parallelized approach to transaction processing.
Provides a novel parallel transaction process
In contrast to previous parallel execution engines that need advance knowledge of data locations to be read and written, Block-STM provides novel parallel transaction processing that effectively enables atomicity with arbitrarily complicated transactions.
Performance and decentralization optimizations are achieved by quick stake-weight validator set rotation and reputation tracking.
Implement upgradability and configurability into their core design concepts.
In layman terms, Aptos is the new layer 1 blockchain that is much faster, more secure and more scalable than all the current live blockchains. You can read more of their in-depth details at the white paper.
Who Are Their Competitors?
Ethereum – The first blockchain platform particularly intended for smart contracts.
L1 projects that have been created include Binance Smart Chain, Solana, Avalanche, and others.
ASTAR, Moonbeam, and other early Language 1 (L1) programs
Polygon, Arbitrum, Optimism, and other L2-related projects.
Sui, Celestia, and other incomplete L1 initiatives
Who Will Withhold The Ownership of Aptos?
A large and varied community will own, administer, and govern the Aptos blockchain. Aptos tokens will be utilized for transaction and network fees, governance voting on protocol changes, on-chain/off-chain operations, and blockchain security via a proof-of-stake architecture. However, detailed discussion of Aptos token economics will be published in the near future.
Recent Price & Performance of Aptos Token (APT)
Aptos reached the highest price (ATH) of $29.5 USD on October 19, 2022. Currently, they cost $7.2095 USD per unit with a market cap of $948,219,861 & fully diluted market cap of $7,293,998,929. You can check the live price of Aptos Token right here!
How to buy Aptos Token (APT)?
You can buy Aptos Token (APT) on MEXC by the following the steps:
Log in to your MEXC account and click [Trade]. Click on [Spot].
Search "APT" using the search bar to see the available trading pairs. Take APT/USDT as an example.
Scroll down and go to the [Spot] box. Enter the amount of APT you want to buy. You can choose from opening a Limit order, a Market order or a Stop-limit order. Take Market order as an example. Click [Buy APT] to confirm your order. You will find the purchased APT in your Spot Wallet.
You can find a detailed guide on how to buy APT tokens here.
Personal thoughts on Aptos and Their Project
In my opinion, they have a huge potential as an L1 which we should not overlook. A key note to mention is that Aptos is being backed by both Binance and FTX, making them a force to be reckoned with. Early evaluation shows that Aptos with its user friendly base and exceptional tps will bring a significant difference compared to their peers. Perhaps this might be able to attract some non-crypto entities to join in on the journey, increasing public willingness towards the understanding of blockchain. With the current hype of Aptos in place, I believe that a long term investment on APT Token can potentially bring in good results.
In the meantime, MEXC will be listing Aptos (APT) on the Innovation Zone. You can learn what Aptos has installed for us in detail at their official website. Don't forget to check out what we have on our Hot Trending page!