Key Takeaways:
MX Token records a new high, trading at $3.50.
331% annual increase!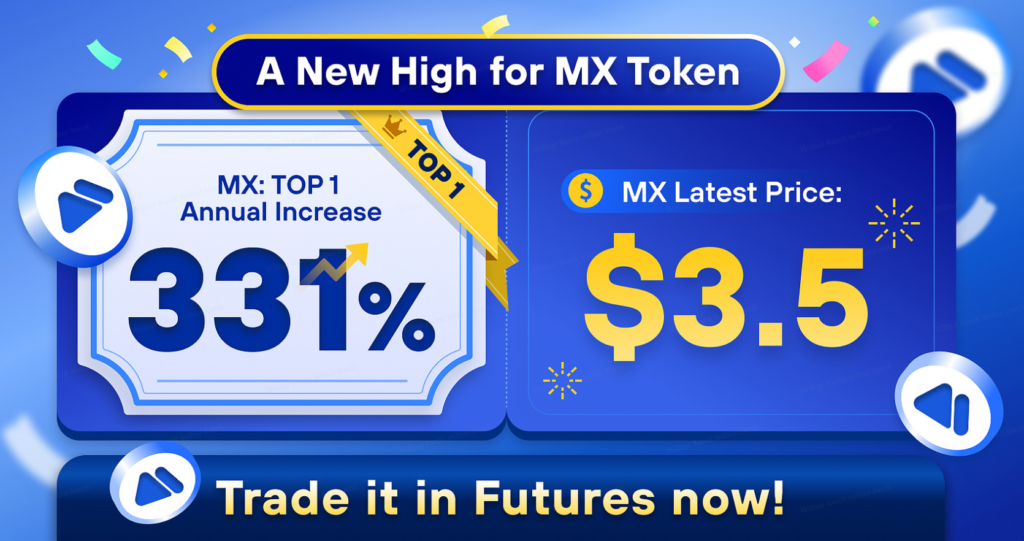 What is the MX Token?
MX Token is a digital asset that operates on the Ethereum blockchain. As a utility token, it powers the ecosystem of the MEXC exchange, providing various benefits to its holders. One of the few benefits is free airdrops and small balance conversion. In recent times, MX Token has experienced a meteoric rise, attracting the attention of both seasoned and novice traders.
MX Token Reaches All-Time High in 2023
In 2023, MX Token achieved a significant milestone by reaching an all-time high of the year! On June 3, 2023, the MX token successfully broke through $3.50 USDT. Furthermore, there was almost 2 million worth of trading volume. The only time we ever saw $3.50 was 2 years ago during the peak of a bull run. Therefore, this new high during a slow market proves that MEXC is performing well beyond expectations.
MX Token Growth Rate: 331%
The growth of MX Token has been nothing short of exceptional, with a remarkable increase rate of 331%. On January 1, 2023, we were only trading at $0.81 per token. However, in a short few months, all MX token holders are able to reap the benefits of maximum gains.
Where to buy MX Tokens
MEXC is definitely your go-to platform for MX tokens! We offer one of the highest liquidity and excellence in services for all your trades!
You can buy MX Token (MX) on MEXC by following the steps:
Log in to your MEXC account and click [Trade]. Click on [Spot].
Search "MX" using the search bar to see the available trading pairs. Take MX/USDT as an example.
Scroll down and go to the [Spot] box. Enter the amount of MX you want to buy. You can choose from opening a Limit order, a Market order, or a Stop-limit order. Take Market order as an example. Click [Buy MX] to confirm your order. You will find the purchased MX in your Spot Wallet.
You can find a detailed guide on how to buy MX tokens here.
Trading MX Token on Perpetual Futures
Did you know MEXC is the only exchange that offers perpetual futures for MX Token? We are the premier platform providing a secure and intuitive environment for traders to access the MX Token futures market. Furthermore, trading MX Token futures on MEXC comes with several notable benefits.
Firstly, traders can enjoy high liquidity, ensuring efficient execution of trades. Additionally, MEXC offers advanced trading features, including leverage options and diverse order types, empowering traders to tailor their strategies to their specific needs. Furthermore, MEXC provides a user-friendly interface and comprehensive customer support, facilitating a seamless trading experience.
How to Trade MX Tokens on Futures?
Here are a few simple steps to trade MX Token (MX) on MEXC futures:
Log in to your MEXC account and click [Futures]. Click on [Perpetual Futures].
Go to the search bar and look for "MX/USDT Perpetual".
Add funds into your futures wallet.
Select your leverage, choose your entry point, and begin trading!
Get Free Airdrops with MEXC Launchpad!
Did you know MEXC gives out 20+ free airdrops weekly? Launchpad and Kickstarter events ensure that all our loyal MX token HODLers receive a ton of new tokens! Learn all about it at our MX Zone now!
Meanwhile, check out all of the listings in the Innovation and Assessment zones as well as the major tokens in the Main Zone – we have more amazing projects to come! Visit the Hot Projects section as well to uncover more featured popular tokens. Lastly, feel free to visit MEXC Academy to learn more about cryptocurrency!
Start your travel on MEXC