Binance announced they agreed to buy FTX to save its users from the liquidity crisis yesterday. But guess what? Today, there are rumors saying that Binance might drop the deal after reviewing the FTX's order book and other financial metrics. According to a poll on CoinDesk's Twitter account, 42.5% of the voters believe that CEO CZ probably will not take the deal. 33.9% of the voters think Binance will absolutely buy FTX and save its users. What do you think? How does that affect the price of SOL? Now let's discuss your most concerning topic – the price of FTT.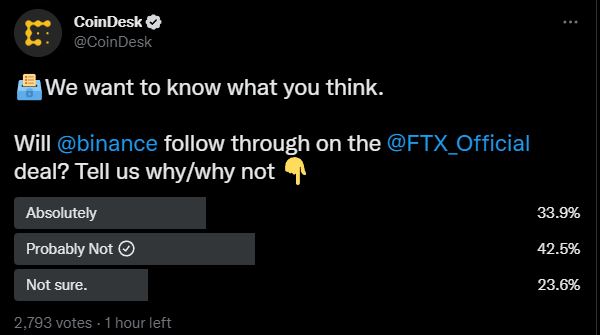 At the time of writing, FTT price is at $2.986, almost 46% down compared to 24 hours ago. Yesterday, FTT price dropped by 75.14%. Compared to a month ago, FTT value tanked 88.86%. This has not only affected retail investors, but also put some institutions in an ugly situation.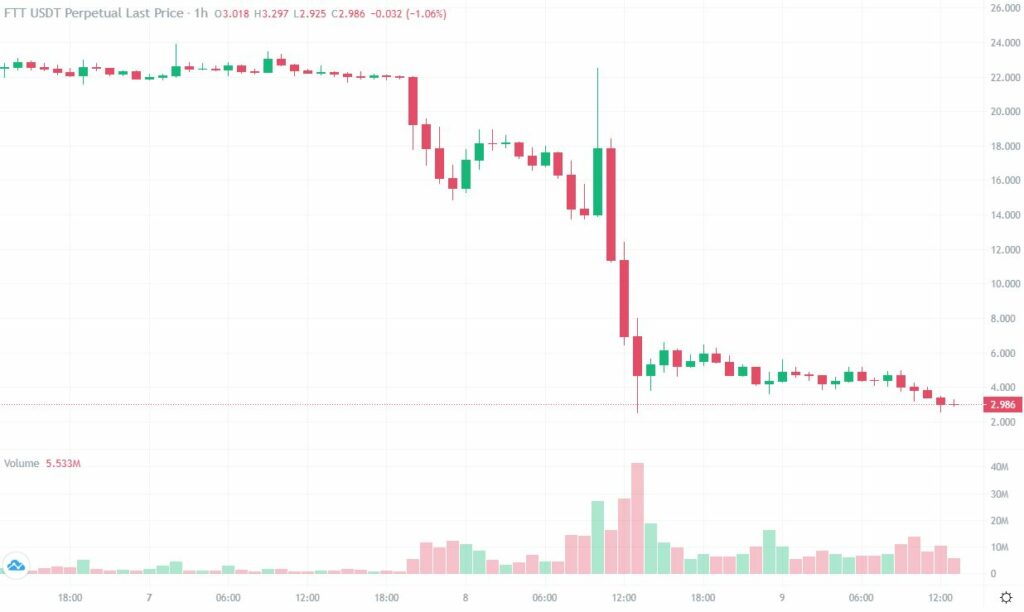 According to a report from CoinDesk, there is a list of companies that are exposed to the risks of this battle between the two of the biggest crypto exchanges. The list includes Gemini, Wintermute, Multicoin and more. Yesterday, crypto exchange Gemini tweeted and said that they "hedged and sold collateral resulting in a total loss of ~$7M across all counterparties, including Alameda.". Gemini also clarified that they have a trading but not lending relationship with FTX. It seems like they are trying to draw a line with FTX and ensure their users' confidence in this unsteady market.
What about Solana?
At the same time, Solana token SOL is negatively impacted because of this unclear deal. The price of SOL was down 19.56% yesterday. The dump is not over yet. SOL price keeps dropping today by 54.13%, reaching a low of $9.67 at the time of writing. So why does it get impacted so badly? Based on a report from Fortune Crypto, FTX and CEO Bankman-Fried has been supporting Solana for years. It is worth mentioning that SOL is the second biggest holder for Alameda, a trading shop created by Bankman-Fried. It represents around 10% of Solana's market cap.
Now I can smell the fear in the air. This is because, hypothetically, if Binance gains such a large amount of SOL, it might prioritize their own tokens BNB and therefore sell their SOL holdings causing an even lower price. We can see SOL is suffering from the direct relationship with Bankman-Fried, and so far the crypto community is still waiting for the official announcement from Binance in regards to the deal.
Closing Thoughts
Not gonna lie, CZ made a smart move that has successfully kicked out one of its biggest competitors out of the picture. I also admire how FTX founder Bankman-Fried is willing to sell its glorious "workpiece" in order to save their users. At this moment, I don't know what is the ending of this crypto drama. I just hope individual investors can trade with caution and the exchanges can protect their users.
Are you bullish or bearish on FTT (FTT/USDT – trade it here) and SOL (SOL/USDT – trade it here)? Start your crypto trading journey now with MEXC global! Don't forget to check out our daily industry news to stay tuned in the market.