Every anime lover out there secretly wants a waifu. Do not even try to deny it. It is our dream and passion. Today, WaifuAI is here to make dreams a reality. Introducing WaifuAI, a place for you to realize your fantasies with cryptocurrency!
Essential information for their token is available on the MEXC Digital asset introduction page. Furthermore, we are listing (WFAI/USDT – Trade it here) on our Innovation Zone! Check it out now!
What Exactly is WaifuAI?
To understand what is WaifuAI, we have to first understand the term waifu. The term "waifu" refers to a fictional character. It is often from anime or related media, for whom someone holds deep affection, sometimes even romantically. The word "waifu" originated in Japan as an adaptation of the English term wife. Anime enthusiasts started using "waifu" to describe a character they felt a strong connection to, considering them special.
So, what is WaifuAI? It is a meme coin specifically for your love of anime wife. Indulge in the captivating universe of WaifuAI, an extraordinary meme coin adorned with the irresistible charm of anime characters inspired by reality. Immerse yourself in a self-governed ecosystem where WFAI transcends the boundaries of a conventional meme coin, embodying unparalleled allure, beauty, and influence.
Which WaifuAI is Available?
According to their main website, Jenna, Emily, and Mia is for you to pick from. They each have their personal fashion style and characteristics. Furthermore, their age, occupation, and personalities differ! I do not plan to spoil your joy. Therefore, head on to WaifuAi and discover the blurred line between fantasy and reality yourself!
Tokenomics of WaifuAI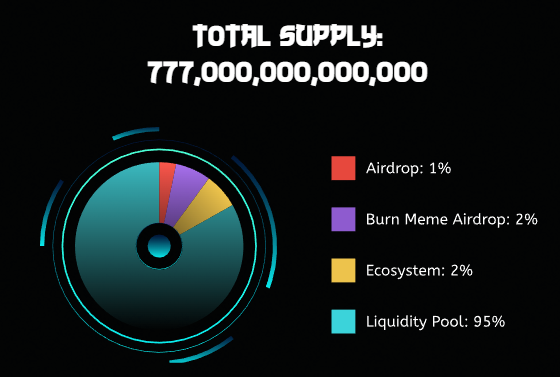 A significant portion, 95% of the tokens, were sent to the LP (liquidity pool), and LP tokens were subsequently burned, ensuring the security and integrity of the contract, which was then renounced.
As a gesture of appreciation, 1% of the token supply was airdropped to all holders of PEPE, LADYS, and SHIB. Moreover, an additional 2% of the supply was airdropped to holders who burned their PEPE, LADYS, and SHIB tokens.
To support future centralized exchange listings, bridges, and liquidity pools, the remaining 2% of the token supply is securely held in a multi-sig wallet. You can easily track this wallet using the Ethereum Name Service (ENS) address "wfai.eth".
Where to buy WFAI Token
You can find WFAI Tokens here at MEXC! We are listing WFAI/USDT in our Innovation Zone!
What is the Price of WFAI Tokens?
The WFAI token is trading at MEXC for $0.00000005477! It has a fully diluted market cap of $41,774,702. It also has a 24-hour trading volume of $2,766,165. You can check the live price of their token right here!
How to buy WFAI Tokens on MEXC
You can buy WFAI Tokens on MEXC by following the steps:
Log in to your MEXC account and click [Trade]. Click on [Spot].
Search "WFAI" using the search bar to see the available trading pairs. Take WFAI/USDT as an example.
Scroll down and go to the [Spot] box. Enter the amount of WFAI you want to buy. You can choose from opening a Limit order, a Market order, or a Stop-limit order. Take Market order as an example. Click [Buy WFAI] to confirm your order. You will find the purchased WFAI in your Spot Wallet.
You can find a detailed guide on how to buy WFAI Tokens here.
Get Free Airdrops with MEXC Launchpad!
Did you know MEXC gives out 20+ free airdrops weekly? Launchpad and Kickstarter events ensure that all our loyal MX token HODLers receive a ton of new tokens! Learn all about it at our MX Zone now!
Meanwhile, check out all of the listings in the Innovation and Assessment zones as well as the major tokens in the Main Zone – we have more amazing projects to come! Visit the Hot Projects section as well to uncover more featured popular tokens. Lastly, feel free to visit MEXC Academy to learn more about cryptocurrency!
Start your travel on MEXC