TwitFi (TWITFI/USDT – Trade it here) is a web 3 social networking service with the GameFi feature. It incorporates Twitter and blockchain. Now, you can tweet and earn rewards! Furthermore, TWITFI is now live on MEXC and you can win rewards by depositing the tokens. Basic information for their token is available on the MEXC Digital asset introduction page.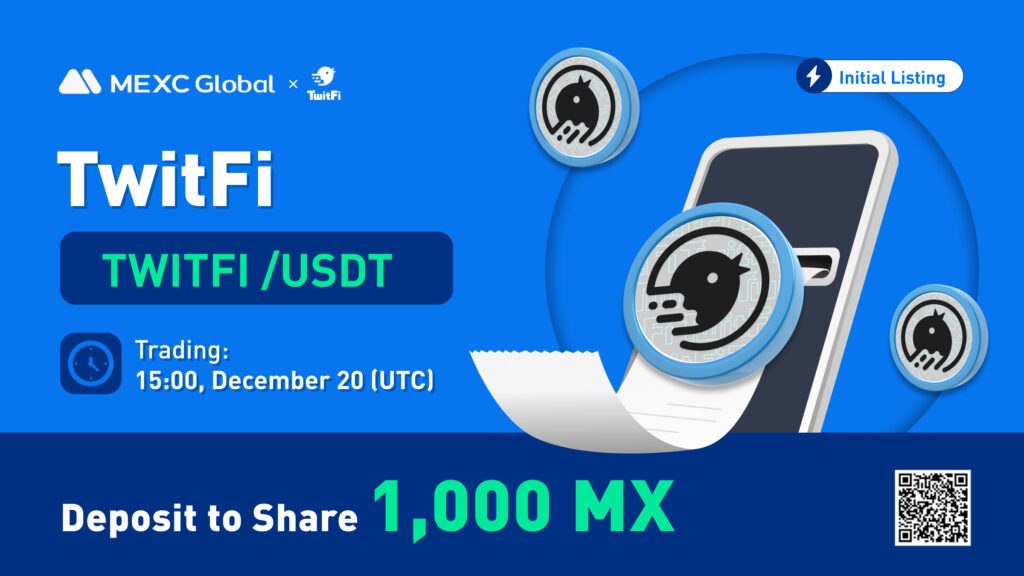 How Does it Work
TWITFI has a very simple concept. All you have to do is tweet. There you have it! Now you can start earning by tweeting. Users can just tweet from the Twitter App as usual and include the hashtag #TwitFi. There are also no special requirements for special apps to make it work.
Users need to link TwitFi to their wallet and Twitter account and do what they usually do on Twitter. Share interesting news, create tweets with #TwitFi and you will receive the in-game tokens (TWT). Users can then use the tokens in-game or trade them in for profits.
As a GameFi, it is impossible to not have NFTs. In TwitFi, users can keep NFTs of bird designs. However, users will have to care for the birds. NFT birds might get hungry or infected with a virus. Furthermore, the birds will evolve as they progress through the levels. Keep an eye out to see what type of birds might pop up soon. When you have two birds above a certain level, you can mint new NFT eggs. Hold more birds and breed more unique NFT birds. A simple yet interesting concept. Check it out now!
Recent Price & Performance of TWITFI
MEXC had recently listed TWITFI on the Assessment Zone and is currently trading at $0.1450. You can check the live price of their token right here!
How to buy TWITFI
You can buy TWITFI on MEXC by following the steps:
Log in to your MEXC account and click [Trade]. Click on [Spot].
Search "TWITFI" using the search bar to see the available trading pairs. Take TWITFI/USDT as an example.
Scroll down and go to the [Spot] box. Enter the amount of TWITFI you want to buy. You can choose from opening a Limit order, a Market order, or a Stop-limit order. Take Market order as an example. Click [Buy TWITFI] to confirm your order. You will find the purchased TWITFI in your Spot Wallet.
You can find a detailed guide on how to buy TWITFI token here.
Keep Yourself Updated With The Crypto Trend
Check out all of the listings in the Innovation and Assessment zones as well as the major tokens in the Main Zone – we have more amazing projects to come! What's more, MEXC lists moonshots and offers access to trade major cryptocurrencies. Visit the Hot Projects section as well to uncover more featured popular tokens. Lastly, feel free to visit MEXC Academy to learn more about cryptocurrency!
Start your travel on MEXC Global