The RADA Foundation is at the forefront of executing diverse cryptocurrency projects. It aims to revolutionize the conventional Sports and Entertainment industry. At the core of this ecosystem lies RADA, the native token that facilitates and powers various aspects of this transformative initiative.
Essential information for their token is available on the MEXC Digital asset introduction page. Furthermore, we are listing (RADA/USDT – Trade it here) on the Innovation Zone! Check it out now!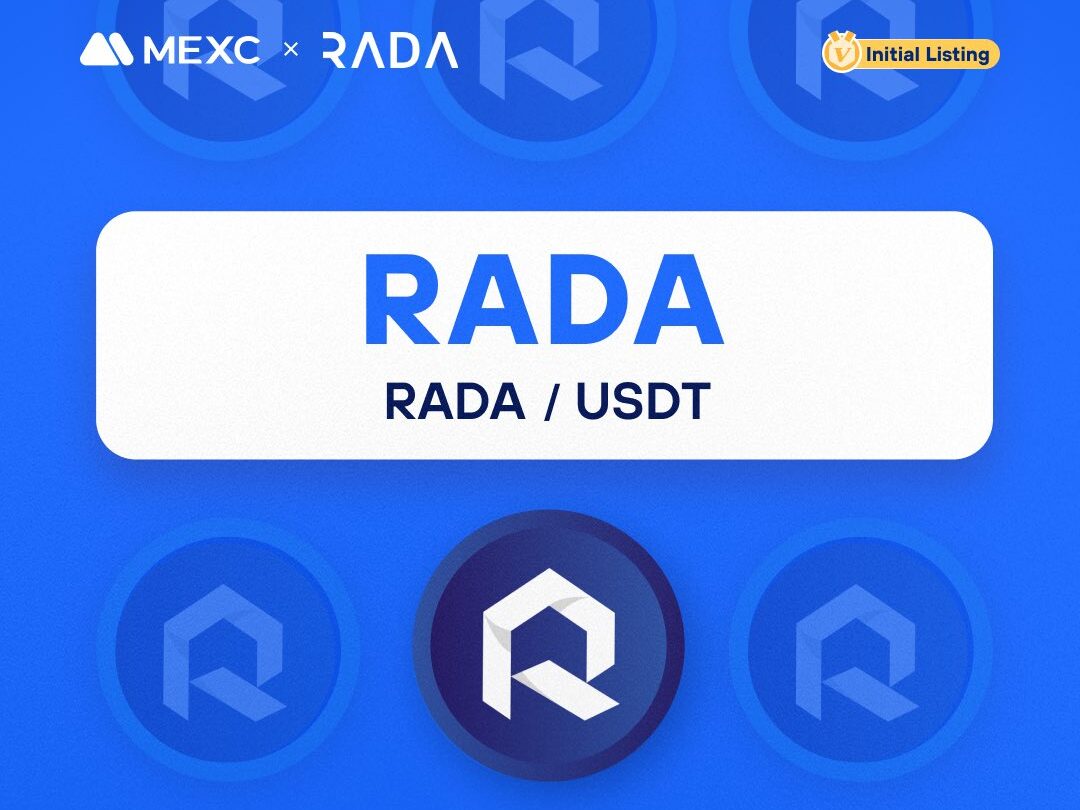 What is The Aim of The RADA Foundation?
To usher in a new era for the football industry, it's imperative to embrace technological integration. Fans and supporters are eager to actively participate in their favorite club's decision-making processes and engage with clubs through social media platforms. The RADA Foundation has a clear mission: to acquire a football club that boasts a robust global blockchain community. This acquisition aims to infuse technology, transparency, and accountability into the club's decision-making processes.
The RADA Foundation has also launched the RADA program. It aims to nurture youth players and create promising opportunities within the football industry. Sound corporate governance is a pivotal factor in effective decision-making. It ensures transparency and accountability, increasing the likelihood of making informed decisions and bolstering fans' confidence in the club's management.
Meanwhile, engaging with fans is a cornerstone of sound club decision-making and the preservation of a club's heritage. The overarching goal of the RADA project is to consolidate ownership into a unified management structure to safeguard the club's legacy. Technology, particularly blockchain, will play a pivotal role in the RADA program and its associated token. This technology empowers various means of fan participation in the club, regardless of geographical location. It also provides innovative avenues for supporting the club, such as funding through NFTs and tokens, as opposed to the traditional methods of purchasing replica shirts and club-related merchandise.
RADA Program – Empowering Sports in Youth
The RADA Program is meticulously crafted to offer exceptional opportunities to young football players who demonstrate outstanding potential. This program's core objective is to identify promising sports talents in collaboration with professional sports academies. Subsequently, these identified talents undergo comprehensive training through a range of global training initiatives, with the ultimate goal of nurturing them into accomplished global sports elites.
Furthermore, their approach is underpinned by a systematic framework. It assures the player's family and also the affiliated academies of complete transparency regarding the player's progress. They will provide comprehensive care services and top-notch facilities, establish rigorous training regimens, and offer essential funding support. Recognizing the pivotal role of player management from an early age, they have meticulously developed a systematic strategy that safeguards our players and enables them to advance to the next level with minimal concerns.\
Where to buy RADA Token
You can find RADA Token here at MEXC! We are listing RADA/USDT in our Innovation Zone!
What is the Price of RADA Tokens?
The RADA Token is currently trading at MEXC with a live price of $0.0129. You can check the live price of their token right here!
How to buy RADA Tokens on MEXC
You can buy RADA Tokens on MEXC by following the steps:
Log in to your MEXC account and click [Trade]. Click on [Spot].
Search "RADA" using the search bar to see the available trading pairs. Take RADA/USDT as an example.
Scroll down and go to the [Spot] box. Enter the amount of RADA you want to buy. You can choose from opening a Limit order, a Market order, or a Stop-limit order. Take Market order as an example. Click [Buy RADA] to confirm your order. You will find the purchased RADA in your Spot Wallet.
You can find a detailed guide on how to buy RADA Tokens here.
Get Free Airdrops with MEXC Launchpad!
Did you know MEXC gives out 20+ free airdrops weekly? Launchpad and Kickstarter events ensure that all our loyal MX token HODLers receive a ton of new tokens! Learn all about it at our MX Zone now!
Meanwhile, check out all of the listings in the Innovation and Assessment zones as well as the major tokens in the Main Zone – we have more amazing projects to come! Visit the Hot Projects section as well to uncover more featured popular tokens. Lastly, feel free to visit MEXC Academy to learn more about cryptocurrency!
Start your travel on MEXC