SquidGrow (SQUIDGROW/USDT – Trade it here) is the next big meme utility token in the cryptocurrency space. Created by one of the biggest Shiba Inu whales, SquidGrow has the building blocks to get to the highest level. With its owner being an early investor in Shiba Inu and having experience investing in meme tokens and holding from the ground up, the possibilities and connections for SquidGrow are endless. The core focus is on building a large and positive community through massive marketing campaigns. The SquidGrow community is what is going to propel the team towards its goal of becoming a leading meme utility coin.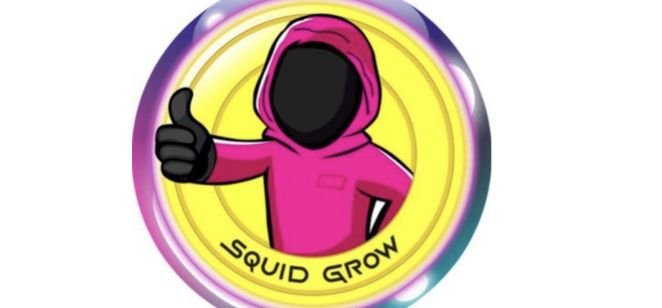 Core Features of SquidGrow Project
SquidGrow is fully decentralized and owned by its love and vibrant community. It welcomes and embraces diverse perspectives to build LOVELY into the best community in the crypto world.
SquidGrow has been audited by a third party Soken.
SquidGrow is decentralized and supported by its community of enthusiasts. It encourages open communication and believes in trust and transparency.
SquidGrow is in for the long haul. The decentralized community is fostering and adopting long-term development of the ecosystem and foundation in efforts to drive real use cases that are dissociated from token usage.
Project Tokenomics
TOTAL SUPPLY: 1 000 000 000 000 000 SG
19% STAKING
5% TEAM
8% MARKETING
8% DEVELOPMENT
8% GIVEAWAY
15% PARTNERSHIPS
3% AIRDROP
9% EXCHANGES
25% LIQUIDITY POOL
The Squid Grow token was designed to rocket in price, and its utility was designed to keep holders on board for the long term. The current main utility for SQUIDGROW is its staking features. Users can lock in their tokens to earn a 50% annual percentage yield (APY), which is paid to the investor in the same token. There is also a liquidity pool offering a 500% APY when depositing the CAKE crypto. This is also paid for by Squid Grow.
For every transaction made using the token, an 8% tax is charged. Unlike a reflection cryptocurrency that pays investors just for holding, the project has not revealed what these profits are used for.
Who is the owner of the SQUIDGROW token?
Conceived by anonymous crypto billionaire "Shibtoshi," SquidGrow is pushing boundaries and setting a precedent for a growing memory utility token. As CEO of SquidGrow, Shibtoshi is one of the largest Shiba Inu holders, which perfectly positions SquidGrow to reach the highest level through numerous carefully sought relationships and experiences.
SquidGrow developers have a long history of working on many projects previously that have reached multi-million-dollar valuations. They also possess the marketing, programming, logical, technical, and operational skills needed to accomplish this project.
Recent Token Price & Performance
Since listed on MEXC in August 2022, SQUIDGROW reached the highest price (ATH) of 0.000000058 USDT last month, and the lowest price of ASR reached 0.00000000638 USDT.
How to buy SQUIDGROW Token?
You can buy SQUIDGROW on MEXC following the steps:
Log in to your MEXC account and click [Trade]. Click on [Spot].
Search "SQUIDGROW" using the search bar to see the available trading pairs. Take SQUIDGROW/USDT as an example.
Scroll down and go to the [Spot] box. Enter the amount of SQUIDGROW you want to buy. You can choose from opening a Limit order, a Market order, or a Stop-limit order. Take Market order as an example. Click [Buy SQUIDGROW] to confirm your order. You will find the purchased SQUIDGROW in your Spot Wallet.
Interested in crypto like SQUIDGROW?
MEXC lists moonshot and provides access to trading of major crypto coins like SQUIDGROW. Keep an eye on our listings in Innovation and Assessment zones, as well as major tokens in the Main Zone – we have more great projects to come! Also, visit the hot projects section to find more hot tokens that were listed already. If you would like to know more about cry