Spider Tanks or SILK (SILK/USDT – Trade it here) is a play-to-earn PVP battle brawl game. Users choose their tanks and weapons, fight, and win victory points! Then, trade in your victory points to receive SILK tokens. Basic information for their token is available on the MEXC Digital asset introduction page.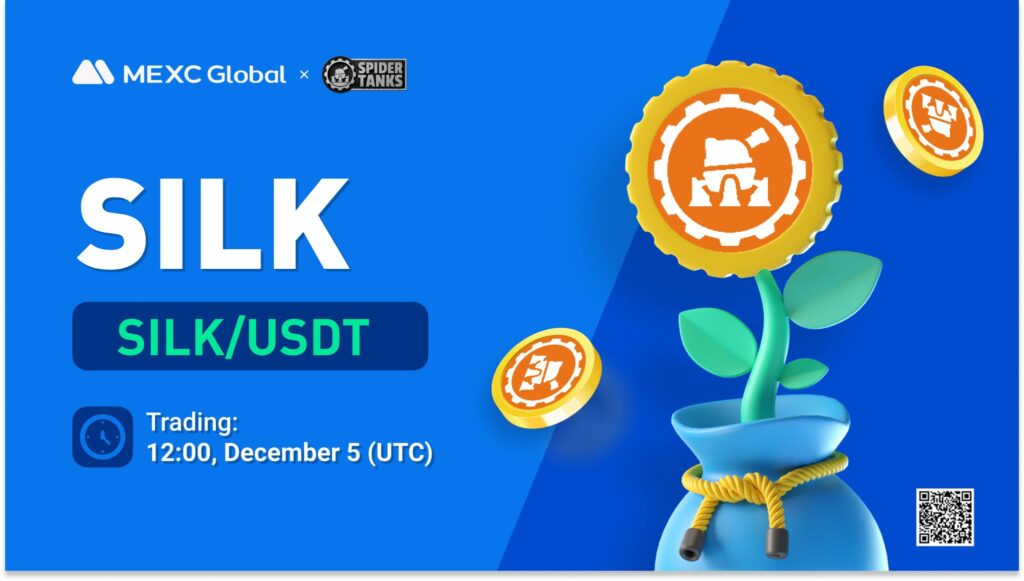 How Does it Work
Spider Tanks has created a P2E ecosystem. It is the first Web3 esports with earnings. It is also a place where users can have fun building their own tanks and bringing them out for battle. The tanks consist of two main parts, the tank body, and tank weapons. Players need to mint the NFT and merge them together, creating an ultimate NFT war machine that will lead you to victory.
Players can participate in the free for all brawl with other players and fight. Furthermore, players who win the game will receive Victory points. They can then trade the victory points for SILK tokens. However, the number of victory points received may vary according to the level and rarity of the NFT tanks.
Of course, no tanks do not mean that you cannot play. Spider Tanks created a pilot program specifically for players who just want to have some fun. Tank owners can let other players use their tanks temporarily to battle. In return, the owner will receive a portion of the victory points if the player wins the game.
As a Web3 game, players can also own lands or in this case, maps. Map owners can let other players battle in their map and receive a portion of victory points as well. The NFT map is connected to a Planetary Node where other players can freely join and have fun together. Furthermore, the level and rarity of the map will dictate how many matches can it organize in a specific time period.
Recent Price & Performance of Spider Tanks (SILK)
SILK is the utility token of Spider Tanks. Users can use it to purchase a lot of in-game items and power-ups. It is also a form of reward for game winners. Currently, their market price is $0.8746 per unit. It has a market cap of $3,913,268 and a fully diluted market cap of $87,475,432. It also has a 24-hour trading volume of $198,207. You can check the live price of their token right here!
How to buy Spider Tanks (SILK)
You can buy Spider Tanks (SILK) on MEXC by following the steps:
Log in to your MEXC account and click [Trade]. Click on [Spot].
Search "SILK" using the search bar to see the available trading pairs. Take SILK/USDT as an example.
Scroll down and go to the [Spot] box. Enter the amount of SILK you want to buy. You can choose from opening a Limit order, a Market order, or a Stop-limit order. Take Market order as an example. Click [Buy SILK] to confirm your order. You will find the purchased SILK in your Spot Wallet.
You can find a detailed guide on how to buy SILK token here.
Keep Yourself Updated With The Crypto Trend
Check out all of the listings in the Innovation and Assessment zones as well as the major tokens in the Main Zone – we have more amazing projects to come! What's more, MEXC lists moonshots and offers access to trade major cryptocurrencies. Visit the Hot Projects section as well to uncover more featured popular tokens. Lastly, feel free to visit MEXC Academy to learn more about cryptocurrency!
Start your travel on MEXC Global