Sandbox (SAND/USDT – Trade it here) is a unique virtual world where players can build, own, and monetize their gaming experiences. At its core, The Sandbox is an ecosystem for Players and Creators, consisting of three main components. It is a Voxel Editor (named "VoxEdit"), a Marketplace, and the Game itself. Basic information for their token is available on the MEXC Digital asset introduction page.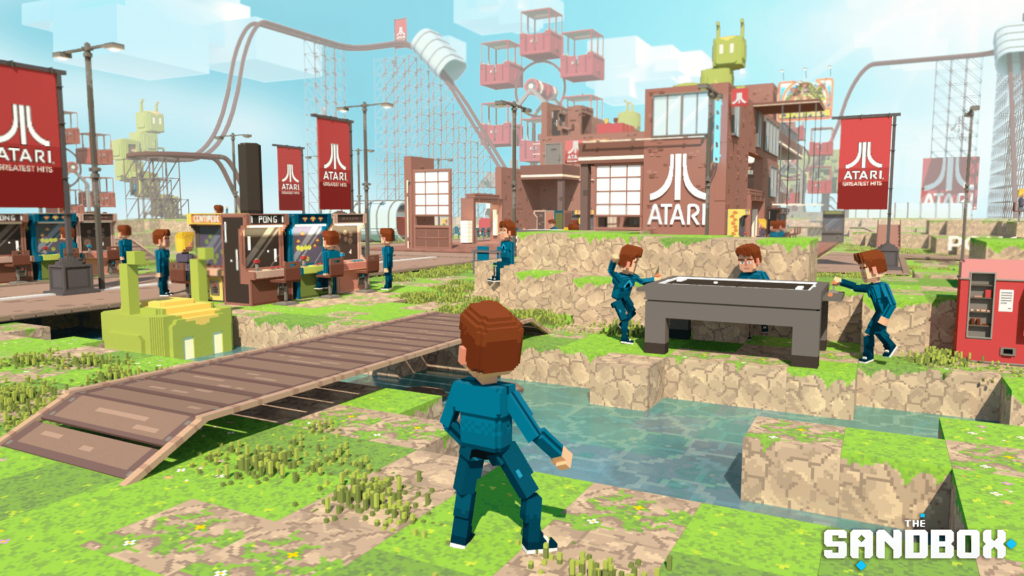 SAND Core Features
The creation of a decentralized blockchain-based gaming platform provides multiple benefits when compared to current, non-blockchain systems, including:
True Ownership – assets stored in player wallets through tokenization of UGC; user retention of copyright in perpetuity; ownership not tied to a game; and creative authorship is immutable.
Secure – Less fraud possibility thanks to blockchain's record-keeping technology.
Creators will receive 100% of the selling price they set for their creations, and multiple creators can automatically share payments and revenue.
Blockchain allows assets to be shared between users for collaboration; and peer-to-peer trading.
The utilization of NFTs in the Sandbox is very important to the ecosystem. With NFTs, the Sandbox managed to provide an ecosystem that provides users with:
True digital ownership

Gamers are the true and perpetual owners of their digital items, even if the game was shut down or abandoned. With blockchain, every game item can be tokenized, allowing gamers to decide how they want to trade, sell, or gift their items.

Security and immutability

Digital game items can be easily tokenized and traded in primary and secondary markets that are managed and facilitated by blockchain technology. Items based on scarcity and demand usually invite fraud and theft, but these risks are minimized on blockchain because it is a distributed ledger.

Trading

Blockchain-based gaming platforms can provide users with ultimate control over their digital assets. They can buy and sell items freely without concern that they will be ripped off or that a platform will close and cancel all the value of their in-game items.

Cross-Application Interoperability

Blockchain provides the capacity for games to utilize shared assets. ASSETS, avatars, LANDS, and any other game elements can be used in other games that allow it. These game items are no longer confined by a narrow digital ecosystem.
SAND Ecosystem
The Sandbox gaming ecosystem consists of three integrated products that together provide a comprehensive experience for user-generated content (UGC) content production.
VoxEdit: This simple-to-use yet powerful free 3D voxel modeling package allows users to create and animate 3D objects such as people, animals, foliage, and tools, and export them into The Sandbox marketplace to become game ASSETS.
Marketplace: The Sandbox's web-based marketplace allows users to upload, publish, and sell their creations (ASSETS) made in VoxEdit, as Tokens (Both ERC-721 and ERC-1155 tokens).
Game maker: Anyone who owns ASSETS, either by making them in VoxEdit or purchasing them, can utilize them with the third and most important ecosystem product, the Game Maker and the Game itself. This product, when launched in Game Maker mode, enables users to place and use their ASSETS within a piece of LAND (an ERC-721 token) that they can own in the virtual world. Users can decorate their LAND with ASSETS, and more importantly, implement interesting and nuanced gameplay mechanics by assigning predefined behaviors to the ASSETS through visual scripting nodes, turning a LAND from a decoration experience into a potential full-game experience.
SAND Tokenomics
SAND has a max. supply of 3,000,000,000 SAND coins. The token is an essential part of The Sandbox platform. The Sandbox is working on establishing key mechanics that makes it intrinsically tied to The Sandbox platform and its value. SAND is an ERC-20 utility token built on the Ethereum blockchain that serves as the basis for transactions within The Sandbox, and has the following uses:
Access The Sandbox platform: Players spend SAND in order to play games, buy equipment, or customize their Avatar character—and can potentially collect SAND through gameplay. Creators spend SAND to acquire ASSETS, LANDS, and through Staking. LAND Sales drive demand for SAND to purchase LANDS. Artists spend SAND to upload ASSETS to the Marketplace and buy Gems for defining Rarity and Scarcity.
Governance: SAND is a governance token that allows holders to participate in Governance decisions of the platform, using a DAO structure. They can exercise voting rights on key elements such as Foundation grant attributions to content and game creators and feature prioritization on the platform Roadmap. SAND owners can vote themselves or delegate voting rights to other players of their choice.
Staking: SAND allows for staking, which allows for passive revenues on LANDS: you get more SAND by staking it. This is also the only way to get valuable Gems and Catalysts, needed for ASSET creation.
Fee Capture model = 5% of all transaction volume carried out in SAND tokens (Transaction Fees) shall be allocated with 50% to the Staking Pool as rewards for token holders that Stake SAND tokens and 50% to the "Foundation."
Recent Price & Performance of Sandbox (SAND)
Currently, their market price is $0.5429 per unit. It has a market cap of $813,313,907 and a fully diluted market cap of $1,627,476,917. It also has a 24-hour trading volume of $83,371,951. You can check the live price of their token right here!
How to buy Sandbox (SAND)
You can buy Sandbox (SAND) on MEXC by following the steps:
Log in to your MEXC account and click [Trade]. Click on [Spot].
Search "SAND" using the search bar to see the available trading pairs. Take SAND/USDT as an example.
Scroll down and go to the [Spot] box. Enter the amount of SAND you want to buy. You can choose from opening a Limit order, a Market order, or a Stop-limit order. Take Market order as an example. Click [Buy SAND] to confirm your order. You will find the purchased SAND in your Spot Wallet.
You can find a detailed guide on how to buy SAND token here.
Keep Yourself Updated With The Crypto Trend
Check out all of the listings in the Innovation and Assessment zones as well as the major tokens in the Main Zone – we have more amazing projects to come! What's more, MEXC lists moonshots and offers access to trade major cryptocurrencies. Visit the Hot Projects section as well to uncover more featured popular tokens. Lastly, feel free to visit MEXC Academy to learn more about cryptocurrency!
Start your travel on MEXC Global