Propel is a comprehensive blockchain infrastructure provider with expertise in DeFi, Staking, and the evolving landscape of blockchain technologies. It aims to deliver robust solutions while adhering to stringent auditing standards throughout the entire development process.
Essential information for their token is available on the MEXC Digital asset introduction page. Furthermore, we are listing (PEL/USDT – Trade it here) on the Innovation Zone! Check it out now!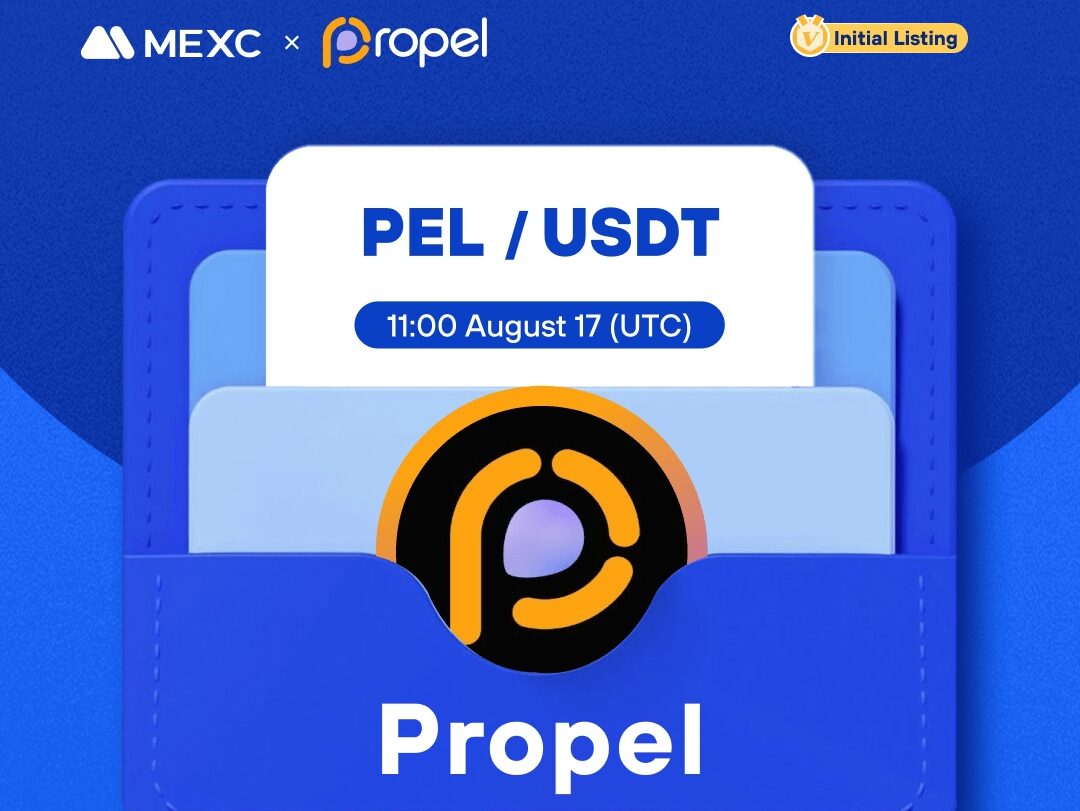 What Does Propel Do?
Every DeFi platform faces the crucial task of onboarding and overseeing its investors. These investors come in various forms. There are early backers who join during private sales or token presales while the project is still in development. There are also regular investors who purchase tokens or make deposits to maximize their returns. In many cases, early investors enjoy added advantages like discounted token prices, early access to platform features, or even decision-making authority. Given these variables, effective management of tokens and investors is a pivotal responsibility for any project.
Propel offers a solution in the form of the Investor Dashboard module, designed for seamless integration into any DeFi project. This module serves as a centralized control center, empowering project owners to:
Execute token sales,
Allocate tokens,
Define lock-in periods, and
Configure different token distribution rounds.
Staking on Propel
Staking plays a pivotal role in every DeFi project. It empowers users to lock their tokens in a smart contract and, in return, earn various benefits. It's a mechanism that not only allows users to actively contribute to the security of the network by immobilizing their tokens but also rewards them with native tokens for their efforts. Staking stands out as one of the most widely embraced services within the DeFi ecosystem, largely due to the attractive incentives it offers.
With Propel's token staking smart contract modules, projects gain the flexibility to craft their own staking programs according to their specific goals and incentives. They have the option to either utilize pre-designed templates or tailor-make their smart contracts. Once the smart contract is created and deployed, the staking program becomes operational on our website, featuring an intuitive user interface.
There are two primary types of staking:
Single-Asset Staking: Users deposit token A and receive rewards in token A, proportionate to the amount they have staked.
Liquidity-Provider (LP) Staking: Users deposit LP tokens (e.g., Token A – BNB pair) and earn rewards in token A, relative to their staked amount.
What Can You Do With PEL Token?
PEL stands as the native ERC-20 governance token at the core of Propel's ecosystem. It plays a central role in staking, facilitating reward distribution for liquidity provision or safeguarding the protocol, and governing various processes across a range of Propel products.
The utility and tokenomics of PEL have been thoughtfully crafted with a community-first perspective. Ownership of PEL, which grants the ability to participate in platform governance, is not simply bestowed but earned through active engagement in protocol operations and maintenance. This approach fosters alignment within the ecosystem by enabling community-driven governance, establishing an equitable incentivization model, and ensuring a genuinely community-oriented governance structure.
Where to buy PEL Token
You can find PEL Token here at MEXC! We are listing PEL/USDT in our Innovation Zone!
What is the Price of PEL Tokens?
The PEL Token is currently trading at MEXC with a live price of $0.00411. It also has a fully diluted market cap of $410,950. You can check the live price of their token right here!
How to buy PEL Tokens on MEXC
You can buy PEL Tokens on MEXC by following the steps:
Log in to your MEXC account and click [Trade]. Click on [Spot].
Search "PEL" using the search bar to see the available trading pairs. Take PEL/USDT as an example.
Scroll down and go to the [Spot] box. Enter the amount of PEL you want to buy. You can choose from opening a Limit order, a Market order, or a Stop-limit order. Take Market order as an example. Click [Buy PEL] to confirm your order. You will find the purchased PEL in your Spot Wallet.
You can find a detailed guide on how to buy PEL Tokens here.
Get Free Airdrops with MEXC Launchpad!
Did you know MEXC gives out 20+ free airdrops weekly? Launchpad and Kickstarter events ensure that all our loyal MX token HODLers receive a ton of new tokens! Learn all about it at our MX Zone now!
Meanwhile, check out all of the listings in the Innovation and Assessment zones as well as the major tokens in the Main Zone – we have more amazing projects to come! Visit the Hot Projects section as well to uncover more featured popular tokens. Lastly, feel free to visit MEXC Academy to learn more about cryptocurrency!
Start your travel on MEXC