Life Crypto or LIFE (LIFE/USDT – Trade it here) is an innovative payment network. Their aim? To simplify crypto payment. LIFE provides flexibility and simplicity to crypto users, allowing for hassle-free transactions. Basic information for their token is available on the MEXC Digital asset introduction page.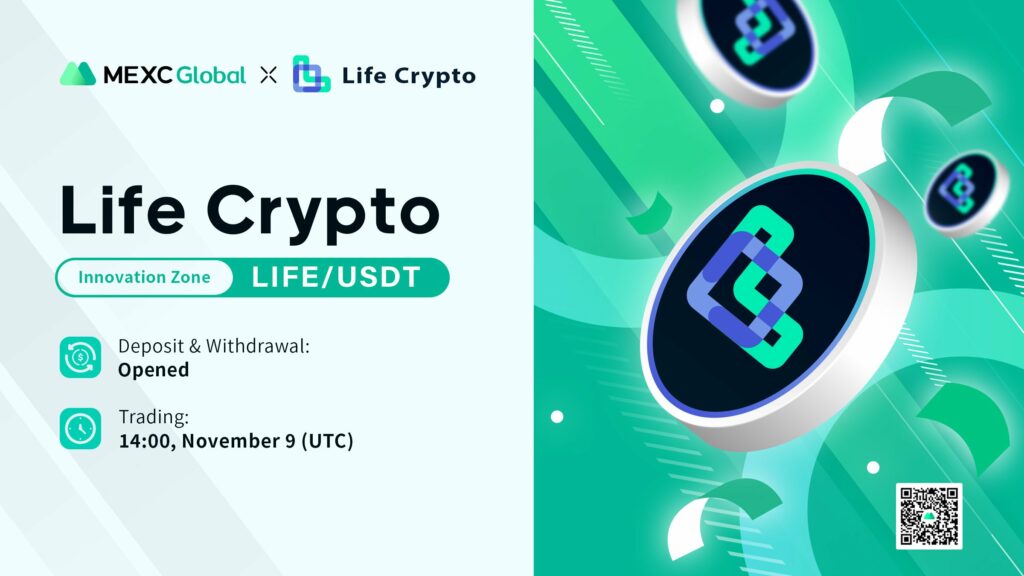 How Does it Work
Life Crypto is developing a full suite of products for the crypto community. They are simple to use and do not demand a high requirement for blockchain knowledge. Additionally, they hope to connect cryptocurrency to daily transactions in the real world. The native token will serve as their key to the whole ecosystem. Users can use it to stake, purchase, transfer, and run debit card transactions. LIFE is a new kind of money.
There is an issue with the current crypto transaction. Before sending crypto, users must copy and paste a long string of random numbers and characters. You must also double-check the address link to make sure it is correct. Furthermore, the complicated process turned away many potential crypto users.
Therefore, Life Crypto is here to tackle the issue. They simplify the transaction by letting users transfer funds using only the username. No more long-winded numbers and characters! Their platform promotes a diverse yet user-friendly environment. They remove the ambiguity surrounding crypto; promoting quicker onboarding and adoption.
Another interesting feature that they provide is the LIFE Wallet. The wallet is multi-chain compatible and supports a large number of tokens. Users can send or receive crypto easily using their username in the wallet.
Recent Price & Performance of Life Crypto (LIFE)
LIFE is an ERC-20 Token. It is also their utility token. Currently, the market price for LIFE is $0.01091 per unit. They have a market cap of $2,048,751 and a fully diluted market cap of $10,789,474. You can check the live price of their token right here!
How to buy Life Crypto (LIFE)
You can buy Life Crypto (LIFE) on MEXC by following the steps:
Log in to your MEXC account and click [Trade]. Click on [Spot].
Search "LIFE" using the search bar to see the available trading pairs. Take LIFE/USDT as an example.
Scroll down and go to the [Spot] box. Enter the amount of LIFE you want to buy. You can choose from opening a Limit order, a Market order, or a Stop-limit order. Take Market order as an example. Click [Buy LIFE] to confirm your order. You will find the purchased LIFE in your Spot Wallet.
You can find a detailed guide on how to buy LIFE token here.
Keep Yourself Updated With The Crypto Trend
Check out all of the listings in the Innovation and Assessment zones as well as the major tokens in the Main Zone – we have more amazing projects to come! What's more, MEXC lists moonshots and offers access to trade major cryptocurrencies. Visit the Hot Projects section as well to uncover more featured popular tokens. Lastly, feel free to visit MEXC Academy to learn more about cryptocurrency!
Start your travel on MEXC Global