Kasta (KASTA/USDT – Trade it here) is a blockchain alternative to mainstream mobile payment services. Its platform makes P2P payments easy, simple, and accessible. As the team transitions into a crypto-based economy, Kasta provides the market convenience necessary for cross-border payments on a global scale. Through its platform, the team aims for globalized cryptocurrency adoption, improving the functionality of financial services.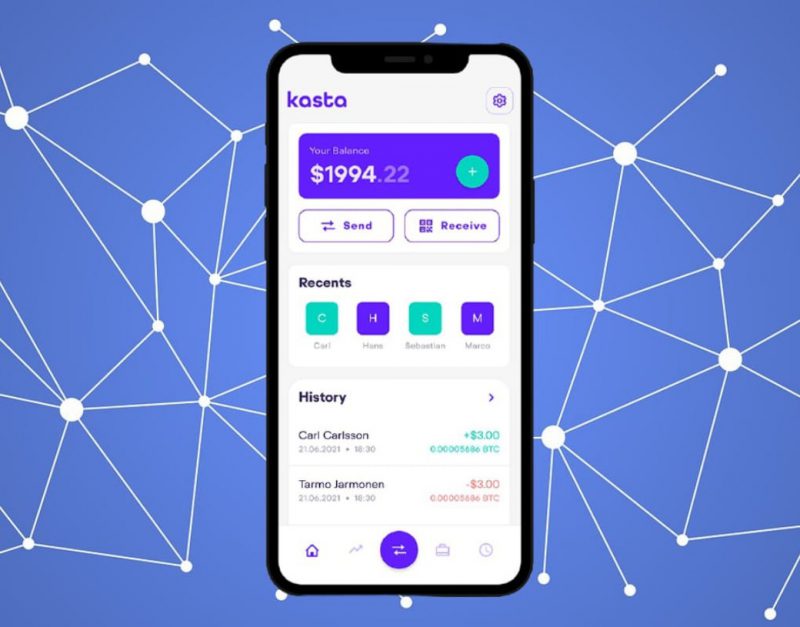 What is KASTA used for?
Kasta is a peer-to-peer (P2P) crypto payment app that allows users to easily send and receive crypto free of charge. It advocates for global cryptocurrency adoption, and the team's mission is to help people transition into a crypto-based economy.
The team wants to make P2P payments easy, free, and convenient. It aims for a new paradigm of the crypto-based economy through our protocol benefits by encouraging cryptocurrency adoption. Its solution involves two objectives; make P2P payments easy & free and make crypto payments convenient. Its P2P approach requires blockchain technology to tackle obstacles present in cross-border payments. Transactions on Kasta aren't confined by rudimentary border obstacles. In addition to borderless solutions, its hybrid decentralized approach ensures payments are instant and feeless.
Core features of project
Easy swap engine — Users are required to select the type of currency suitable for their payments. For example, sender A pays via BTC, and sender B receives GBP.
Buy now Pay later — A popular option in mainstream outlets, Kasta adopts this model to offer a payment-focused solution. We allow users to buy from online stores and select a payment plan for their products.
Crypto wallets made easy — Operating crypto wallets is often tedious. Kasta eliminates the need for crypto wallets when making payments through our platform. Users can make payments by using a phone number, email address, or a QR code.
Easy fiat on- and off-ramp services enable easy spending of cryptocurrencies in the real world. Bank transfers are supported to & from Kasta. Enables payouts directly to debit cards outside of Kasta and provides a Kasta debit card for users to spend their crypto everywhere.
How does KASTA Token work?
KASTA, native to the Kasta platform, are ERC20 tokens found on the Polygon network. From fee reduction to staking bonuses, KASTA tokens offer a wide range of applications and benefits within the Kasta ecosystem. KASTA tokens will play an important role in overall platform growth as they support Kasta's mission of steering the world toward worldwide cryptocurrency adoption. Utilities of KASTA tokens include:
Customized debit cards
Participation in shared staking pools
Increased cashback incentives
Voting rights for future Kasta cashback brands
Better referral rewards
Lowered exchange rates and interest rates for "buy now, pay later."
KASTA has various uses within the Kasta ecosystem, and it will play a crucial role in fulfilling the company's mission to make it easier for people to transition toward a crypto-based economy. You can use KASTA for P2P transactions and remittances. It can also serve as a source of passive income through lock-ups or staking.
Tokenmics of KASTA
The KASTA token was built to support the Kasta app in mass cryptocurrency adoption and help individuals across the globe transition into a crypto-based economy.
The token's total supply is 1.5 billion, but the initial circulating supply was 37.5 million. The circulating supply increases as more KASTA tokens vest over time.
The token's supply was divided into various buckets (also known as token allocations), most of which have cliffs and vesting periods. And while the circulating supply of $KASTA increases daily, the tokens from these buckets are not entering the market.
The company is not selling them anywhere either, as Kasta has enough liquidity for it to last for years without getting access to the buckets allocated for its growth.
Of the total supply, 225 million KASTA tokens are allocated to the Kasta ecosystem, including rewards and referrals. This ultimately showcases the team's focus on growing Kasta organically and incentivizing investors to hold for the long run.
Who are the founders of the project?
Its team consists of
Carl Roegind (CEO)
Sebastian Appelberg (Co-Founder & CTO)
Hans-H Lusmägi (Co-Founder & CPO)
Carl Runefelt (TheMoonCarl, Co-Founder)
Benjamin Rogers (CMO)
Recent KASTA Token Price & Performance
Since listed on MEXC in 2022, KASTA reached the highest price (ATH) of 0.06568 USDT, and the lowest price was 0.05223 USDT during the last 30 days.
How to buy KASTA Token?
You can buy KASTA on MEXC following the steps:
Log in to your MEXC account and click [Trade]. Click on [Spot].
Search "KASTA" using the search bar to see the available trading pairs. Take KASTA/USDT as an example.
Scroll down and go to the [Spot] box. Enter the amount of KASTA you want to buy. You can choose from opening a Limit order, a Market order, or a Stop-limit order. Take Market order as an example. Click [Buy KASTA] to confirm your order. You will find the purchased KASTA in your Spot Wallet.
Interested in crypto like KASTA?
MEXC lists moonshot and provides access to trading of major crypto coins like KASTA. Keep an eye on our listings in Innovation and Assessment zones and major tokens in the Main Zone – we have more great projects to come! Also, visit the hot projects section to find more hot tokens that were listed already. If you want to know more about crypto trading, visit MEXC Academy.