KalarChain is an open and highly scalable Layer 1 blockchain. It aims to enhance transaction cost efficiency and on-chain transaction speed. Their primary audience encompasses individuals, businesses, and anyone interested in building blockchain products that prioritize swift transactions and cost-effectiveness.
Essential information for their token is available on the MEXC Digital asset introduction page. Furthermore, we are listing (KLC/USDT – Trade it here) on the Innovation Zone! Check it out now!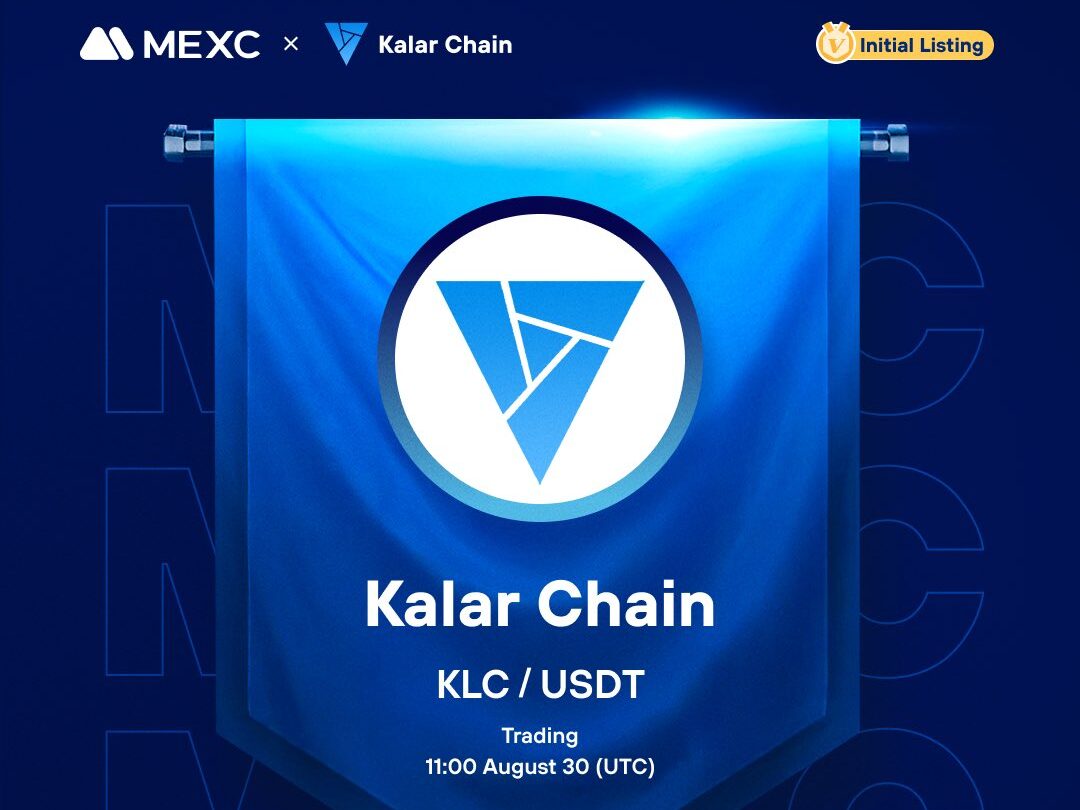 What Exactly is KalarChain?
KalarChain is empowering climate action through blockchain. It isn't just a technological platform. It's a vibrant community of visionaries, developers, and enthusiasts united in their mission to reshape the future. Meanwhile, the KLC token serves as the key energy source that powers the Kalar ecosystem. This token speeds up transactions, encourages active involvement, and drives network growth.
The objective of KalarChain is to guide everyone toward an open and user-friendly blockchain by simplifying the process of contributing, participating, and converting those efforts into valuable outcomes via business-friendly apps. With the ability to handle over 25,000 transactions in seconds, Kalar Chain is the dependable platform to which you can confidently entrust your decentralized products, ensuring optimal cost-efficiency and speed.
The Architecture of KalarChain
Kalar is based on the GETH protocol, which assures network security and stability. The platform's consensus technique is Proof-of-Work, which ensures a fair and efficient mining process. Smart contracts allow for the establishment of programmable, self-executing agreements, allowing developers to easily build decentralized apps. Meanwhile, RPC integration ensures that communication and data sharing is seamless within the Kalar network. Notably, Kalar has a fast transaction speed, which makes it an excellent candidate for high-volume applications.
The Founders of KalarChain
The Kalar Foundation boasts a team of talented individuals who bring diverse expertise and a wealth of knowledge to the project.
Ethan Davis
Leading the way is Ethan Davis, born in 1985, who serves as the Founder and CEO of Kalar Chain. Hailing from Sydney, Australia, Ethan brings over a decade of experience in information technology and business management to the table. He has held pivotal roles with leading technology companies, where he has overseen complex projects and provided key leadership.
Sarah Johnson
Sarah Johnson, born in 1990, is a dedicated Software Engineer originally from Melbourne, Australia. With a remarkable career spanning 19 years in Electrical Engineering, Sarah currently holds the esteemed position of Professor at the University of Newcastle in New South Wales, Australia, a role she has held since January 2018. Sarah is also a founding member of HunterWiSE, an initiative aimed at empowering women and girls in STEM fields across the Hunter region.
John Williams
John Williams, born in 1988, is a highly skilled Graphic Designer, proudly born and raised in Brisbane, Australia. Possessing a sharp eye for design and user experience, John has crafted distinctive user interfaces for various businesses, showcasing his creativity and expertise.
Mohammad AKASH
Mohammad AKASH, born in 2000, is a Freelancer with a specialization in Support and Social Media Management. Hailing from Khulna, Bangladesh, Akash has diligently refined his community management skills over the past three years, ensuring top-notch support and the professional management of our social media presence. Together, this talented team is driving the vision and mission of the Kalar Foundation forward with passion and dedication.
Where to buy KLC Token
You can find KLC Token here at MEXC! We are listing KLC/USDT in our Innovation Zone!
What is the Price of KLC Tokens?
The KLC Token is currently trading at MEXC with a live price of $0.000727. You can check the live price of their token right here!
How to buy KLC Tokens on MEXC
You can buy KLC Tokens on MEXC by following the steps:
Log in to your MEXC account and click [Trade]. Click on [Spot].
Search "KLC" using the search bar to see the available trading pairs. Take KLC/USDT as an example.
Scroll down and go to the [Spot] box. Enter the amount of KLC you want to buy. You can choose from opening a Limit order, a Market order, or a Stop-limit order. Take Market order as an example. Click [Buy KLC] to confirm your order. You will find the purchased KLC in your Spot Wallet.
You can find a detailed guide on how to buy KLC Tokens here.
Get Free Airdrops with MEXC Launchpad!
Did you know MEXC gives out 20+ free airdrops weekly? Launchpad and Kickstarter events ensure that all our loyal MX token HODLers receive a ton of new tokens! Learn all about it at our MX Zone now!
Meanwhile, check out all of the listings in the Innovation and Assessment zones as well as the major tokens in the Main Zone – we have more amazing projects to come! Visit the Hot Projects section as well to uncover more featured popular tokens. Lastly, feel free to visit MEXC Academy to learn more about cryptocurrency!
Start your travel on MEXC