IMVU is the largest web3 social metaverse platform globally with 350 million registered accounts over its lifespan. Now, the VCORE token is set to make its debut in the expansive IMVU metaverse.
Essential information for their token is available on the MEXC Digital asset introduction page. Furthermore, we are listing (VCORE/USDT – Trade it here) on the Innovation Zone! Check it out now!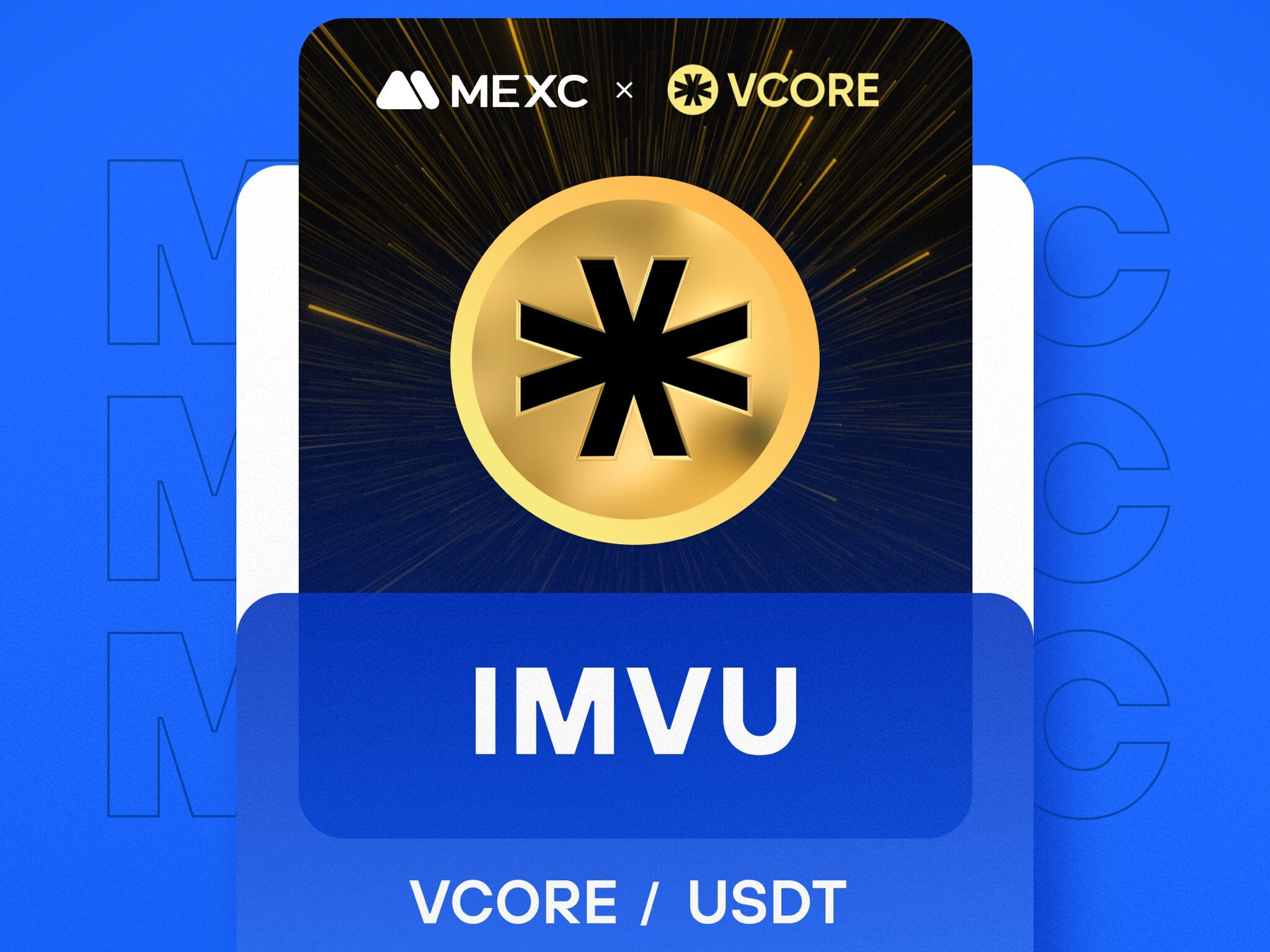 What Exactly is IMVU?
IMVU holds the distinction of being the world's largest web3 social metaverse platform. It has been actively fostering its community since 2004, accumulating an impressive 350 million account registrations throughout its existence.
What sets IMVU apart from most web3 and blockchain metaverses is its accessibility. IMVU is live on mobile devices, both Apple and Android, and offers downloadable applications for desktop use on PCs and Macs. Additionally, it is accessible through web browsers. IMVU's widespread appeal is evidenced by its position as a top-10-grossing social app worldwide. Presently, the platform boasts over 700,000 daily active users, with more than 200,000 active creators and earners within its ecosystem.
At the core of this vibrant social metaverse is a dynamic and expansive economy, driven by its global user community. Each month witnesses a staggering exchange of over 10 billion IMVU virtual credits and assets through more than 20 million transactions. Notably, this web2 economy has now transitioned into the web3 sphere. Users engage in daily purchases and gifting of virtual currency and digital goods, while creators continually introduce thousands of fresh digital items to the IMVU marketplace. These transactions, goods, and digital currencies are in the process of migrating to the blockchain, marking the potential emergence of one of the largest Web3 metaverse economies globally.
What Role Does VCORE Token Plays in IMVU?
VCORE is a novel metaverse token. It is the driving force behind the metaverse experience. It all begins with one of the largest social metaverses, IMVU, where VCORE will seamlessly integrate and play a pivotal role in shaping the metaverse's economy, engagement, and governance.
The team envisions VCORE to be an indispensable component of the future IMVU metaverse economy. VCORE tokens will be deeply woven into the fabric of the IMVU NFT ecosystem, serving as the primary currency for minting and trading NFTs within the marketplace. Over time, VCORE will also serve as a means to compensate creators and earners located beyond the United States and Canada, further expanding its economic utility.
Current Use Cases of VCORE Token
VCORE will seamlessly integrate into the IMVU NFT ecosystem. It will serve various functions such as minting, purchasing, and selling NFTs. Additionally, it will play a pivotal role in benefiting non-US users by facilitating payouts to creators and earners. As time progresses, VCORE will become an integral part of the next-generation virtual economy.
Meanwhile, VCORE holders will enjoy a unique and influential role in shaping the metaverse's future. They will possess the ability to participate in decision-making processes that chart the course of the metaverse. VCORE holders will also actively contribute to determining various aspects of the metaverse's direction, including real-life events, partnerships with influencers and brands, quests, and more. This empowering voice will grant VCORE holders a meaningful stake in the metaverse's evolution and its economic landscape.
Where to buy VCORE Token
You can find VCORE Token here at MEXC! We are listing VCORE/USDT in our Innovation Zone!
What is the Price of VCORE Tokens?
The VCORE Token is currently trading at MEXC with a live price of $0.003867. It also has a fully diluted market cap of $30,932,193. You can check the live price of their token right here!
How to buy VCORE Tokens on MEXC
You can buy VCORE Tokens on MEXC by following the steps:
Log in to your MEXC account and click [Trade]. Click on [Spot].
Search "VCORE" using the search bar to see the available trading pairs. Take VCORE/USDT as an example.
Scroll down and go to the [Spot] box. Enter the amount of VCORE you want to buy. You can choose from opening a Limit order, a Market order, or a Stop-limit order. Take Market order as an example. Click [Buy VCORE] to confirm your order. You will find the purchased VCORE in your Spot Wallet.
You can find a detailed guide on how to buy VCORE Tokens here.
Get Free Airdrops with MEXC Launchpad!
Did you know MEXC gives out 20+ free airdrops weekly? Launchpad and Kickstarter events ensure that all our loyal MX token HODLers receive a ton of new tokens! Learn all about it at our MX Zone now!
Meanwhile, check out all of the listings in the Innovation and Assessment zones as well as the major tokens in the Main Zone – we have more amazing projects to come! Visit the Hot Projects section as well to uncover more featured popular tokens. Lastly, feel free to visit MEXC Academy to learn more about cryptocurrency!
Start your travel on MEXC