CRIPCO or IP3 (IP3/USDT – Trade it here) aims to change the game. As the world's first industry-led DAO NFT platform, it brings together industry stakeholders, brands, artists, influencers, platforms (and others) in the governance of CRIPCO. That way, customers can be assured of the quality, exclusivity, value and utility of their NFTs. Let's discover project core features and uses cases of CRIPCO (plus ways of how to buy IP3 or earn it on MEXC).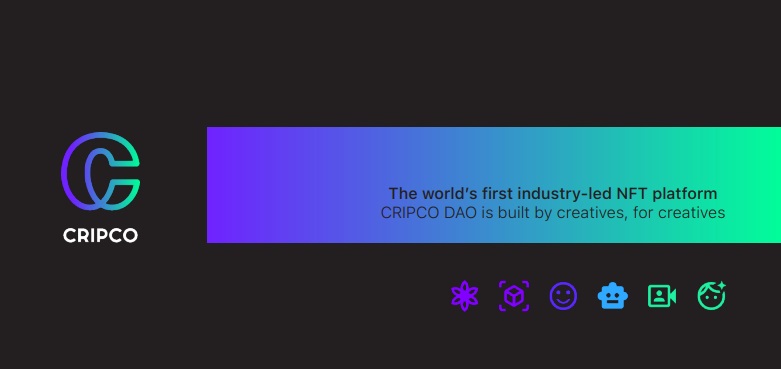 Main Features of CRIPCO
CRIPCO presents the philosophy called IP 3.0, and two main crypto products: a NFT Marketplace and a NFT Utility Platform. Let's explore them:
IP3 NFT Marketplace – CRIPCO NFT Marketplace is a marketplace where users can buy and sell NFTs conveniently with low fee, and experience features no one has experienced yet.
CRIPCO NFT Utility Platform enables users and NFT holders to produce secondary contents and merchandises based on the NFTs they hold.
CRIPCO DAO is composed entirely of respected entities, incredible artists, and other influential members of the creative industry, in order to ensure the quality of the NFTs.
IP 3.0 Hub is a brand-new structure tailored to the Web 3.0 era, where everyone becomes a provider and consumer of IP, organically creating, utilizing, and monetizing their creation with the community.
What is most important, is that by implementing a Solana-native DAO to handle the curation process and manage platform development, CRIPCO can guarantee transparency in its decision-making, provide public accountability, and ensure the alignment of user and platform interests
and outcomes.
This project is also seriously backed by major crypto institutions like Solana Ventures, FTX Ventures, BLOCTO and others.
Future of CRIPCO
CRIPCO aims to continuously invite creators and IP holders to start their NFT projects in the
Multiverse. As the community, ecosystem and economy will grow, and more tools are added
over time, the prospect of getting involved with CRIPCO will become ever more attractive
to creators. IP3 earned from launching a project on CRIPCO can be wrapped into IPD,
providing shares of all overall revenue generated on the platform. By incentivizing the
community through the privatization of IP and IP3 token economy, CRIPCO strengthens
the network effect between members.
How to buy CRIPCO Token?
Interested in new NFT platform tokens and looking for how to buy IP3? You can purchase CRIPCO on MEXC following the steps:
Log in to your MEXC account and click [Trade]. Click on [Spot].
Search "IP3" using the search bar to see the available trading pairs. Take IP3/USDT as an example.
Scroll down and go to the [Spot] box. Enter the amount tokens you want to buy. You can choose from opening a Limit order, a Market order or a Stop-limit order. Take Market order as an example. Click [Buy IP3] to confirm your order. You will find the purchased CRIPCO in your Spot Wallet.
For the comprehensive guide on buying IP3 and other available tokens, please visit special MEXC How to Buy Guides Section.
CRIPCO Token Staking on MEXC
On MEXC you can periodically stake tokens like IP3 and other major cryptos via MX DeFi event plus other staking products with flexible and fixed APYs. You can check the availability of the CRIPCO token staking option here.
Recent IP3 Token Price & Performance
CRIPCO will be listed on MEXC in the Assessment Zone at 14:00 2022-07-11 (UTC) with special deposit event and a chance for users to Share 1,000 MX in rewards! Shortly after initial listing, CRIPCO price and performance information will be updated.
Interested in crypto like CRIPCO?
MEXC lists moonshot and provides access to trading of altcoins like CRIPCO (IP3), keep an eye on our listings in Innovation and Assessment zones, as well as major tokens markets in the Main Zone – we have more great projects to appear! Also, visit the hot projects section to find more hot tokes that were listed already. If you would like to know more about crypto trading itself visit MEXC Academy.
Start your travel on MEXC Global