BitQuiz is a Web3 application centered around the concept of "Quiz to Earn." This platform offers users the chance to gain insights into Web3 technology. Users can also accumulate tokens as rewards through active participation in a fun and interactive setting.
Essential information for their token is available on the MEXC Digital asset introduction page. Furthermore, we are listing (QTE/USDT – Trade it here) on the Innovation Zone! Check it out now!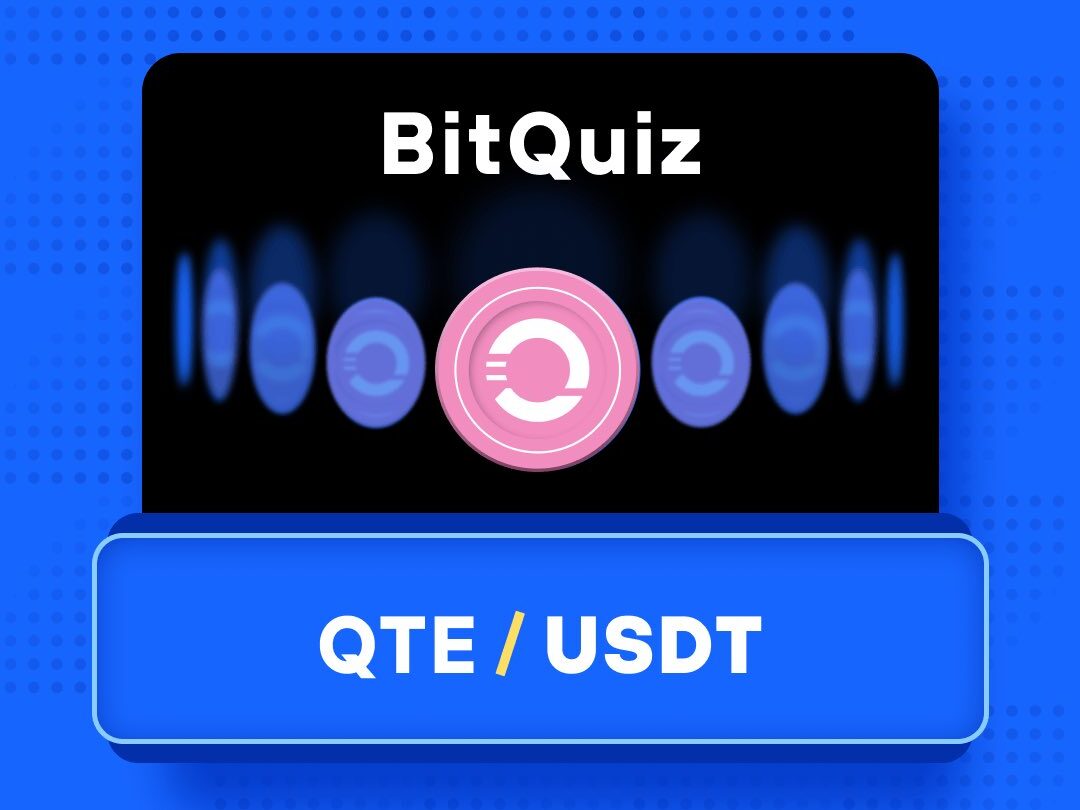 The Background and Vision of Bitquiz
Web3 currently boasts just 100 million users globally. Nonetheless, the shortage of on-chain applications and high entry barriers pose challenges for new entrants to the industry. Bitquiz addresses this predicament in the following manner:
Leveraging account automation technology, users can establish a wallet and access the app using only their email and mobile number. This eliminates the need for intricate recovery phrases thus simplifying the onboarding process.
Furthermore, BitQuiz selects promising projects within the industry. It keeps users informed about these projects by having them answer questions. This approach enables users to engage with projects at an early stage.
Through the Quiz to Earn game mode, BitQuiz aims to incorporate ERC-4337 abstract account technology, reducing the entry barriers for Web3. Users can log in with their email and enhance their understanding of Web3 through Quiz-to-Earn activities.
Ultimately, they aim to make Web3 more accessible and approachable by introducing enjoyable elements, like Quiz to Earn, and facilitating the smooth transition of Web2 users into the realm of Web3. By establishing connections with other Web3 communities and products, they envision forming an interconnected network based on "points," and evolving into a self-sustaining community that encompasses them all.
Use Cases of QTE Token
Users can earn staking rewards by staking QTE tokens. The key factors that influence staking rewards include the number of times the user stakes, the duration of staking, and the point value. The point value represents the cumulative points earned during the staking period, and it remains unaffected by any exchange activities. Staking rewards are distributed every week, and the rewarded QTEs are locked for 14 days. If users opt for an early unlock, there will be an additional transaction fee ranging from 20% to 50%, and the QTEs associated with this fee will be burned directly.
Furthermore, the platform offers exclusive services and trading platform transaction fees. Project partners may host Q&A sessions on BitQuiz, and they contribute a specific number of QTEs, while 20% of the quiz ticket fees collected from users are directed to the community DAO treasury. This setup enables macroeconomic regulation within the in-game economic system under the governance of the DAO.
Additionally, users can mint game assets in the form of NFTs. The community operates on a DAO model, where staking QTEs grants you voting rights and allows you to actively participate in the governance of the community.
Where to buy QTE Token
You can find QTE Tokens here at MEXC! We are listing QTE/USDT in our Innovation Zone!
What is the Price of QTE Tokens?
The QTE Token is currently trading at MEXC with a live price of $0.01499. You can check the live price of their token right here!
How to buy QTE Tokens on MEXC
You can buy QTE Tokens on MEXC by following the steps:
Log in to your MEXC account and click [Trade]. Click on [Spot].
Search "QTE" using the search bar to see the available trading pairs. Take QTE/USDT as an example.
Scroll down and go to the [Spot] box. Enter the amount of QTE you want to buy. You can choose from opening a Limit order, a Market order, or a Stop-limit order. Take Market order as an example. Click [Buy QTE] to confirm your order. You will find the purchased QTE in your Spot Wallet.
You can find a detailed guide on how to buy QTE Tokens here.
Get Free Airdrops with MEXC Launchpad!
Did you know MEXC gives out 20+ free airdrops weekly? Launchpad and Kickstarter events ensure that all our loyal MX token HODLers receive a ton of new tokens! Learn all about it at our MX Zone now!
Meanwhile, check out all of the listings in the Innovation and Assessment zones as well as the major tokens in the Main Zone – we have more amazing projects to come! Visit the Hot Projects section as well to uncover more featured popular tokens. Lastly, feel free to visit MEXC Academy to learn more about cryptocurrency!
Start your travel on MEXC