Baby Doge Coin (BABYDOGE/USDT – Trade it Here) is a deflationary token built on the Binance smart chain with the purpose to spread awareness of animal adoption. Baby Doge traces its origin to the doge meme and the Doge meme coin that came before it, as it was launched with a total supply of 420 Quadrillion tokens and deflationary mechanics. This article will explore the core features, related projects, and overall tokenomics of the Baby Doge Coin (plus ways of how to buy and earn BABYDOGE on MEXC).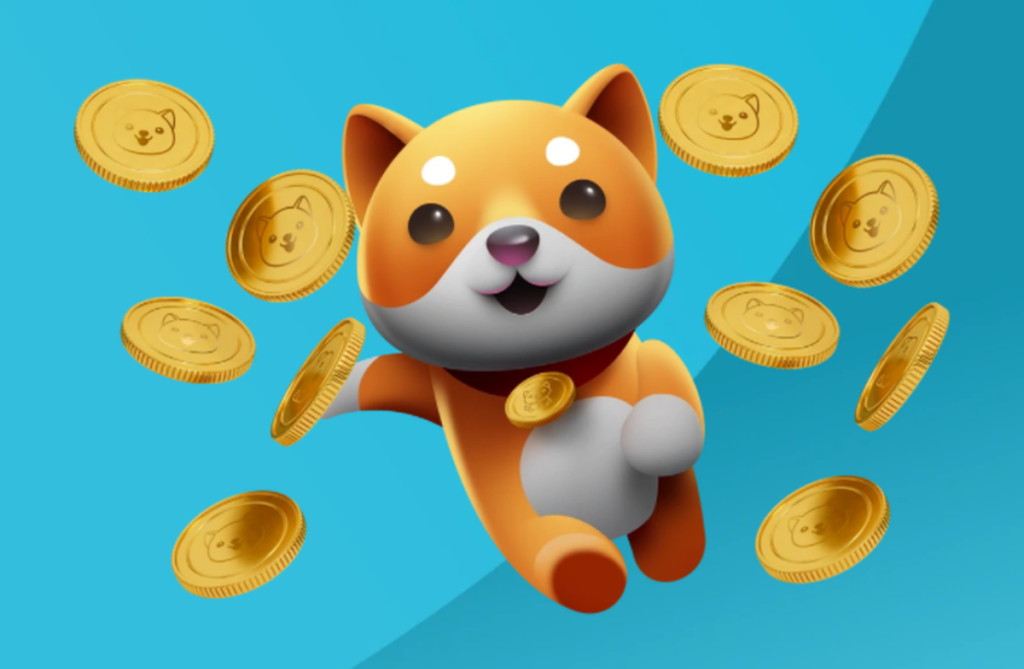 Core Features & Related Projects
BabyDoge is a deflationary token designed to become more scarce over time.
Community-Powered. Baby Doge is owned by the community.
Instant Rewards. For every transaction in the Baby Doge network, a 5% fee is distributed to existing holders. That means you earn more Baby Doge just by holding it in your wallet.
Locked Liquidity Provider. Initial Liquidity tokens are burned and locked. Additionally, 5% of all transaction fees are added to liquidity.
Baby Doge Card. An upcoming Baby Doge Coin application that will enable users to 1) load the Fiat balances with bank transfers, 2) buy/send cryptocurrency, 3) exchange crypto currencies for Fiat, and 4) text BabyDoge to anyone anywhere in the world using a telephone number
BABYDOGE Tokenomics
As mentioned above, Baby Doge Coin started out as a meme coin with a total supply cap of 420 quadrillions. About 125 quadrillions of the tokens have already been removed from circulation through burning, leaving about 295 quadrillion tokens in current circulation.
The three main functions of the Baby Doge Coin are 1) Reflection, 2)LP acquisition, and 3)Burn. With the 10% transaction fee, 5% is allocated for redistribution to all existing holders and the other 5% is split in half: with 50% of the 5% going into payment for the BNB contract, while the other half of the BABY DOGE tokens are paired automatically with the previously mentioned BNB and added as a liquidity pair on Pancake Swap. Additionally, the burning mechanism continues and 30% of the redistributed tokens are burned.
How to buy Baby Doge Coin?
Looking for how to buy BABYDOGE? You can purchase Baby Doge Coin on MEXC following the steps:
Log in to your MEXC account and click [Trade]. Click on [Spot].
Search "BABYDOGE" using the search bar to see the available trading pairs. Take BABYDOGE/USDT as an example.
Scroll down and go to the [Spot] box. Enter the amount of BABYDOGE you want to buy. You can choose from opening a Limit order, a Market order or a Stop-limit order. Take Market order as an example. Click [Buy BABYDOGE] to confirm your order. You will find the purchased BABYDOGE in your Spot Wallet.
For the comprehensive guide on how to buy Baby Doge and other available tokens, please visit special MEXC How to Buy Guides Section.
Recent Baby Doge Coin Price & Performance
FTM reached the highest price (ATH) of 0.000000006281 USDT on January 16th, 2022. The lowest price of FTM since the ATH date was 0.000000000881 USDT on May 12th, 2022.
Baby Doge Coin Staking
On MEXC you can periodically stake BABYDOGE and other tokens via MX DeFi event plus other staking products with flexible and fixed APYs. You can check the availability of Baby Doge Coin staking option here.
Interested in crypto like BABYDOGE?
MEXC lists moonshot and provides access to trading of major crypto coins like BABYDOGE, keep an eye on our listings in Innovation and Assessment zones, as well as major tokens in the Main Zone – we have more great projects to come! Also, visit the hot projects section to find more hot tokes that were listed already. If you would like to know more about crypto trading itself visit MEXC Academy.