AMAZY or AMAZY.IO (AZY/USDT – Trade it here) is a lifestyle-fitness game-fi application that encourages movement by rewarding users who can participate by owning NFT sneakers and recording real-life movements on the BNB chain. With AMT & AZY tokens plus AMAZY app, project aims to replace passive screen consumption with an easy and healthy lifestyle.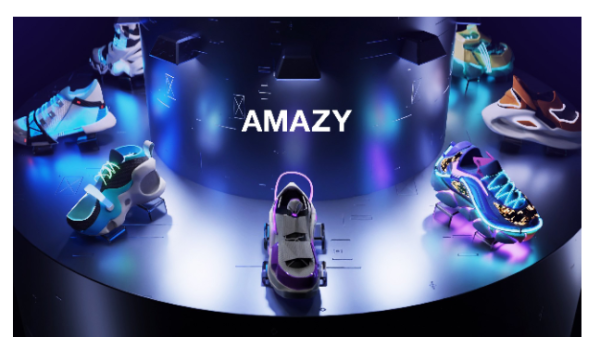 Core Features of AMAZY
With Gamification and move2earn mechanisms at the core of its technological design, AMAZY is designed to encourage activity and movement in real-life whilst maintaining a virtual emphasis on motivation and fun:
Low barriers of entry. Users do not have to own NFTs to join AMAZY and could kickstart the process by renting NFTs from friends and partition the earnings later to kickstart their journey on the app. Additionally, NFT sneakers in the marketplace have a starting price of $100. 
Influencer-driven. AMAZY.IO has formed numerous partnerships with famous celebrities and influencers who have or will be launching their own NFT sneaker collections that could bring in a wave of new crypto users. 
AMAZY Tokenomics – AZY & AMT
AMAZY offers two types of tokens: AMT and AZY. AMT Tokens have an unlimited supply and are the main reward mechanisms for users on the app who track their movement in the Background or Solo mode. It is also the tokens that are in use in the AMAZY NFT marketplace. AMTs are burned through marketplace services like unlocking sneaker sockets, boosting sneaker boxes, and customization the sneakers. AMAZY has also installed an anti-fraud GPS service that prevents users from obtaining AMT tokens without real physical movement.
AZY governance tokens, on the other hand, have a limited supply of 1 billion and can be bought and sold on various exchanges. It has an initial market cap of 1.5 million USDT and a 25 million USDT market cap after full dilution.
How to buy AZY?
You can buy AZY on MEXC following the steps:
Log in to your MEXC account and click [Trade]. Click on [Spot].
Search "AZY" using the search bar to see the available trading pairs. Take AZY/USDT as an example.
Scroll down and go to the [Spot] box. Enter the amount of AZY you want to buy. You can choose from opening a Limit order, a Market order or a Stop-limit order. Take Market order as an example. Click [Buy AZY] to confirm your order. You will find the purchased AZY in your Spot Wallet.
Interested in new coins like AZY?
MEXC lists fresh tokens and provides access to trading of major crypto coins like AZY, keep an eye on our listings in Innovation and Assessment zones, as well as major tokens in the Main Zone – we have more great projects to come! Also, visit the hot projects section to find more hot tokes that were listed already. If you would like to know more about crypto trading itself visit MEXC Academy.