AirDAO or AMB (AMB/USDT – Trade it here) is a community-owned ecosystem of dApps. They run on their own blockchain, the Ambrosus Network. Basic information for the AMB token is available on the MEXC Digital asset introduction page.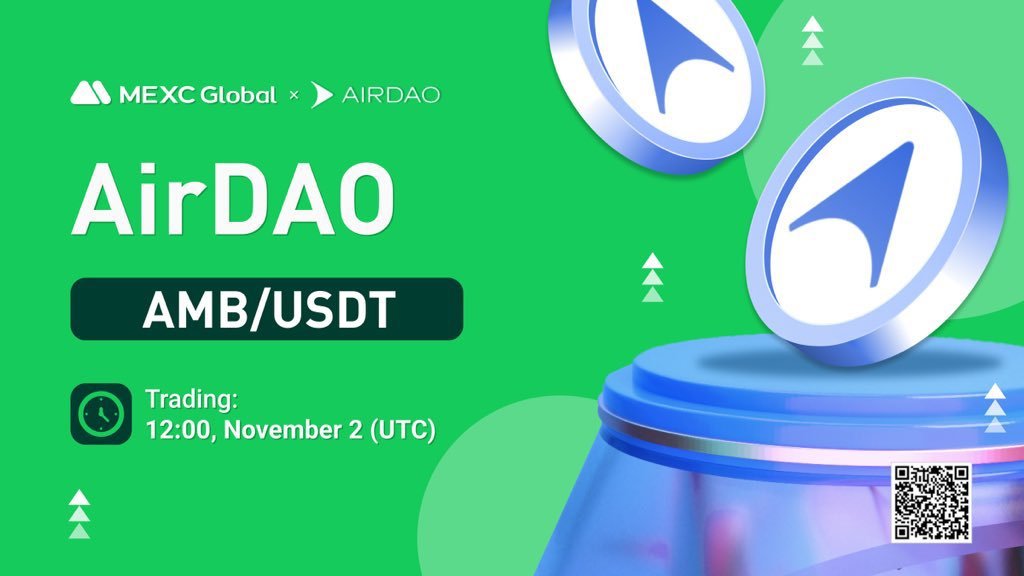 How Does it Work
AirDAO comes from the Ambrosus Ecosystem. In early March 2022, Lang Mei became the CEO of Ambrosus Ecosystem. With his guidance, they design and create Ambrosus 3.0. This project eventually became AirDAO. It is a decentralized autonomous organization (DAO) that oversees the Ambrosus blockchain and its network of dApps. The community, on the other hand, oversees AirDAO. They are the ones to shape the future of AirDAO and receive the native token AMB for doing so.
Currently, AirDAO is building products that focus on optimizing Web 3.0. Their first product is FirepotSwap, their first AirDAO dApp. FirepotSwap is a decentralized cryptocurrency exchange (DEX). It is a collaboration effort between Firepot Finance and Ambrosus itself. Users can safely trade AMB and other tokens on their DEX. Furthermore, users can stake their liquidity holdings and earn rewards on the platform.
FirepotSwap is one of their ecosystem's core functions. It is also their springboard for future expansion and growth. Additionally, they have a ton of different products to provide users with a seamless trading experience. For example, they have one-click staking, network explorer, multichain bridge, and more! The multichain bridge allows users to move AMB across different blockchains. This will help AirDAO expand into other networks and interact with different projects.
Recent Price & Performance of AirDAO (AMB)
AMB is the native and governance token for AirDAO. Currently, the market price for AMB is $0.01343 per unit. They have a market cap of $16,304,748 and a fully diluted market cap of $20,188,534. You can check the live price of their token right here!
How to buy The AirDAO (AMB)
You can buy AirDAO (AMB) on MEXC by following the steps:
Log in to your MEXC account and click [Trade]. Click on [Spot].
Search "AMB" using the search bar to see the available trading pairs. Take AMB/USDT as an example.
Scroll down and go to the [Spot] box. Enter the amount of AMB you want to buy. You can choose from opening a Limit order, a Market order, or a Stop-limit order. Take Market order as an example. Click [Buy AMB] to confirm your order. You will find the purchased AMB in your Spot Wallet.
Keep Yourself Updated With The Crypto Trend
Check out all of the listings in the Innovation and Assessment zones as well as the major tokens in the Main Zone – we have more amazing projects to come! What's more, MEXC lists moonshots and offers access to trade major cryptocurrencies. Visit the Hot Projects section as well to uncover more featured popular tokens. Lastly, feel free to visit MEXC Academy to learn more about cryptocurrency!