Gala Games or GALA (GALA/UDST – Trade it here) is a gaming platform that integrates crypto and NFT into their ecosystem. They provide a huge genre of games such as multiplayer online battle arena (MOBA), role-playing game (RPG), real-time strategy and many more. Imagine steam, but even more. You can use crypto to purchase assets and hold sole ownership of it. So what happened to Gala Games recently? How did it dip nearly 30%?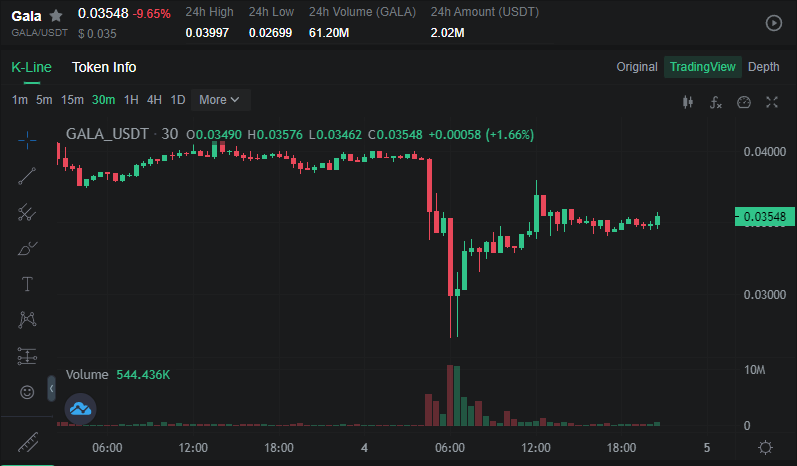 Gala Games Suspected of Exploitation
Late November 3, blockchain security startup PeckShield discovered that a single wallet address minted over $2 billion GALA tokens. The token was minted out of thin air, causing mass panic on their ecosystem and the community. The fear from exploitation or rug pull caused their token price to dive down instantly. According to the charts, they dropped from $0.0394 USD to $0.0293 USD, approximately 26% in a 130-minute period.
Thankfully, Gala Games came out to address the issue shortly after. According to their Twitter announcement, Gala was not hacked in any form or ways. Gala Game's blockchain president, Jason Brink revealed that the strange behavior seen on PancakeSwap was carried out by pNetwork. They are trying to deplete the liquidity pool and protect it from any potential vulnerability. PNetwork also verified that it was merely a misconfiguration. According to their tweet, it was a coordinated white hat attack.
At the moment, Gala Games assured that all GALA tokens on Ethereum and GALA bridge are safe. Furthermore, a new pGALA token will be delivered to individuals who held pGALA before the pool was depleted. At the moment, the team has notified users of their intention to temporarily suspend their bridge transaction operations. They are also suggesting users not to buy pGALA on PancakeSwap at the moment.
Stay tuned on the industry news with MEXC and check out our recent articles. We believe that an educated audience is the best audience. So what are you waiting for? Start your crypto journey with MEXC today!