Wemade's flagship blockchain gaming service arm, WEMIX is in trouble. On Wednesday, a few major exchanges delisted it after a Seoul court rejected a request to stop it. Thankfully, MEXC is still trading WEMIX/USDT, check it out now!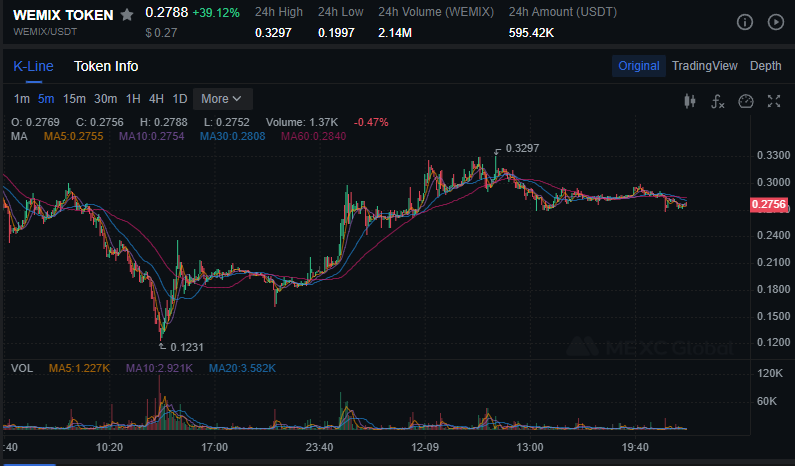 On December 8, 2022, Korea's top crypto exchanges delisted WEMIX from their exchanges. They were respectively Bithumb, Upbit, Coinone, and Korbit. On November 28, Wemade asked for a temporary injunction and the court approved their request.
The delisting comes after the DAXA, which consists of the top five crypto exchanges in the nation, declared that they are not transparent. DAXA said that WEMIX provided false information regarding their assets and total tokens. Furthermore, they are assuming that there were far more tokens available in comparison to what the business had stated. WEMIX allegedly provided its investors with incorrect and inadequate information.
Before DAXA stated that they will delist WEMIX, it was trading at an ATH of $1.6803. However, the news plunged them down to $0.3130 before stabilizing. They then took another dive after they are officially delisted from the exchanges, dropping to $0.1231. Now, they are trading at $0.2756 at the time of writing (December 9, 2022). You can check the live price of their token right here.
What About International Cryptocurrency Exchanges
Unfortunately, OKX also declared on Thursday that it will delist WEMIX from its platform. The decision came after they stated that WEMIX's situation fulfilled its delisting criteria. Furthermore, users' feedback was also leaning toward the token's removal.
Currently, all token holders on Bithumb, Upbit, Coinone, and Korbit must sell off all their tokens. After that, traders can proceed to different platforms to trade WEMIX such as MEXC.
Wemade Will Buyback and Burn WEMIX
At the moment, Wemade has announced that they will buyback and burn $10 million worth of WEMIX. They stated that the burning will last until March 2023. It would repurchase its tokens on the mainnet and Klyatn blockchain according to a time-weighted average price on worldwide exchanges.
Wemade also apologized for the issue. They clarify that it was mostly a clerical mistake. However, DAXA was not happy with the explanation and ultimately delisted the token. After their announcement to burn the tokens on Medium, they managed to push their token price up by more than 40%. They are hoping that this action will protect the community and investors from receiving any more harm.
Closing Thoughts
As a player on the WEMIX platform, I really enjoyed it. In fact, it has the potential to achieve great heights. This is the reason why many traders are still bullish on the token. Of course, do not just take my word for it. Check it out at their platform and have a look at what is WEMIX. In the meantime, check out our MEXC trading page and find out what we have to offer! You can learn more about crypto industry news and interesting articles to get you up to speed with the crypto world. Happy trading!