MEXC Global is launching a Kickstarter session with ADAPAD, a pre-launch listing campaign initiated by the MEXC project team. The session allows users to stake their tokens to vote for a set target.
Once the target is achieved, the listing process will be started, and free tokens will be airdrops to members that took part in the voting process. In case the voting process doesn't achieve the specified goal, MEXC's team will stop the listing process and release the tokens used to vote for the target. These events are aimed to pinpoint high-quality projects while bringing the benefits of airdrops to MEXC users.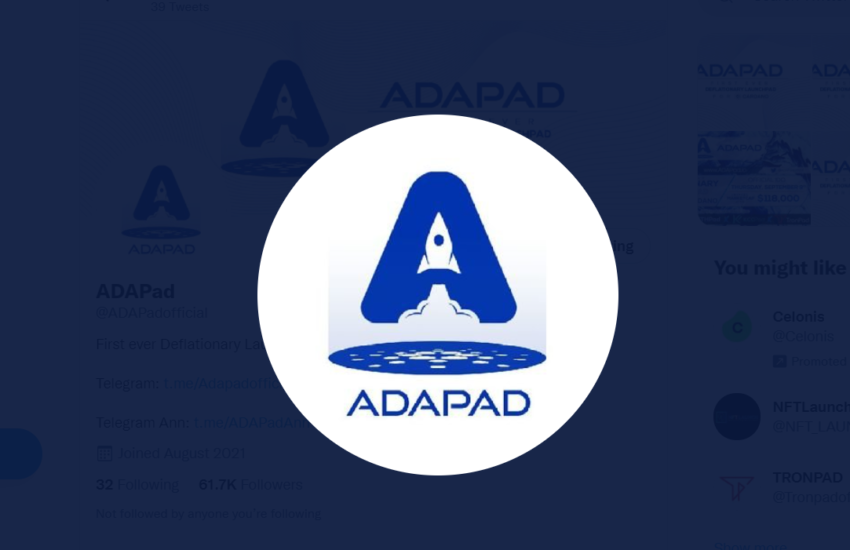 What is Adapad (ADAPAD/USDT)
ADAPad (ADAPAD) is a cryptocurrency that was launched in 2021. It runs on the Ethereum platform with a volume of 1,000,000,000 with none free. The last listed rate of the ADAPad is $ 0.1399. this is up 6.8 % over the past 24 hours. It has a trading volume of $385,281 traded over the last 24 hours.
Adapad is self-named as "the first deflationary launchpad for the Cardano ecosystem." The main mechanisms of ADAPad for deflation include a 10% fee on all token sales and early unstaking fees as high as 255.
It is pretty much like the ETHPad, BSCPAD and TRONPAD tokens, as the same company also launches it. Adapad is fundamentally designed as an incubation plan for new cryptocurrency projects on Cardano.
The Cardano team plans to control cross-platform token launches and facilitate protection from liquidity sniping bots. The Cardano team also plans to have their in-house cross-chain bridge and token staking systems. ADAPad is also being launched with deflationary triggers designed to improve participation without affecting selling, unstaking and IDO participation. ADAPad holders are given 7.5% of the selling fees in the ADA.
The Cardano Foundation has announced an upgrade to the Alonzo platform. This upgrade will allow smart contracts and support capabilities for managing decentralized finance on the Cardano ecosystem. The expected result of these upgrades is an increase in projects with their IDOs on Cardano and utilizing the services that launchpads like ADAPad offer.
What Makes Project Unique
All token holders can join in Initial Dex Offerings (IDOs) on the Cardano blockchain through staking their ADAPAD and completing a one-time KYC process. The process should be finished three hours before the IDO time starts. Tickets will be allocated based on the amount of ADAPAD staked, and there is a system of tiering which controls the ticket allocation.
Cardano and ADAPAD team has repeatedly shown that they know how to increase token off-take through their crypto marketing tactics. The BSCPad and TRONPAD launches showed high value for their investors and yielded over 300 ROIs. This high return was coupled with massive viewer awareness on social media platforms and successful launches across different platforms.
As a matter of fact, the TRONPAD launch was so massive that it was the top trend on both Coingecko and Twitter for a week. A robust KOL boosts the Cardano platforms marketing strength set up, amongst the strongest in the industry. This setup is improving over time. The reach and engagement of the platform on all social media platforms are growing with every launch and delivering monthly growth results.
The platform has the resources, skills, experience, and a track record to successfully launch tokens and cryptocurrencies, and ADAPad will prove to be another success story.
How Is the Adapad Network Protected?
ADAPAD is launched as an ERC-20 token on Ethereum and a BEP-20 token on the Binance Smart Chain (BSC). The team guarantees full transparency and security for the IDO by applying KYC (Know Your Customer) measures to all participants in the IDO.
Ethereum is well established as one of the most popular and safe blockchains. Its ERC-20 protocol is the option of choice for the majority of tokens launching on the Ethereum blockchain. It is protected by an agreement mechanism that involves token miners to mine new Ether based on proof-of-work mechanism. A group of decentralized nodes authenticates all transactions and safeguards the Ethereum blockchain from cyber threats.
A proof-of-stake acceptance mechanism also protects BSC. 21 validators are picked every 24 hours to authenticate transactions and sustain blockchain security. The validators have to stake an amount of BNB coins with the Binance platform to be qualified to do so.
Start your crypto trading journey with MEXC Global Exchange
---
The content of this webpage is not investment advice and does not constitute an offer or solicitation to offer or recommendation of any investment product. It is for general purposes only and does not take into account your individual needs, investment objectives, and specific financial circumstances. Investment involves risk.
Please note that the information and data above are cited from third-party sources & whitepapers and do not represent MEXC. Please refer to direct sources for more details. This is not financial advice and does not constitute an offer or solicitation to offer or recommend any investment product. It is for general purposes only and does not take into account your individual needs, investment objectives, and specific financial circumstances. Investment involves risk.
This disclaimer informs readers that the MEXC Creator's content, views, thoughts, and opinions expressed in the articles belong solely to the creators and authors, and not to MEXC Global itself. MEXC Global doesn't give any investment recommendations or advice.