Ranker DAO is a Decentralized Autonomous Organization (DAO) that wants to enable collective community of crypto adopters to gain access to the biggest trend of blockchain-based activities from various verticals.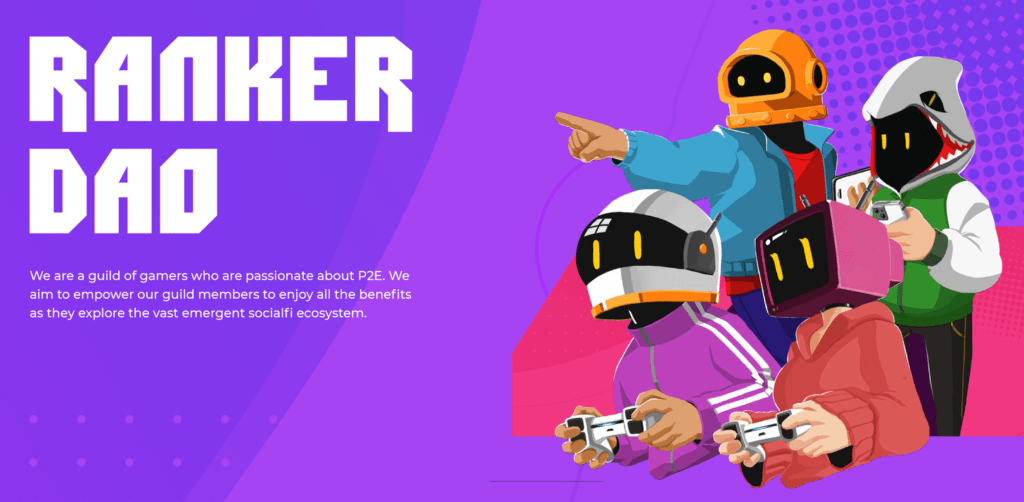 Within the DAO, Ranker has Guild of Gamers who congregate around the gaming sub-guild, who truly understands the desire of each and every video game players from every generations – to P2E. More than that, Ranker wants to empower guild members to get the full benefits of their membership of the guild through innovative concepts taken through the emergent socialfi ecosystem. The DAO currently owns 500+ gaming NFTs, and have enabled community to P2E in the biggest games in crypto, however, in the future, the participants of the DAO may vote on how they want to expand the portfolio, maybe it is metaverse, sports NFTs, works of arts, etc.
RANKER Token
RANKER tokens will be used to level up guild badges and unlock deeper access into RankerDAO. In addition to those features, holders, guild/DAO members, and the community will have access to:
DAO Exclusive 1v1 Sessions;
DAO Exclusive NFT Minting;
Cross-Guild Tournaments;
Special NFT Requests;
Special KOL-Invitation Only Sessions;
DAO Voting for NFT acquisition;
DAO Voting for In-House Events and Rewards;
Exclusive Coaching
Special Rewards for Guild Quests
Ranker DAO Project Highlights
NFT Invested Gaming Guild
RankerDAO is an NFT investing DAO and blockchain gaming Guild. The DAO possesses over 500 NFTs and has over 300 active scholars. The current projected revenue by RankerDAO is 6.4 million USD.
SocialFi Ecosystem
To ensure the quality of players, Ranker will conduct Social events such as:
This event will specifically help players navigate productively in a P2E environment to reach certain goals. To achieve community growth, the experienced players are accountable in coaching their fellow members with understanding so everyone would achieve their desired goals.
Accelerate progression with other players in a 1v1 battle. By engaging other players in a match, members will hone tactical skills, acquire status and unique in-game abilities that allow faster results.
Spar with players from other guilds, enriching experiences and flourish as a part of a larger community. Exposure to guild matches will broaden players perspective while igniting competitive spirit to encourage productivity. Win and earn Ranker tokens !
Core Team of RankerDAO
For over five years, the founder of Ranker, Liko Yosafat has been a noteworthy community builder in the world of crypto. He's been involved in several projects, such as Pundi X, Function X, Binance Angels Indonesia, and ProjectSeed – of which he is also the co-founder. Aside from his passion for crypto projects, Liko is an avid gamer, too, and he enjoys spending his free time indulging in different games across a variety of platforms. Along with his team, who shares the same vision, Liko aims to help fellow skilled gamers earn a decent living – from various play-to-earn games without compromising on fun.
Stefano Adrian has been a key player in growing the E-Sports scene for ESL Gaming. Has handled and organized talents and tournaments from all over ASIA and is now pivoting into growing the vast ecosystem of blockchain gaming.
Start your travel on MEXC Global