After initial MEXC listing on June 6, ShitCoin trading pair (SHIT/USDT – Trade it here) has been performing well, with the highest yield of 6125%. According to spot trading performance on MEXC from June 13 to June 14, the overall yield reached 237%. Meanwhile, MEXC also listed ETF trading pairs: SHIT3S & SHIT3L.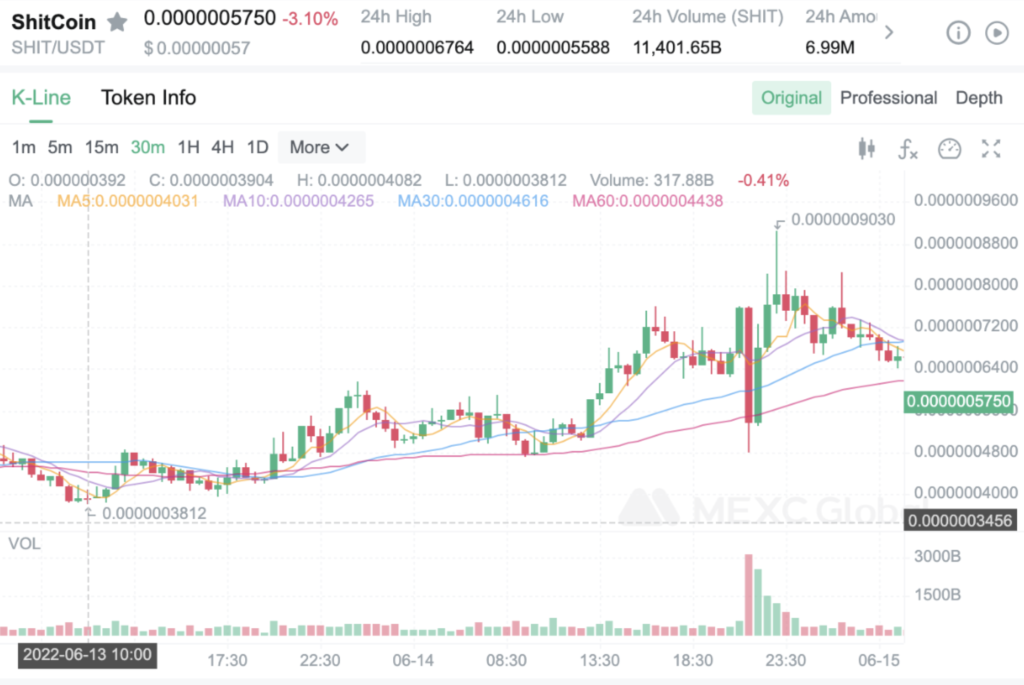 ShitCoin at MEXC ETF
With quick listing of ShitCoin trading pair (SHIT3L/USDT) under the ETF section, the highest yield from the same period has reached 765%, 3.6 times more than spot trading yield.
MEXC does not only have a large number of trading assets, but also have very quick speed for listing. From average, MEXC lists 3-5 projects per week. Due to the advantages from the spot trading market, MEXC always gets abundant projects and quick listing speed in ETF products.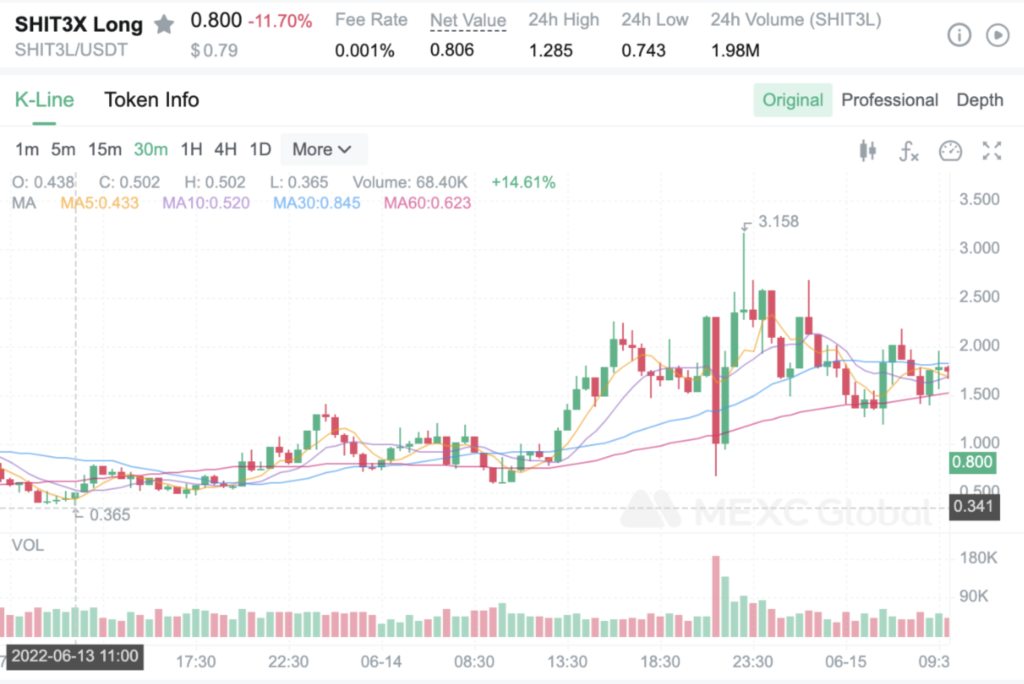 The advantages of MEXC Leveraged ETF for ShitCoin
No margin, no liquidation price, high capital utilization
Take buying 3x long for ShitCoin or 3 x short for it as an example. If you go for 3x long, you only need to buy SHIT3L. If you go for 3x short, you only need to buy SHIT3S. This is similar to buying/selling ShitCoin (SHIT), in which there is no complicated operation like dealing with futures. There is no need to occupy part of the position as a margin to raise or lower the liquidation price, the capital utilization is high, and there is no liquidation rule.
Compound interest effect
Due to the rebalancing mechanism of leveraged ETFs, in the continuous rising/falling market, the daily profit will be automatically transferred to the position and reinvested to achieve compound interest. Hence, the profit will be higher than that of margins or futures products of the same multiple.
Fast launch speed and many tradable assets
MEXC currently supports leveraged ETF trading of more than 400 crypto assets including ShitCoin with SHIT3S & SHIT3L pairs. Popular projects are launched quickly, and it has a wide range of trading categories, covering mainstream public chains such as Ethereum, Polkadot, Solana, and Avalanche Protocol, as well as NFT, Metaverse, GameFi, DeFi, Layer2, DAO, etc.
Risk Control at MEXC ETF
Due to the rebalance mechanism, certain fee rate erosion may be incurred in leveraged ETFs. Therefore, it is not suitable for a repeated volatile market but more suitable for unilateral market trends, such as unilateral uptrends and unilateral downtrends.
The rebalance mechanism is divided into periodic rebalancing and non- periodic rebalancing. MEXC's leveraged ETF products will be rebalanced regularly at 0:00 Singapore time every day.
Periodic rebalancing is essentially what the platform does to maintain the 2, 3, 4, or 5 times leverage of an ETF. In addition, MEXC also needs to carry out risk hedging on other derivatives platforms to avoid the risks caused by the sharp rise and fall of prices, and maintaining the leverage ratio and hedging requires a certain fee rate erosion.
Non-periodic rebalancing refers to the scenario where the position of the party that suffers a loss will be adjusted when the benchmarked spot price rises or falls by more than a certain range. For example, SHIT rises by 15% in a short time, resulting in SHIT3S falling by 45%. This triggers a non-periodic rebalancing. Some positions will be sold, and the leverage will then be restored to 3x to control the risk of the position.
Join MEXC to trade ETFs like SHIT3S/SHIT3L
Established in April 2018, MEXC Global is a digital asset trading platform with over 7 million users, which offers users one-stop services, including spot, margin, leveraged ETFs, derivatives trading and staking services. The core members of the team come from international enterprises and financial companies and have experience in blockchain and financial industries. Visit official MEXC News & Updates section in our blog to know more about us!
Start your travel on MEXC Global