Renga NFTs, launched September 2, 2022, is a handcrafted collection of 10,000 characters that have been developed by the artist DirtyRobot. Every character has their own identity that can be discovered within the wider stories of the RENGA ecosystem. In its purest form, RENGA is the art of storytelling. Begin users' stories by browsing the analytics of this collection and purchasing one of them right here on NFTGo. This article explores the core features of Renga and how one can purchase Renga by first purchasing ETH as a base token on the MEXC Exchange.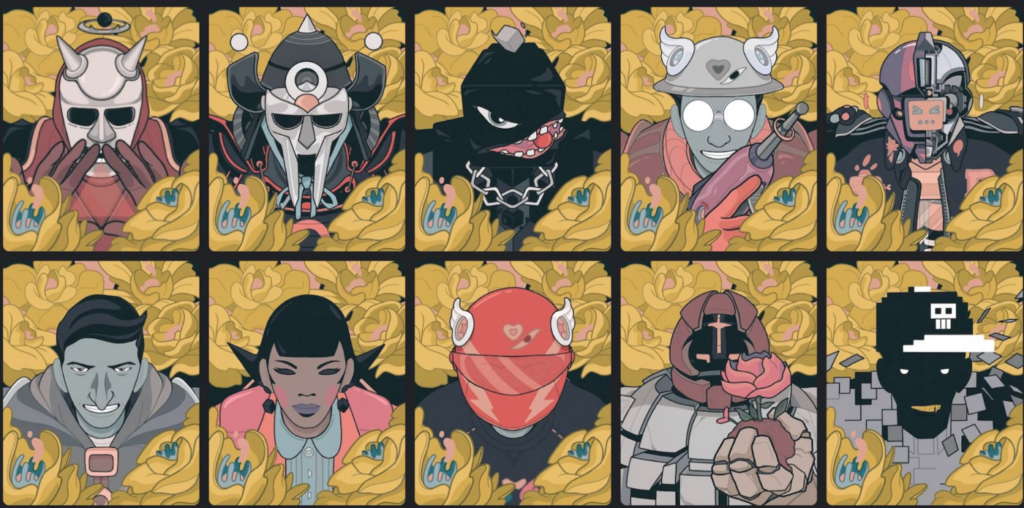 What is Renga?
RENGA is a handcrafted collection of 10,000 characters developed by artist DirtyRobot, also known as Daniel Isles, an illustrator based in Japan who began his journey in making comics at the young age of 9 years old. Working primarily with ink and paper, DirtyRobot is taking his 20+ years of experience and putting it into Renga as his life work.
Each with its own identity to be discovered within the wider stories of RENGA. In its purest form, RENGA is an art and the art of storytelling.
RENGA means Sequential art or pictures (type of printed, graphic storytelling. differentiated from the manga by its liberal use of page space, often only one panel per page, and sparing use of dialogue).
This project aimed to create an NFT project with a Japanese comic style, comic series, and storyline. In the future, they hope every holder can be a part of the story.
Black Boxes
Renga's collection consists of Black Boxes. Renga Black Box is a collection of mysterious NFTs living on the Ethereum blockchain. Each Renga Black Box NFT was airdropped to holders of The Art of Seasons NFTs. The Renga Black Box NFTs are believed to be required to be able to mint the upcoming RENGA NFT collection. Renga is described as "a carefully curated, hand-crafted collection inspired by community, art, and imagination." The unrevealed NFTs featured black cubes that were spinning on a loop. The boxes contain information pertinent to the past, present, and future of Renga Factory. Each box opens a portal to a random archetype from worlds unknown in the RENGA universe.
The black boxes are blank canvases with the ability to reveal any Renga character. Every black box holder will be given the opportunity to open their box (burn) and reveal a character (mint) from the Renga universe via a burn-to-mint mechanism.
The total supply of Renga Black Boxes will be 10,000 boxes. As boxes are burned, their supply will decrease, while the supply of RENGA NFTs will increase. The maximum possible supply of Renga Characters is 10,000, but this number will be relative to the number of Renga Black Boxes that are opened (burned).
These boxes will ultimately be the portal for users' Renga characters to enter this universe. The character will be the users' key to everything Renga.
The Art of Seasons
The Art of Seasons is a complete collection of dynamic illustrations featuring Spring, Summer, Autumn, and Winter. The Art of Seasons (TAOS) is the first NFTs collection by Renga artist and founder DirtyRobot. All TAOS holders have airdropped Renga Black Box. People that held TAOS didn't expect anything, and got airdropped the black boxes for free.
How to buy Renga?
To purchase Renga, users can either purchase ETH first on MEXC Exchange following the steps listed below:
Log in to your MEXC account and click [Trade](ETH). Click on [Spot].
Search "ETH" using the search bar to see the available trading pairs. Take ETH/USDT as an example.
Scroll down and go to the [Spot] box. Enter the amount of ETH you want to buy. You can choose from opening a Limit order, a Market order, or a Stop-limit order. Take Market order as an example. Click [Buy ETH] to confirm your order. You will find the purchased ETH in your Spot Wallet.
After purchasing your desired amount of ETH, you can send them to your Metamask wallet and then purchase Renga on OpenSea.
Recent Renga Price & Performance
Over the last 14 days, the collection Renga has had an average price of 1.1841 ETH and an average transaction volume of 5,270.589. Until now, Renga accumulated a total transaction volume of 6,200 ETH.
Interested in buying NFTs? We have more!
MEXC not only provides access to the world's most popular tokens and new GEMs, but also offers unique assets & tools! Visit the hot projects section to find more hot tokens that were listed already. If you want to know more about crypto trading, visit MEXC Academy.