Most "decentralised" applications and "Web3" projects are not decentralised, they still rely on centralised domains, storage and browser extensions, which unfortunately can be censored and potentially subject to hackers' attacks. The market needs a true Web3 network to realize the dream of a fully decentralised Internet.

Point Network has been committed to build a fully decentralised Internet, by replacing every layer of the current internet with its decentralized counterparts decentralised domain names, decentralised storage, decentralised identities, etc. With its own backend language zHTML, running locally on users' devices, their own web3 Point Browser allowing to natively access web3, and integrated multichain Point Wallet, the project can migrate existing websites to decentralized storage network Arweave, and the website and dApp code, pictures, audio and video, text, etc. are uploaded to be permanently stored in a censorship-resistant manner.They are also multi-chain by default: instead of isolating people to only use their Point Chain, they allow to use one mnemonic to log into all Dapps on all chains supported by the browser.
Point Network launched its own Layer1 proof-of-stake chain Point Chain as part of the Cosmos ecosystem on September 1, and its native token is POINT. Point Network,however, is not just a blockchain, it is a complete software suite. Users not only can store, receive and send Point in the Point wallet, but also access Ethereum, Solana and other public chains using a mnemonic phrase,as well as the dApps on these chains, meaning apps like Uniswap and Raydium don't have to migrate off of Ethereum and Solana, and can be used right from Point Browser (but this time, in a fully decentralized way: on e.g. uniswap.point instead of centralized uniswap.org). Point's complete roadmap can be found at roadmap.pointnetwork.io.
Tokenomics
The total initial supply of POINT issued is 1,000,000,000, and the distribution is as follows:
30% for private placement rounds, and will be released linearly for 2 years after 1 year hedging.
2% for pre-sale and public sale, no hedging.
28% for the community, used for liquidity, bounties, airdrops, DAOs, Dev Grants, etc.
20% for core team, advisors, contributors, etc.
20% for treasury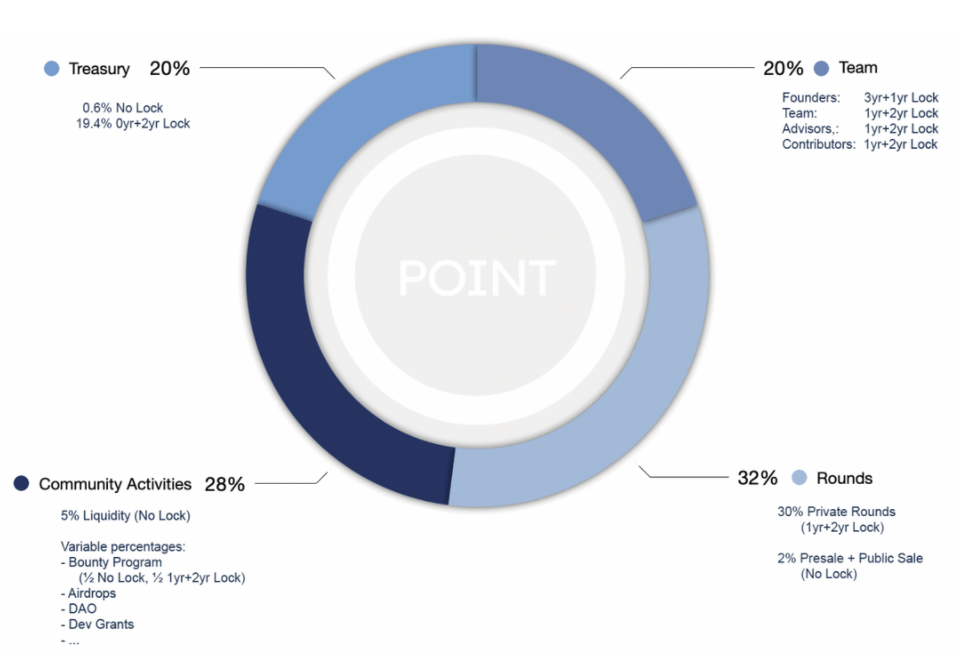 Infrastructure
The official has not disclosed any specific funding information of the project. According to the official website, the list of backers includes: FTX, Arweave, Sino Global Capital, PetRock Capital, Chorus Ventures, Zoomer Fund, Solar Eco Fund, Crypto Society, Prycto, Definitive Capital, etc.

Token Risk and Value Analysis
The practical uses of POINT are as follows:
Payments: The fees that may occur to pay in the Point Network ecosystem, from trading to decentralised Patreon tips and subscriptions, up until decentralized Upwork salaries, and other dApp activities.
Staking: By conducting staking and validating on the network which would earn additional rewards.
Storage: On Point Network, users can read and view all content for free, but to upload content to the network or the blockchain, whether to post a comment on their decentralized social network Point Social, or send an email on end-to-end encrypted Point Mail, or upload a website,POINT tokens are used as Gas fees.
Point Network claims to bring decentralisation to every layer of internet infrastructure, so that it can become the most practical and secure infrastructure for Web3 applications. Point Labs team have worked for 2 years on the product before releasing the POINT token, however, the plan remains to be validated by the market: it must be able to provide competitiveness compared with other products, and consistently prove that it is, in fact, truly "World's First Full Web 3.0 Implementation".
Note: The information is only for sharing purpose and does not constitute any investment advice. Please always pay attention to any risks in the market.
Start your travel on MEXC Global