What is Plethori and PLE Token?
Plethori Token (PLE – Trade it here) – the native coin of a new cross-chain ETF trading platform. PLE gives you the ability to follow, trade, and create your own cryptocurrency ETFs. On the 4th of January, Plethori Token was listed on MEXC Global by Kickstarter event.
What makes Plethori Unique?
Plethori's groundbreaking ETFX will redefine the DeFi space. By being a cross-chain crypto-ETF Investment Platform, it will offer trading and creation of trustless ETFs by utilizing blockchain technology and layer 2 solutions.
Plethori Token debut product is ETFX (ETF Exchange). The platform will offer investors the opportunity to buy and sell a wide range of crypto-based exchange-traded funds. This game-changing platform will provide a variety of ETFs, each made up of a select portfolio of tokens from many diverse cryptocurrency sectors and ranging from small to large-cap projects.
Bringing ETFs to crypto like never before, Plethori's ETFX delivers a unique product to a market hungry for such innovation.
PLE Token Founders & Team
Plethori token dev team consists of highly experienced web and blockchain developers, specializing in Solidity, Rust, Python and Javascript. It's packed with management who made experiments in Security Research, Financial Research, Data Science and Software Development in various domains.
PLE Tokenonmics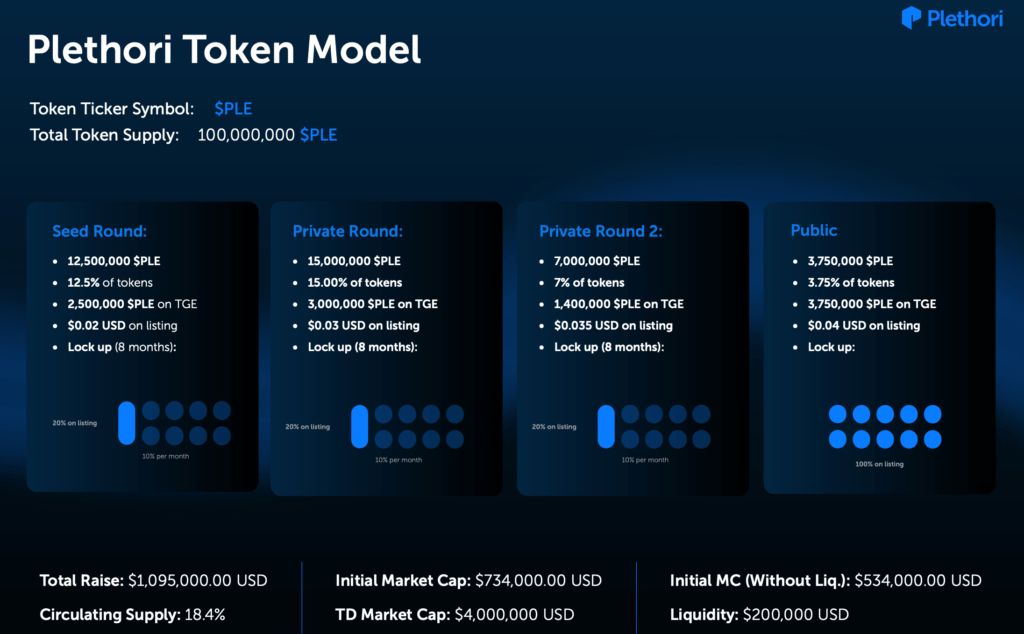 PLE Token on MEXC Kickstarter
After a voting session of Kickstarter for PLE Token concluded, users have contributed a total of 46745776.20641354 MX to vote for the Plethori Token listing on MEXC.
PLE/USDT pair started trading on January 4 in the Innovation Zone.
The highest price of PLE was 0.10021 with an opening price of 0.02. Token listing performance resulted in more than 400% growth!
Plethori Token at MEXC Global
MEXC Global is the first and most reliable exchange platform where you can find Plethori Token. If you are keen on buying some PLE for your altcoin cryptocurrency portfolio – just visit our Academy to learn how to start trading on MEXC Global.
Start your travel on MEXC Global
---