ORE Network stands for Open Rights Exchange. It is a blockchain that lets users securely manage their identities. It is also a universal exchange account that aims to introduce new users into the world of blockchain. Essential information for their token is available on the MEXC Digital asset introduction page. Furthermore, we are listing (ORE/USDT – Trade it here) on our Innovation Zone, check it out now!
In this blog interview, you'll find insights about the ORE Network.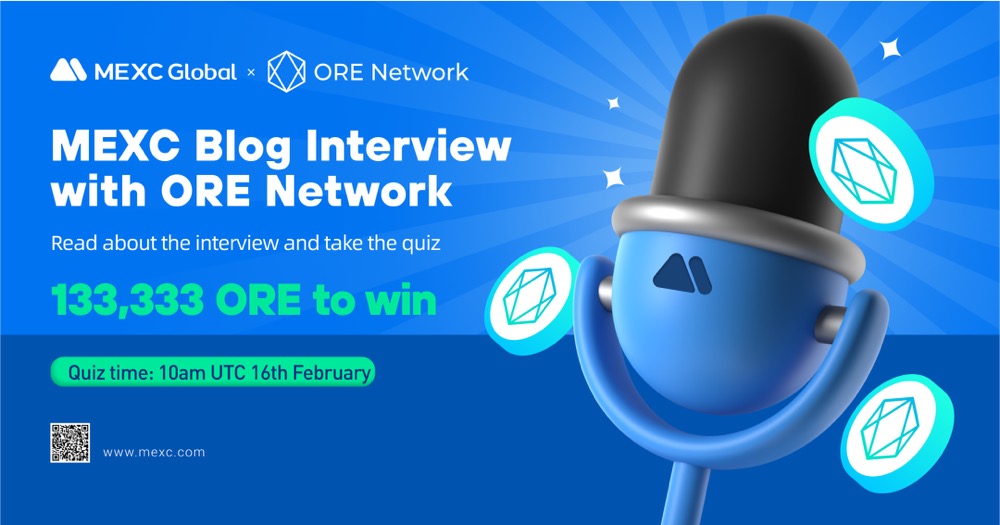 Q1:Please briefly introduce the ORE Network project. What are the core highlights?
Answer:
The Open Rights Exchange (ORE) Network is a blockchain and protocol purpose-built for privacy-protecting digital identity, with comprehensive developer tools. The ORE Network is powering high-growth tools solving web3's massive adoption challenge. ORE ID by AIKON connects Web 2.0 identities to Web 3.0 and allows users to tap into the benefits of many blockchains, including Ethereum, Algorand, Avalanche, Polygon, Telos, and WAX. After launching in 2018, ORE ID has been integrated into some of the industry's leading businesses and decentralized applications (dApps), including RFox, NFT Battle Miners, EarnFi, Exotopia, and more.
Q2:How did you come up with the idea of developing the ORE Network?
Answer:
Today, the data that makes up a person's "identity" is stored in centralized databases controlled by large corporations and governments. The question for us has always been – who should own your identity and data? We believe the answer is you.
People should own their identities and their data. This ownership should not rely on the trust and permission of central parties or even be isolated to a single blockchain. We have seen the pitfalls of centralized identity infrastructures with massive data breaches, overreach, social engineering — and the exchange of individual privacy for corporate profits.
In a world that is increasingly digitized, there needs to be a secure and privacy-protecting infrastructure for identity, assets, and rights management on the Internet. The ORE protocol is designed to provide that infrastructure, giving individual users ownership of multiple on-chain identities for different applications, allowing that user to control how much of their online activity they share between sites. ORE ID is just one developer tool for the Open Rights Exchange to achieve this vision.
Q3:What products are on the ORE Network now, and what is ORE Vault?
Answer:
AIKON'S flagship product on the ORE Network is ORE ID. ORE Vault also uses the ORE Network and is a multisig wallet built for businesses with any digital currency and NFT.
Q4:What is ORE ID, and how does it work?
Answer:
ORE ID is the easy-to-use, Web 3.0 Single Sign-on (SSO) and universal wallet creation solution, allowing users to tap into the benefits of many blockchains, including Ethereum, Algorand, Avalanche, Polygon, EOS, WAX, and TELOS. ORE ID allows a user to login with popular logins like Google, Apple, Facebook, email, etc. and create wallets on the required blockchain.
ORE ID Wallets also work within existing applications, allowing users to stay within the app or game to sign transactions for a better user-experience. The ORE Network and ORE ID are designed to allow apps and Dapps to pay for their users account creation and transaction costs, making it easier for everyone.
Q5:How will the ORE Network bridge the gap between Web2 and Web3 in ID solutions?
Answer:
We believe that as blockchain mass adoption takes place, there won't be a single chain that "rules them all." This idea of a single omnipotent blockchain goes against the fundamental "decentralization" concept of blockchain technology. Our vision of the future blockchain space is one with many chains co-existing, side by side, servicing different geographical areas and specific needs. Our approach is unique in the blockchain space because we connect web 2.0 identities – like email or social logins – to multiple blockchains, so people can log in web 3.0 with web 2.0 systems they're used to. The ORE Network is the underpinning technology for this bridge.
Q6:How is the economic model of ORE designed? What are the application scenarios? How should users participate if they want to get tokens?
Answer:
The ORE Token is the digital asset built for identity that powers the ORE Network — and any solutions built on the ORE Network. Anyone who wants to use the ORE Network has to use ORE Tokens to store data, such as their decentralized identity, on the blockchain. Anytime a business creates a new account on the ORE Network for its users, the business needs to utilize and spend ORE Tokens. This is akin to renting servers in the cloud.
The ORE network's utility token model provides the mechanisms required of any identity system to be truly decentralized. Its built-in business model creates an alternative to the typical centralized identity model where user data is monetized for gain. Instead, ORE puts the user in control of their identity credentials.
Users can get ORE Token on DEXs like Uniswap, PancakeSwap and Quickswap (and on MEXC on February 15, 2023!).
Q7:Can you introduce the team background and financing background of ORE Network?
Answer:
Marc Blinder is the Co-Founder and CEO at AIKON, and a core contributor to the ORE Blockchain. Marc ran his first company at 28 years old, a social network called Mobileplay (which he sold to Good Technology) and became Creative Director at Context Optional which sold to Efficient Frontier for $50M. At Efficient Frontier, Marc set up the social business across EMEA before the company was acquired by Adobe for $400M. He's spent the last four years working on Blockchain technology with AIKON and ORE.
The creators of ORE ID – AIKON, announced a Series A funding round Led by Morgan Creek Digital and a strategic partnership with Avalanche and Blizzard Fund.
Q8:Which companies or project teams does ORE Network work with?
Answer:
ORE ID is integrated into the industry's leading businesses and decentralized applications (dApps), including AllianceBlock, RFox, NFT Battle Miners, Exotopia, EarnFi and more.
Answer:
Since 2017, ORE ID has provided an easy-to-use, scalable, and secure method of handling digital assets on multi-chain platforms for over 200,000 users. On top of that, ORE ID was awarded one of the best tools for product managers at the 2022 Product Awards and increased user base 270% over the past year.
In 2023, Telos Foundation chose ORE ID to provide the first official Telos Cloud Wallet for free to Telos developers. The Telos Foundation is funding the first 3 million wallets created under this program. Phase 1 has been successfully completed.
Q10:What is the next step of the ORE Network?
Answer:
The ORE Network is focused on the utility of the chain and mass adoption of the network. The team has been working to ensure healthy and steady growth of the features built on the ORE Network. ORE ID is used in 12 countries, with a host of new customers choosing ORE ID as their decentralized identity solution including two blockchains choosing it as their official cloud wallet.
Where to buy ORE Tokens
You can find ORE here at MEXC! We are listing ORE/USDT on our Innovation Zone, check it out now!
What is the Price of ORE Tokens?
The current price of ORE Token is $0.008009 per unit. It has a market cap of $3,049,504 and a fully diluted market cap of $8,496,029. It also has a 24-hour trading volume of $3,420,682. You can check the live price of their token right here!
How to buy ORE Tokens
You can buy ORE Tokens on MEXC by following the steps:
Log in to your MEXC account and click [Trade]. Click on [Spot].
Search "ORE" using the search bar to see the available trading pairs. TakeORE/USDT as an example.
Scroll down and go to the [Spot] box. Enter the amount of ORE you want to buy. You can choose from opening a Limit order, a Market order, or a Stop-limit order. Take Market order as an example. Click [Buy ORE] to confirm your order. You will find the purchased ORE in your Spot Wallet.
You can find a detailed guide on how to buy ORE Tokens here.
Keep Yourself Updated With The Crypto Trend
Check out all of the listings in the Innovation and Assessment zones as well as the major tokens in the Main Zone – we have more amazing projects to come! What's more, MEXC lists moonshots and offers access to trade major cryptocurrencies. Visit the Hot Projects section as well to uncover more featured popular tokens. Lastly, feel free to visit MEXC Academy to learn more about cryptocurrency!
Start your travel on MEXC