OpenSea, one of the leading NFT marketplaces, has temporarily reduced its transaction fees to zero. This decision comes after the platform was challenged by one of its competitors, BLUR, a new NFT platform that is positioning itself as an alternative to OpenSea.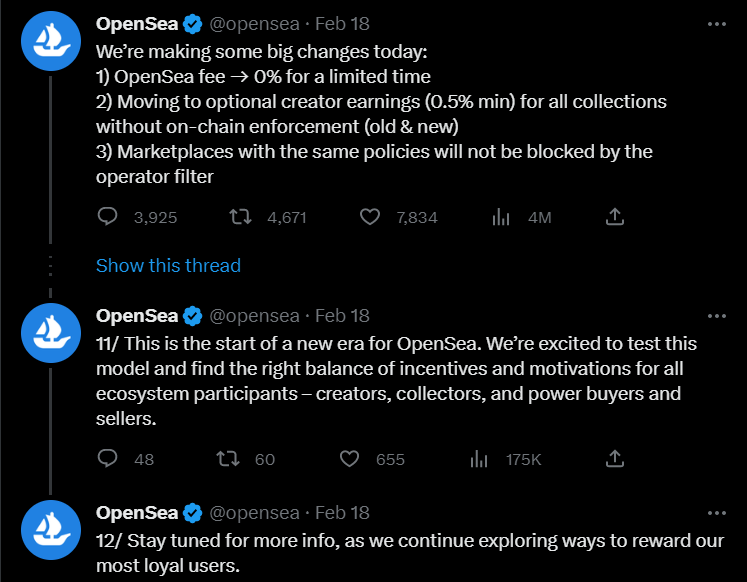 In a recent Twitter thread, Opensea decided to make some changes to its structure. It is temporarily reducing its transaction fees to zero. This decision comes after their competitor BLUR's challenge. Furthermore, the community believes that this decision came because BLUR was recommending users boycott Openseas. It is targeting high-profile artists, musicians, and celebrities by offering them the ability to launch NFT drops without any fees.
OpenSea's fee reduction aims to help the platform attract more buyers and sellers and compete with BLUR's fee-free model. The move is a response to the competition and is likely aimed at retaining OpenSea's market share in the increasingly competitive NFT marketplace.
The competition between OpenSea and BLUR is a positive development for the NFT market. The increased competition is likely to lead to more innovation, better user experiences, and more affordable transaction costs. The battle between the two platforms will be closely watched by industry insiders and could have a significant impact on the future direction of the NFT market.
BLUR's fee-free model has generated significant interest from artists and creators. This is especially true for those looking for alternative platforms to sell their NFTs without incurring high transaction costs. This is especially important for high-profile artists who want to maximize their profits from NFT sales.
How is Blur NFT Marketplace Changing the NFT Market?
Blur is a decentralized pro-NFT marketplace. It is a place for pros and art lovers to mingle and have fun. Furthermore, they are backed by Paradigm and are live now with airdrops for NFT traders. Since its launch on October 19, 2022, it is the fastest most versatile NFT marketplace available. Learn more about what is BLUR now!
BLUR's challenge to OpenSea highlights the need for established NFT platforms to remain competitive and innovative in order to stay relevant in the rapidly evolving NFT market. The move by OpenSea to temporarily reduce its transaction fees to zero is a clear indication that the platform is taking this challenge seriously and is willing to make changes to remain competitive. Overall, the competition between OpenSea and BLUR is likely to benefit the NFT market by promoting innovation and reducing transaction costs for buyers and sellers.
Closing Thoughts
Ever since Blur became live, many NFT marketplaces are making changes to their structure. Its strength and popularity on the market are also growing every day. Safe to say, this will be an interesting fight and NFT users are the ones fully benefiting from it.
In the meantime, check out our MEXC trading page and find out what we have to offer! You can learn more about crypto industry news and interesting articles to get you up to speed with the crypto world. Happy trading!