Exorde is a decentralised protocol aimed at selling e-reputation scores for brands, products, celebrities and more. Exorde is a new protocol aimed at collecting and extracting sentiment from social networks all over the world through a decentralised community. Essential information for their token is available on the MEXC Digital asset introduction page. We have listed (EXD/USDT – Trade it here) on our Innovation Zone. Check it out now!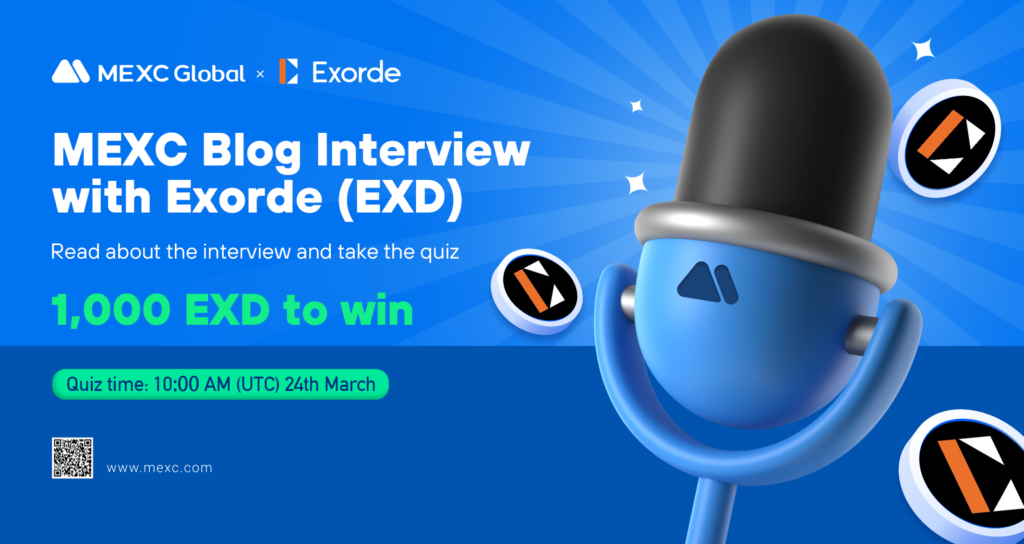 In this blog interview, you'll find insights about the Exorde.
Q1:Please share with us about EXD. What project is this? Can you introduce your team and the team background?
Exorde started off in 2020 as a brainstorming project aimed at finding solutions for fighting misinformation across the web tomorrow. As the concept evolved, Exorde has become a behemoth in data collection across the Web, creating and selling international live e-reputation scores.
Our team is composed of 7 full time engineers, all based in France. Our engineers are working around the clock to build the world's first fully decentralized data collection protocol. This decentralization is key to collecting data that is difficult to access in every language, on every social network, all over the world.
Q2: What are the highlights of EXD?
Exorde is the world's first fully decentralized data collection & sentiment analysis network. Leveraging a massive community to surf through the social networks today, Exorde is a protocol capable of delivering live e-reputation scores on any subject, in-depth sentiment analysis, regardless of language barriers and geo-location barriers.
Exorde's utility token, the EXD token, is used to pay Exorde's contributors into collecting data on specific subjects. Exorde was built around the EXD token, and not the other way around, therefore guaranteeing smooth synergy between the service provided by Exorde and the utility of the EXD token.
Q3. Can you give us an overview of Exorde products?
Exorde's first demo dapp was aimed at predicting Bitcoin prices within the hour based only on sentiment analysis (the feelings people express) on social networks. Although the app was a success in that it managed to showcase Exorde's power, it was only meant to be a demo dapp of the true product we intend to release.
Exorde's next dapp will be a game-changer on so many different levels. This dapp scheduled to be released in May 2023 will allow individuals to obtain precise e-reputation scores on a wide variety of subjects for free. It is the first time such a tool will be made publicly accessible (current variants have a free trial at best), all thanks to web3.
This dapp will go over current events, politics, celebrities, controversial subjects, trendy/viral topics, tokens, stocks and more! Follow us on our social networks to learn more about the upcoming release!
Q4: What is the tokenomics of EXD?
Exorde has obtained many investors since early 2022 as can be seen here: https://exorde.network/. All private investors to this day have 2 years worth of vesting on their tokens through linear unlock. This long vesting period guarantees that all of our investors' objectives will be aligned with ours in the long term.
All token-related info can be found here: https://exorde.network/token
Q5: How can people join to be a part of the community?
There are many ways you can join to be part of Exorde's community:
Q6: What is the current user volume of your project? How will it expand its market share?
Exorde has over 13k Discord members and 9k followers on Twitter in a quickly expanding community as our protocol becomes more powerful every day.
Our dapp scheduled to release in May 2023 is expected to be a game-changer is how people trade crypto, interact with current events, track controversial subjects and get a better read of today's world.
This is the first time such a free application will exist and be available to all. We expect this dapp to become a necessity when navigating trading, crypto, and news in general in tomorrow's world.
Q7: What is the EXD roadmap?
Our updated roadmap can be found here: https://exorde.network/roadmap
Q8:What is the next step of Exorde's development plan?
Exorde's next steps include:
Releasing our dapp during May 2023
Growing our userbase on the dapp all throughout 2023 through many marketing activities, adding additional features, and analyzing user feedback
Adding premium features to the application to create revenue for the protocol
Launching mainnet when the Exorde protocol becomes stable