We've picked our top 15 tokes from MEXC's overall trading data of spot, ETF and Futures trading! The most popular mainstream tokens are BTC, ETH, BNB, TRX, USDC, ADA and SOL. Other hot projects are FORT, CAW, CXD, AZERO, MOVEZ, SHIT, FITFI, MX. Among them, FORT has reached the highest yield of 192% after listing on MEXC. Let's explore these hot new tokens of the week in details!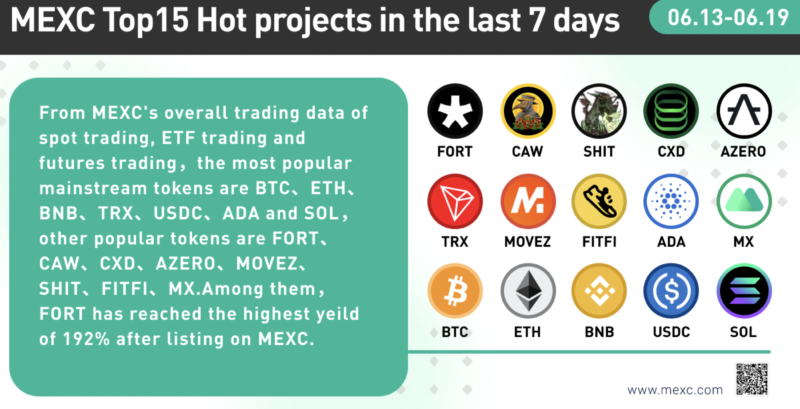 7 Newly Added Hot Tokens
Forta (FORT) is a real-time detection network for security & operational monitoring of blockchain activity. Led by a16z ,Forta is a decentralized, community-based monitoring network to detect threats and anomalies on DeFi, NFT, governance, bridges and other Web3 systems in real-time.The total token amount is 1 billion FORT, after listing on MEXC , the highest yield has reached 192%.
Hunters Dream (CAW) is a decentralized algorithmic stablecoin payment network. Currently, this project belongs to the meme track, and it neither has any official website, whitepaper nor social media. However, it had a rather high popularity in the community at that time, and its nature is somewhat similar to the early SHIB.
CortexDAO (CXD) is the protocol that develops and governs index products such as the Convex Index. The Convex Index offers broad and diversified exposure to an integral part of Decentralized Finance, the Curve ecosystem. The DAO Constitution provides the foundation of operating principles for protocol governance. The goal is to elicit feedback from the CXD community in the Cortex forum and make updates ahead of a formal proposal.
Aleph Zero (AZERO) is a privacy-enhancing, Proof-of-Stake public blockckchain with instant finality. It's enterprise-ready, high-performance network is built on a novel, Directed Acyclic Graph (DAG)-based consensus protocol that has been peer-reviewed and presented at an ACM conference. Aleph Zero uses the DAG as an intermedriary data structure, but can still be categorized as a blockchain. To date, Aleph Zero raised $15m for continued development, integrating with the Substrate stack, and expanding the team.
MoveZ (MOVEZ) is a BSC-based Web3 sports fitness application. The creation and implementation of a sustainable and effective Move-to-Earn (M2E) model by the MoveZ team allows users to move, jog, walk, run and swim indoors and outdoors to earn in-app tokens that can be donated to numerous charities or cashed out for profit.
It is reported that to participate in MoveZ's M2E ecosystem, users do not need to own NFT assets. They can get MOVEZ token rewards by participating directly in a series of fitness activities in the MoveZ app. MoveZ aims to revolutionize the fitness industry by encouraging more people to improve their health and achieve fitness goals, and also shifting profits from owners to platform users through a unique decentralized platform.
ShitCoin (SHIT) is a community hotspot NFT with novel gameplay. It has been in the top 10 of Opensea's leaderboard for several consecutive days. Its content is a pile of shit. Its core concept is to challenge the previous BAYC and Azuki: everything is shit. ShitCoin expresses its dissatisfaction with the market in a sarcastic manner, and its launch has aroused great emotional resonance among the crypto market and users.
The ShitCoin team leveraged its excellent marketing and roadmap delivery strategies to rank among the top three NFTs on OpenSea in terms of price and transaction volume within a week. Its governance token SHIT has a total supply of 100 trillion, of which 39.05 trillion will be airdropped, 25 trillion will be transferred to the Vitalik wallet address. ShitCoin (SHIT) achieved its highest gain of 1488% within 3 days of its listing on MEXC, which gained itself a lot of attention in the market.
It is reported that ShitCoin first-generation NFTs include I will poop it NFT, Genesis ShitBeast and ShitBeast. Among them, I will poop it NFT has a total supply of 10,000. It was minted for free at first, and then its highest floor price exceeded 1.45ETH. Genesis ShitBeast has a total supply of 3,900, with its highest price exceeding 3.4ETH. Also, when every two I will poop it NFTs synthesize into one Genesis ShitBeast, 100 million SHITs will be generated at the same time. ShitBeast has a total supply of 6100, and it can be obtained by minting. Its highest price has exceeded 1.15ETH. Genesis ShitBeast and ShitBeast can not only be staked to obtain SHIT, but also upgrade into a phase-3 NFT through a bathroom cleaner (a synthetic potion).ShitCoin's performance is relatively outstanding, as it only took a short time to complete a blue-chip NFT lifetime. From "shit", blue-chip to brand IP, and then to the mutual growth and success between its token and NFT, the planning of the third-generation NFT and X to earn still leaves a huge space for the market to imagine as it holds the network traffic and topic of interest.
Recently, we wrote an article about ShitCoin and it's performance in MEXC ETF section with SHIT3S and SHIT3L.
Step.App (FITFI) is another Move to earn project launched by MEXC after STEPN. The project develops a series of location-based "X to Earn" products through NFT geolocation technology, and creates a gamified metaverse for the fitness economy, where users can walk and run to socialize, entertain and make money. Since FITFI's listing on MEXC, its highest gain has reached a 182-fold surge.
MX is MEXC's platform token. In the MX ecosystem, MX can be used for trading and transaction fee deductions. MX holders can participate in Kickstarter, M-Day, MX DeFi, MEXC Voting and other activities to enjoy comprehensive benefits such as the opportunities to participate in early projects, new token airdrops, and staking profits.
About MEXC Global
Established in April 2018, MEXC Global is a digital asset trading platform with over 7 million users, which offers users one-stop services, including spot, margin, leveraged ETFs, derivatives trading and staking services. The core members of the team come from international enterprises and financial companies and have experience in blockchain and financial industries.
For more information, please visit our website . Follow MEXC Global on Twitter and Telegram.
Start your travel on MEXC Global