In this Telegram AMA recap, you'll find insights about the Yesportsproject. In an event hosted by Miranda from MEXC Global, you will meet Sebastian Quinn, the founder and CEO at Yesports.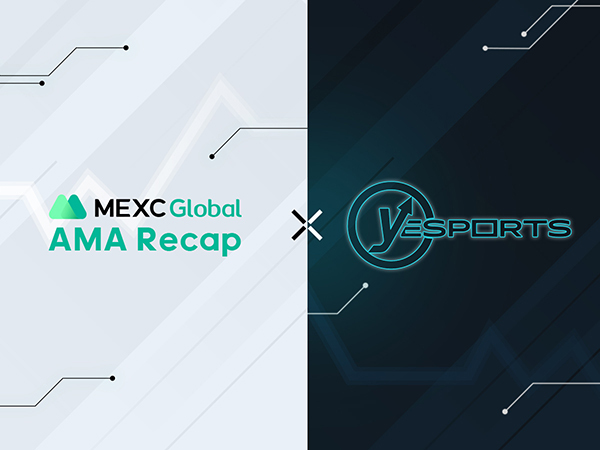 Introduction to AMA Member from YESPORTS:
Sebastian Quinn: So I first got into crypto following the Consensys conference in NYC in early 2017. This was after spending 4 years as a corporate lawyer in Sydney and China.
Throughout 2017 and beyond, I was fortunate enough to work with some of the most successful and most enduring companies in the space, including AirSwap, Status.IM, Bluzelle, Simple Token and Power Ledger. I also worked with several pioneers in the space, such as setting up the first AI + Blockchain Accelerator with the NASDAQ listed JD.com.
I also started an esports agency helping some of the biggest teams in the world connect to great sponsors and partners. Which is where we built some of the big esports connections that we are launching with Yesports. Yes! Very luck to have joined back then. Have seen a lot of the market evolve.
These last 2 years I've been building with a great team, the leading DeFi platform on Algorand – Yieldly – which we have grown to ~100m in TVL, 30K+ users, 3.5M+ transactions and lots of NFT tech etc.
Questions from community:
Question 1:
Miranda: First can you tell us what is Yesports? Can you share with us more in detail?
Sebastian: With pleasures,, more than happy to share. Yesports is the world's first Web 3.0 Esports Engagement Platform (W3EP).
It is designed to redefine how esports teams and fans engage. Our product, with its MVP built on Polygon (prime foundation for cross-chain interoperability), primarily entails 4 core things built over time:
Web 3.0 Services: our team offers a full white glove service to esports teams to help them transition over to web 3.0 — this a major differentiator for us – as we know the transition can be challenging. We are at the bleeding edge of how to interact with gamer/esports fans. Yesports takes esports and makes it very tactile and engaged through blockchain backed products.
NFT dev & GTM: We have a dedicated team of world class creators and strategists that help esports teams think through, and create high fidelity utility NFTs for their fans. The utility here is critcal – as much of the gamer community wants to add long term value to their fans and holders of their NFTs. So making the worlds most interactive NFTs is part of that mission.
Yesports Marketplace: These created NFTs can then be sold on the — Yesports Marketplace. We have pioneerd with our top VC firms and market makers the first esports/gamer token economy around that. Each team will have their very own dedicated storefront within the marketplace — whereby fans can purchase these NFTs – be whitelisted – win nft prizes from staking and more. One thing thats become clear with working acorss our top tier teams is ensuring the NFTs unlock immersive and interactive special fan access such as signed merchandise, exclusive video content, Discord servers, additional NFT drops, discounts, coaching sessions, signed merchandise, and so on. Those additional layers of engagement is very powerful to bring the 500m gamers into crypto markets.
Team metaverse: longer term as we expand the rewards of the NFT Access Cards. This new explorable world experience / community that rewards contributors/esports fans.
We have made some pretty significant annoucements in the last 24 hours about the first batch of 5 global teams joining us to launch exclusive NFTs with us and for their fans.
Which amazingly makes us the largest esports focused NFT and web3 product in the market in terms of teams and fan bases.
Question 2:
Miranda: Next can you tell us what triggers you to found Yesports? What are some of the real-world problems/ pain points that Yesports aims to solve?
Sebastian: First is our Mission: Our aim is to provide the way for esports teams and gamers to engage with their fans and community in web 3.0 — PLUS connect with the greater crypto community longer term (given the large overlap between gamers and crypto users).
The second is the way we do this ie the Problems we are solving: There's a huge yet overlooked global gaming and esports market that is yet to tap into Web 3.0 innovation. There are 500m plus gamers and a market worth over $350b glboally and no products built for key engagement into Web 3.0.  
Our Web3.0 Engagement Platform solves that! Both Web 3.0 and esports communities share similar demographics and tech proficiency. However, until Yesports, there has been no single Web 3.0 project out there focused exclusively on that nascent relationship. To drive those gamers into Web 3, which is a sort of successor state to everything we've seen to date.
it interesting to point out that Esports is a fast follower of blockchain and Web 3.0 innovation – and we're accelerating the adoption and enabling key parts of the esports and gaming industry to scale new heights with our product
Theres some great data points that show the big end of town in gaming world all riding Web 3.0 – 3 weeks back we saw Microsoft buying Activision for around 70B to drive their games into the metaverse.
Gamer esports community = 500m+ strong user group (on monthly users basis globally).
We figure that someone needs to build the pathway from esports into web3 and we are excited to be the first to do it.
Question 3:
Miranda: What about the native token of Yesport? What is the role it in Yesports and its tokenomics?
Sebastian: ohh goood questions, we love to talk about this as we get to define a new category of token use cases for token enabled NFT marketplaces.
We've brought 5 years of crypto learning across our tier 1 investor and market maker network to build a token utility model that drives use and aoption of the marketplace and wider metaverse play.
The YESP token is not a payment utility token, it's used for:
First access/whitelisting (similar to what we see working well for top IDO platforms.) 
Staking and multi asset rewards (brining the best of DeFi markets into the NFT space to allow stakers to win NFTs, win more tokens, and other prizes related to the platform). 
Voting and governance rights (Over time allowing the market to move to a governance model) 
Receiving platform discounts (Binance is the exemplar here and we have worked across key advisors from binance to deliver great utility.) 
Buyback and burn – whilst not a feature of the token its a feature of the wider tokenomics, allowing the platforms fees to be used to buyback and burn the token.
Question 4:
Miranda: Are there any exciting news or updates with regards to Yesports you would like to share with the users?
Sebastian: Well outside of this wonderful AMA we have been keeping pretty busy signing up the largest cohort of esports teams the market as seen to date
These 5 top global esports (Team Empire, Renegades, Talon Esports, BOOM Esports, Fact Revolution) teams who will be launching the first NFTs on our platform. To commemorate these partnerships, we will be running a Partnership Collectible giveaway – just follow us on Twitter! For a chance to win one of these NFTs and they will come along with some unique perks from the teams themselves.
A taste of the big things and new opportunities to come when our marketplace launches.
We have more teams and popular streamers lined up to launch over the coming months and will keep those underwraps for now. But I will say we are targeting globally distributed base of teams and celebrity gamers launching collections with us.
For compliance reasons, we can't go into particular details just yet, but what we can say is that there are some great exchanges, including you guys, that are part of our seed round, and great top tier IDO partners that are excited to launch our token in March.
It is essential that all those interested give us a follow on Twitter and join our Telegram community where they can receive updates on this.
Question 4:
Miranda: If you were to summarize your project in ONE word, what would it be? Why?
Sebastian: This question has been the topic of huge debate across our team these last few weeks at the risk of ruining the structure we have 2 separate words. For the poets and the lover out there we chose the Danish and Norwegian have this term Hygge.
it essentially means a feeling of cosiness, comfort and well-being. Something you don't really know how to describe but it is something you experience being amongst friends around a warm fire in a cosily lit room listening to the chatter of a community enjoying themselves.
This is what we want the space we are creating to feel like. This space is for gamers, esports enthusiasts and anyone who is interested around the world in this community.
We want to become the experience that drives them closer to the teams they love and others in their community that they know are there but don't often get the chance to be around. Yesports is a product, but it is a culture first.
The other is for the gamers out there: Clutch. Used to describe a situation where a player comes back to win the round, after going against disadvantage or being outnumbered. 
We know we are the small fish in the sea when it comes to competing with mircosoft or opensea, but we have proven already that we can launch the largest community day 1 with leading teams because we deliver a product that matters
Appreciate you indulging us on the 2 words! 😉🙏
Free-asking Session
Q1. How can users stay up to date with this project? Are there channels, including local communities, where users can get the latest updates?
Sebastian:
Thanks!! Make sure you follow yesports to stay updated: Twitter, Telegram Group, Discord.
Q2. What is your strongest advantage that you think will make your team leading the market?
Sebastian: We are fortunate to be able to launch in a 500m+ user market that currently has no purpose built web3.0 products. We know from working with the leading esports teams across the world the importance of our NFT marketplace driving real utility to esports fans.  Within 6 months of launching we have become the #1 esports NFT project in the world in terms of #fans and #of teams we support. This will only continue to grow.
Q3. Is your platform a global or is there any restriction to certain regions?
Sebastian: We have been extensively audited and will continue too do both strong audits and have rigorous legal compliance. For example we are working with the top firms in the world to make sure our platform is as accesible to all. When we launch the NFT marketplace we will do so with that ethos of openess in mind.
Trying to find MEXC AMAs recaps?
It's easy! Explore them in a special section of our MEXC Global blog. Find insights for other recently listed projects at MEXC like Yesports.
Start your travel on MEXC Global