In this Telegram AMA recap, you'll find insights about the NFT4PLAY (4PLAY) project. In an event hosted by Miranda from MEXC Global, you will meet Avron Goss from NFT4PLAY (4PLAY).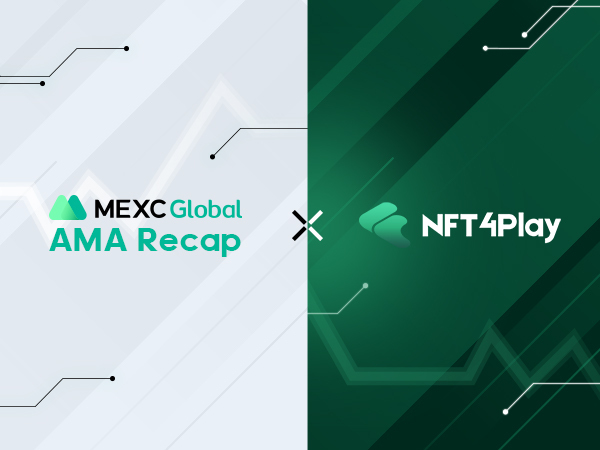 Introduction of NFT4PLAY AMA Members:
I am a co-founder of NFT4Play and have had significant experience setting up and running businesses. I started my career working for Accenture, one of the leading consulting firms in the world. Since then, and before getting involved in crypto, I have been a CEO and advisor to a number of businesses that I have delivered and have made profitable. I have had a number of roles in crypto including helping set up a tokenised stock exchange (Tokenise), advising a provably fair crypto casino and Royale. Finance (a DeFi company) and co-founding TWO TWO.
I have teamed up with Marc Lee to deliver NFT4Play as Marc has a long history of delivering gaming products and platforms and has the development team capable of delivering this.
We are delighted that have chosen MEXC as a CEX as we have found the team to be professional and the community to be strong!!!
Questions from community to NFT4PLAY:
Question 1:
Miranda: What is NFT4Play? Can you share with us more in detail?
Avron: NFT4Play is a Play2Earn iGaming platform that requires players to use the 4PLAY token to play and power up NFT cards.
To be a member, players pay a fully refundable deposit of $25 (or more if they would like); for this they receive:
💰30%+ APY in stablecoin via an everyone-must-win lottery
⚽️ Free NFT playing cards
💰 4PLAY tokens
Members are able to compete against each other for prizes and can bet against each other in crypto.
Games will include NFT card games and eSports, tapping into some of the biggest global communities
In addition to this, we have 10,000 Legendary Cards that will receive 5% of 4PLAY tokens from the soccer game which will be paid out via the Legendary Lottery.
The Membership Pool is live with over $125k TVL, as well as Card Minting and Staking.
The first game is going live in 2-3 weeks!!!!!
Question 2:
Miranda: Thanks, next can you let us know what triggers you to launch NFT4Play? What are some of the real-world problems/ pain points that NFT4Play aims to solve?
Avron: My co-founder and I have spent our careers in iGaming and Crypto. When I created NFT4Play I wanted to create a gaming platform where players could game against each other using NFT playing cards that they had collected to build and empower teams.
NFT4Play is different from other projects in a number of key ways. The most important are:
✅ Low cost to play: Players do not have to invest in expensive NFTs to play and win. Even $5 Green Cards will be able to win games.
✅ Lots of choices: There will be many kinds of games, including sports, fantasy games and eSports.
✅ Return for Investors: Investors will have the advantage of being able to stake and earn 4PLAY rewards. They will be the main sellers of 4PLAY tokens to players that will need them for the game.
✅ Lots of ways for players to win: Players can not only engage in competitions with each other, but can also bet against each other. This will be really exciting for players.
✅ Legendary Cards generate long-term rewards: The Play2Earn components is based on sound economics and therefore is sustainable and rewarding.
Question 3:
Miranda: Next can you tell us more about the native token of NFT4Play? Would you tell us more about its usages and tokenomics?
Avron: I am really excited by our Tokenomics as we have a relatively small raise ($1m) with 40% of this raise being a Public raise.
👍 This means that our TGE Marker Cap was $288k with a fully diluted value of $9.8m (33.9x).
The total supply of tokens will be 888,000,888.
More importantly, we have a great use case for 4PLAY tokens which are:
For Players:
⚽️ Purchase additional NFTs
⚽️ Powerup NFTs
⚽️ Pay to play (winner takes all less a small fee)
For Investors
💰 Stake 4PLAY
💰 Stake LP
For Developers
🕹 NFT minting fees
🕹 Game hosting fees
Now is the best time to get 4PLAY as the use case is about to start in 2-3 weeks when we launch the game!!!!
The best place to get them is MEXC!!!
Miranda: While if you don't have MEXC account yet, Sign up now on MEXC to trade 4PLAY: https://bit.ly/3gzIm3J
Question 4:
Miranda: Are there any exciting news or updates with regards to NFT4Play that you would like to share with the users?
Avron: 🔥🔥🔥🔥🔥 We are in confidential discussions to enable Sports Betting on our platform!
⚽️ We will then have sports-based NFT gaming, UK Premier League fantasy football, eSports and sports betting (licensed so legal). We will be the go-to place for all things sports!
👩🏻‍🚀 Of course we are not only about sports so we have partnerships with companies like CryptoTanks to bring live tank action. We will have fantasy games too!
Miranda: sounds interesting, do keep us updated when it released
Question 5:
Miranda:  If you were to summarize your project in ONE word, what would it be? Why?
Avron: 📣📣📣 Rewarding! 📣📣📣
Every aspect of our platform is rewarding and fun and there are many ways for our community to earn.
Here are some examples.
Membership Rewards
All members get the following rewards EVERY week:
🔥 A free NFT
🔥 A drop of 4PLAY tokens
🔥 A drop of USDT from the Everyone-Must-Win lottery
Legendary Card Rewards
🔥Legendary Card owners all share in 5% of the 4PLAY tokens earned on the platform.
Games
Players can win in a number of ways, including:
🔥 4PLAY tournament prizes
– PvP "winner takes all" betting
Investors
🔥 4PLAY staking
🔥 Liquidity Provider staking
And we are constantly giving away prizes for community involvement.
🔥 We are running an Ambassador Gleam Campaign now!!!!
🔥 People that participate in our channel get drops of high-value NFTs
🔥More competitions coming…
Most importantly, our games are going to be fun and rewarding to play.
Free-asking Session to NFT4PLAY:
Q1. When will your game be released? will it be able to be played on smartphone-like "Android"
How easy and simple is it for new users or gamers to be able to play and earn in your ecosystem?
Avron:
Our first game will be released in 2-3 weeks!  
We are delighted to say that, unlike many other gaming platforms, we have kept to our roadmap and already have components of the platform live and paying out members!
Delivered Already
1 – Membership Pool is live with a TVL of $125k and paying out the Everyone-Must-Win lottery and weekly card drops.
2- Card minting is live and people have minted almost 1,000 cards
3 – Our secondary market for Card Trading is live on NFTrade and people are starting to build their teams
4 – Our Smart Contract is audited and includes a 111PG antibot protection code.
5. Staking is live!
Games
1 – Penalty Shootout with PvP betting will be live in March
2- Football will follow and then a fantasy game
3 – Working on UK Premier League Fantasy Football and eSports for this year as well
Come and see what we have delivered at www.nft4play.com
Q2. Marketing is a central element for every project so that everyone knows the potential that a project can bring is vital to achieving the goals set. What is your strategy to attract new users and investors to your platform and keep them long-term?
Avron:
There are many things that are doing and will. Marketing is built on player acquisition and then player retention strategies. It is critical that we not only attract but keep players.
Market size will be increased by:
1- Ensuring we offer our platform in many languages
2- Adding new game types (e.g. NFT card games, eSports, Fantasy Football).
3- Working with sporting personalities and gamers to get them to endorse games on our platform.
4 – Addition of eSports to attract new people to crypto
We have just finished one marketing campaign with the launch of our token and are about to start one with the launch of our game!!!!
We are an iGaming platform not a DeFi platform and our team has a lot of experience in iGaming.
We have learned the following:
1. Players always want to play – irrespective of the market conditions
2. There is a huge use case on our platform tied to USD pricing. This means that players do not have to worry about volatile crypto prices.
3. USDT Rewards in the Membership Pool is mostly based on Sports Betting results and are therefore not tied to crypto volatility
When we launch the games starting in 2-3 weeks it will be clear to see that we have a bear market resistant product.
The time to get 4PLAY tokens is NOW while the market is down and players do not have a use case yet.
The best place to get them is MEXC: https://www.mexc.com/register?inviteCode=mexc-nft4pla
Here are all our links… Join our TG channel as all it takes is positive contributions to our channel to win NFTs!!!!
Website: www.nft4play.com
Twitter: https://twitter.com/Nft4Play
Telegram: https://t.me/NFT4PlayOfficial
Telegram Announcements: https://t.me/NFT4Play_Announcements
Medium: https://nft4play.medium.com/
Q3. Do you have any coin burn/buyback systems or any token burn plans to increase the value of the token and attract Investors to invest?
Avron:
Tokens used to play the game, upgrade and buy cards are locked in our treasury for a period of time increasing the scarcity.