In this Telegram AMA recap, you'll find insights about the VRYNT project. In an event hosted by Sebastian from MEXC, you will meet Oisin Lyons, head of community and operations of VRYNT.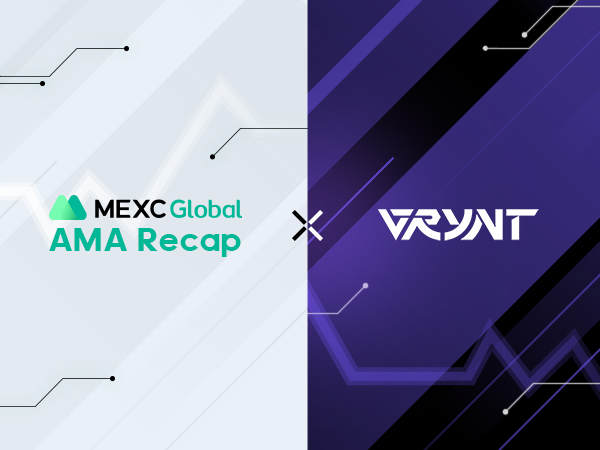 Introduction:
Hello, I'm Oisin Lyons. I'm the head of community and operations for VRYNT, but formerly Co-founded CityDAO, and also BaconDAO..
I started my journey in the crypto space in 2019 with some mining and blockchain research projects. After some time in space I met Dennis Liu, a very well known crypto influencer. Shortly after we founded a crypto research and education group called BaconDAO with our team. It was at BaconDAO where I met Scott Brown. He was a strategic advisor for the project at the time.
After working with BaconDAO for a couple of years I was introduced to CityDAO, A DAO experimenting in Decentralized asset ownership, which I helped and founded from an early stage with notable NFT holders like Vitalik Buterin, Mark Cuban, Brian Armstrong etc.
Around the same time I was introduced to VRYNT by Scott Brown, the current CEO. We spent countless hours each day working out the complex economic and gamified model. Fast forward 1 year and we are ready to launch what you guys will know as VRYNT.
Questions from community:
Question 1:
Sebastian: What is VRYNT? Can you share with us more in detail?
Oisin: VRYNT is a new type of community based NFT platform. It is focused around Fan Engagement, and giving community members a new experience where they are not just consumers anymore. It allows celebrities, influencers and brands to interact with their fan bases in a way that they have never been able to before. Fundamentally the platform enables the community to contribute their creativity by actually designing the NFT's in the collection rather than just buying them. It also is designed to allow the community to participate in the economic success of the collection of their influencer so everyone wins!
Question 2:
Sebastian: What are VRYNT's unique selling points as compared to other similar projects in the industry? (Optional to answer, depending on the nature of the project)
Oisin:
We are trying to solve a couple of problems:
Consumers are tired of just buying something from their influencers.. They want to be connected. They want to interact, they want to be a part of the experience.
The other issue is a "Share of Wallet" problem. A celebrity can only suck large amounts of cash out of their audience so many times.
We are solving both those primary issues in a way that is going to exponentially explode the market.
1) it creates an easy framework for celebrities, influencers and brands to build the business model around thier collections and create ways to engage, include and empower their communities to be a part of the influencers decision making and success.
2) VRYNT provides the toolsets to allow the community to contribute their creativity to the collection by designing the NFT's in the collection allowing them to get closer to their idol.
3) There is an incentive structure that pays the community back for participating in their collection called gallery rewards. Basically if the user buys a card pack from the platform for $100, and they build their VRYNT NFT with that card pack, they know if they hold it for long enough they will accrue enough Gallery Rewards on the platform up to the price they paid for the card pack. This basically gives the consumer another shot at participating in future collections!
Question 3:
Sebastian: What is the role of the $VRYNT token in VRYNT? Would you tell us more about its tokenomics?
Oisin: The VRYNT token is the primary commerce vehicle of the platform. You can buy VRYNT credits (think on platform points) with VRYNT Tokens, and proceeds on the platform can also be claimed for VRYNT Tokens. In the future we will be adding more utility options on the VRYNT platform to improve the quality of the system overall.
Question 4:
Sebastian: Are there any exciting news or updates with regards to VRYNT that you would like to share with the users?
Oisin:
We are launching are Private Alpha tomorrow for our VRYNT Origins collection that will give users early whitelisting to collections and other perks and benefits on the platform.
We have a major metaverse announcement coming out tomorrow.
We have partnered with music artists, well known celebrities, sporting platforms as well as major media brands to create their VRYNT collections. These will all be rolling out this year.
Question 4:
Sebastian: If you were to summarize your project in ONE word, what would it be? Why?
Oisin: Explosive; The current Influencer Marketing Industry is a $15B market this year. We believe by adding the VRYNT special sauce we can revolutionize space and drive this market > $100B.
Free-asking Session
Q1. Can you list 1-3 killer features of this project that makes it ahead of its competitors? What is the competitive advantage your project has that you feel most confident about?
Oisin:
Love this question.
There are lots of killer features that will set us a head of competition.
1. User engagement through our builder: VRYNT allows the users to actually build the NFT influencer or brands collection for them with creative guidance through our VRYNT Builder. Using the components that users get from Component Packs, they can drag and drop these to create something special and personalised that they themselevs can get excited about creating !
2. Gallery rewards: When users buy normal NFT collections, they spend money, and they get an NFt in return. On VRYNT, anytime a user purchases an NFT, they recieve the NFT but also, as long as they keep this NFT on the VRYNT platform, they are elligible to earn gallery rewards up to the value of the NFT price they bought. This allows them to keep participating in VRYNT.
Q2. What are the key milestones on your roadmap-both things you have already achieved and things that we can look forward to? Any partnerships and short/long term technical milestones that you want to talk about or bring some attention to?
Oisin:
We have made some very serious partnerships with people like Galaxy.eco and Oracle Cloud ! Some milestones to look forward to will be our next few NFT collections launching soon, as well as the launch of our AI collection builder, which will allow collection creators to create cool and unique collections easier then ever before !!
Q3. What strategy will you implement to bring non-crypto-natives into your ecosystem? How do you keep a balance between developing the technology and also improving the value of your token?
Oisin:
This is a really interesting question actually !
VRYNT is designed to make it easy for social influencers and brands to onboard their fans into the space.
The whole VRYNT platform is designed so that users can easily go through majority of the processes without having to be familiar whit metamask or similar.
The creators of the collections will be incentivised to market these collections to their own fans, which will ilkely be non-crypto native !
Q4. How is the community involved in the project? and how to build a whole to grow globally?
Oisin:
The community is one of the most important aspects of VRYNT.
As VRYNT grows and we work with more creators, brands and artists, this will help us to natually build up our community and grow globally across the space.
Community is involved in ranking, social aspects, and of course supporting their favourite icons that are creating collections
Q5. Many projects have problems with UI / UX and this one turns off new users. How do you plan to improve the interaction with new users and with users outside the crypto space?
Oisin:
Our Designer and team for UI & UX are award winning, he has worked on some major art showings around the globe and worked with huge brands and artists already. As soon as he heard about VRYNT, He was in !!
The interaction between VRYNT and all users is very important to us and we have spent countless hours perfecting our flow.
Trying to find MEXC AMAs recaps?
It's easy! Explore them in a special section of our MEXC blog. Find insights for other recently listed projects at MEXC like VRYNT.
Start your travel on MEXC