Bitcoin has been making headlines again as it tapped the $30,000 mark, and investors are keeping a close eye on its movements. The sudden increase in the cryptocurrency's price was partly due to the dramatic drop in shares of First Republic Bank, which fell by 50% after reporting a significant decline in deposits. This has brought positivity to the entire market, but it has also caused a stir in terms of liquidating leveraged positions.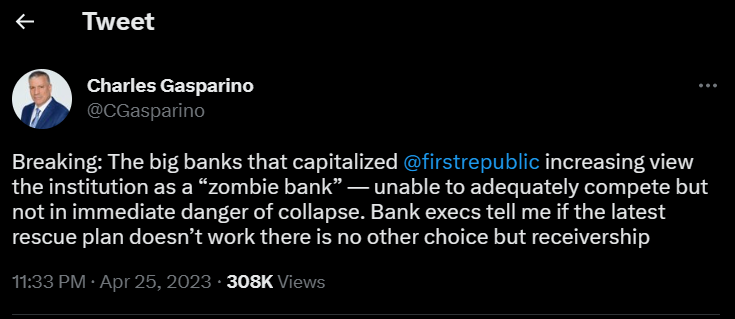 According to data from Coinglass, about $318 million worth of leveraged positions were liquidated in the past 24 hours, with the majority of it coming from short positions. Meanwhile, most of the liquidations came from BTC positions ($153 million), followed by ETH ($60 million). While this may have caused some concern among investors, it's important to note that volatility is a natural aspect of the cryptocurrency market.

Interestingly, most of Bitcoin's impressive gains in Q1 were primarily driven by growing concerns over the health of the banking sector. With many investors worried about the potential risks associated with traditional banking systems, Bitcoin's decentralized and trustless system has become increasingly appealing.
Standard Chartered Makes $100K Bitcoin Prediction
The British multinational bank Standard Chartered recently released a note in which it predicted that Bitcoin could reach $100,000 by the end of 2024 as a result of some favorable factors for the cryptocurrency.
Standard Chartered analysts noted that one of the factors that could push Bitcoin higher is the fallout from the collapse of Silicon Valley Bank last month, which triggered fears of a banking crisis. This made an argument for the advantages of a decentralized and trustless system, and Bitcoin gained an edge over its competitors, especially stablecoins. One stablecoin in particular, USDC, lost its peg to the US dollar due to its exposure to SVB.
Another factor Standard Chartered suggested would be a boosting factor for Bitcoin is the improved profitability of crypto miners, who are likely to hold onto their coins instead of selling them if prices remain well above mining costs. Moreover, the upcoming halving in 2024, which will reduce the supply of new bitcoins by half, is considered a bullish catalyst. The note also suggested that Bitcoin could trade better as the Federal Reserve approaches the end of its tightening cycle, which could improve risk sentiment and favor risk-on assets.
In conclusion, Bitcoin's recent rally highlights growing concerns over the health of the banking sector and the appeal of decentralized digital assets. As more investors turn to cryptocurrencies as a means of diversifying their investments, it's essential to keep a close eye on market movements and stay informed about the latest developments. Despite the volatility in the market, Bitcoin's potential as a digital asset remains strong, and it is likely to continue playing a crucial role in the cryptocurrency market for years to come.
What About Bitcoin's Price?
Bitcoin started the day on a strong footing, pushing aggressively to the $30,000 mark for the first time in six days. However, this bullish, positive price move did not last long as the cryptocurrency returned to the lower $28,000 region.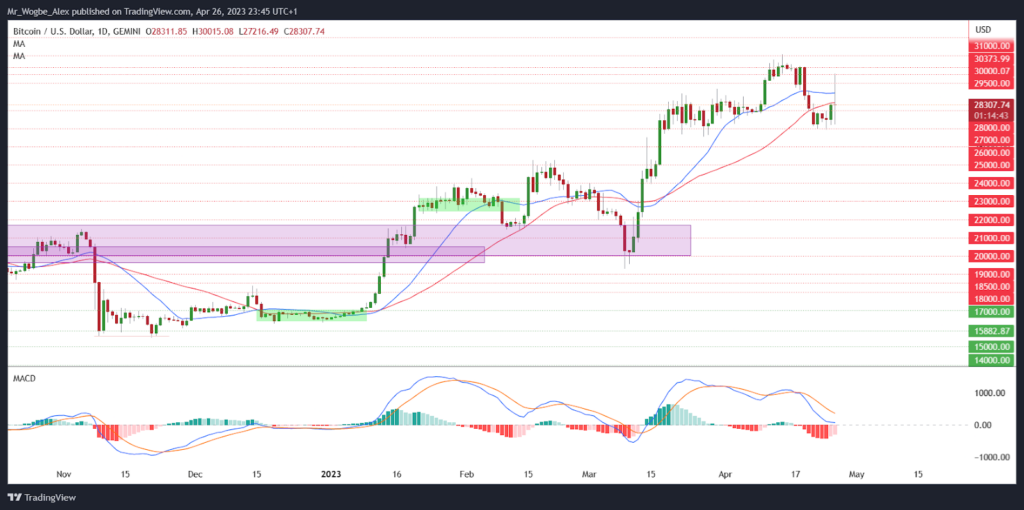 Moving forward, BTC is likely going to record more upward attempts toward the $31,000 mark in the coming days and weeks, especially with the factors highlighted in this report. That said, as long as BTC keeps itself above the $27,000 support mark, expect a steady recovery.
BTC Statistics Data
Current Price: $28,300
Market Cap: $548.7B
Circulating Supply: 19.3M
Total Supply: 21M
Market Ranking: #1
Get accurate, winning trading signals: https://learn2.trade/
Best crypto trading bot: https://learn2.trade/crypto-trading-bot
Personal Note From MEXC Team
Check out our MEXC trading page and find out what we have to offer! You can learn more about cryptocurrency industry news. There are also a ton of interesting articles to get you up to speed with the crypto world. Lastly, join our MEXC Creators project and share your opinion about everything crypto! Happy trading!
Join MEXC Creators Project or start your travel on MEXC
This article was contributed by our guest writer. Want to share something unique with over 10 million users? Check out the MEXC Creators program.