In this Telegram AMA recap, you'll find insights about the Vault Hill project. In an event hosted by Iris from MEXC Global, you will meet Nick Merritt, Head of Partnerships, Strategy and Innovation, and Alex Ratto, Business Development Manager at Vault Hill.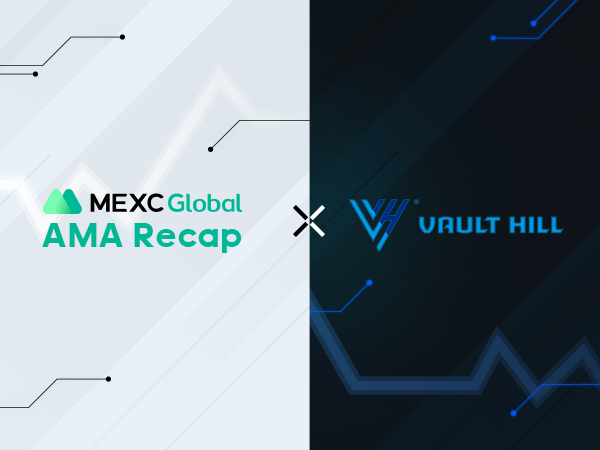 Introduction:
Nick: Hello and good morning. It's wonderful to meet you all. On top of Alex's wonderful introduction. I am Nick. I have had a crazy and winding route into the Metaverse and Vault Hill. I have known the CEO – Jimi for 10 years. I have a background as a corporate lawyer (many years ago) and most recently, I have been a management consultant. I worked before VH as a Business and Technology Strategist for one of the big strat' houses
Alex: Hello everybody, thank you very much for having us here! Nick and Alex, ordinary human beings, two dreamers, globetrotters, both living the dream of building something different in this space!
I have a background in Accounting, crypto enthusiast and investor for a couple of years as well! My job at Vault Hill is to find and attract the best partners for our ecosystem.
Questions about the project:
Question 1:
Iris: What is Vault Hill? Can you share with us more in detail?
Nick: Vault Hill is a blockchain-based human-centric metaverse designed to enhance the human experience through augmented reality (AR) and extended reality (XR). Vault Hill ecosystem comprise of the Vault Hill City (VHC) which is the metaverse, the NFT marketplace which will be fully decentralised, avatars with wearables and XR consulting. We want to give users various product options/features to explore on our platform which you rarely see in other projects. Hence, our mission is to revolutionise extended reality (XR) experience by creating a constructive metaverse that focuses on the basic human instincts which allow users, content creators and developers to explore their unrestricted creative freedom whilst monetising their creation in a secure ecosystem.
Vault Hill city will be a world where users can design their own unique experiences; explore their fantasies and also enjoy activities they do in the physical world such as interacting with other users, attending events, playing games, curating arts, and so much more. Users can also own a piece of the virtual world by buying the VHC virtual land; own and transact with the native cryptocurrency, $VHC token, as well as achieve what they've always desired in the physical world while earning real money.
Let's give you a little insight into what our brand name actually represents…the 'Hill' symbolise an advantage point (as in the Castle Hill in Kent), while the 'Vault' came from doing something blockchain related to make it safe and secure. I think that's genius if I do say so myself lol.
Question 2:
Iris: What triggers you to launch Vault Hill? What are some of the real-world problems/ pain points that Vault Hill aims to solve?
Nick: The metaverse is an overused phrase. We see on a daily basis new metaverses springing out all over the place, each with their own take on how to attract people's attention. As the world changes and we become more reliant on our digital identity, it is the obligation of companies who develop virtual worlds to create a safe and constructive environment for people to exist.
We realised that a lot of the projects out there focus on distant, unrelatable concepts which disconnects users from their humanity thereby portraying web3/metaverse as a fictional dystopian concept.
It is this reason that made us, at Vault Hill, decided to revolutionise the stereotype by infusing humanity and our community at the heart of our product. We included on our vision statement – "to enhance the human nature through Virtual Reality" because we truly believe that the metaverse is the future of connecting people and as such we take our obligation seriously. We have designed Vault Hill around basic human instincts which drive our product development and our decision-making process to purposefully move away from this dystopian end state that a lot of commentators predict.
Moreover, Vault Hill is also the first virtual world with urban planning and development benefits to ensure users build on their Virtual Land (VLAND) respectfully. Users who own virtual land in Vault Hill City will be given a 'NO CODE' builder tool which gives them total creative freedom on their parcel to build anything they can imagine (e.g., fitness centres, fashion studio, art galleries, museums, libraries, etc.) while earning returns as other users interact with the projects on their land.
Iris: urban planning! that's something new 👀
Question 3:
Iris: What is the role of $VHC in Vault Hill? Would you tell us more about its tokenomics?
Alex: I'll take that one
The $VHC token is the governance token and payment settlement vehicle for the Vault Hill City platform. Not only you will be able to pay for purchases within the Districts, you will also get rewards in VHC for your activity in our platform and for staking your tokens.
But that is just an aspect about the tokenomics. We have a fixed supply, a maximum of 340 Million tokens that:
1. We are not planning to increase;
2. We are planning to reduce!
This means, Vault Hill over time will buy back tokens to provide them as liquidity. When you supply liquidity, you normally get LP tokens. What we will do with these resulting LP tokens is to burn them, reducing supply over time, creating a deflationary effect. In a nutshell, there will be less tokens around in the future, so if demand for the $VHC token increases while supply decreases, this should result in a higher $VHC token price!! 👀👀👀
Question 4:
Iris: Are there any exciting news or updates with regards to Vault Hill that you would like to share with the users?
Nick: Yes! We are going to start staking next week Friday! So for token holders, if you jump in early the chances to have a very juicy APY are real high.
We also agreed to collaborate with Black Eye Galaxy, which is a member of Blockchain Game Alliance, so we are starting to develop how to leverage their space racing game with our earthy looking digital world! We were promised whole planet named after us, will make sure they don't forget about it! Lol
On the production side, we are close to be able to offer a first VR experience. This way we will open up our platform to get our community involved in the development and progress of Vault Hill City, more coming about this very very soon.
Also, we expect to share with everybody in the coming weeks a sneak peek of our District Play – that is looking amazing, with beautiful buildings (urban planning in action!) at the centre of the District surrounded by VLAND which will be available for sale next month!
Alex: Let me add something else, just to show how busy our Q1 is looking, Vault Hill will travel to Paris on March 17th to be a part of "Virtuality Paris 2022", a trade-show dedicated to XR, Blockchain and Virtual Worlds!
Iris: 👍great! can't wait to see staking go live!
Question 5:
Iris: If you were to summarize your project in ONE word, what would it be? Why?
Alex: This is a tricky one
Gonna take my risks here ok?
UNDERDOG
Why? Because the space is crowded at the moment, everybody is using the world metaverse and users don't have enough time to discover the amount of new alternatives emerging every week.
But we are super busy building this human-centric digital world and we expect to offer something different to what currently exists.
Being different, collaborative, platform-friendly will be our path to success, and most players will be too focused on their own ecosystem to even see us coming!! Sooo, watch out for us! 👀👀👀👀
Iris: great word!
Free-asking Session
Q1. Have you been audited? Have not heard you talk about that security of funds is what every investor craves for and plans to escape in case of insecurity if funds, scams and rug pull? How strongly built is your security put in place?
Alex:
Hi Valorie, good question, most people just focus on moon time without taking a look at potential risks – Happy to answer this one – Please see our audit report by Hacken https://www.vaulthill.io/Documents/HackenAuditVH.pdf
Q2. I am interested to invest in your project. When and where can I buy your tokens? Is it already listed exchanges?
Nick:
We are live with 3 Exchanges our lovely friends at MEXC, Quickswap, and Bitmart
We are about to launch a few updates and have some massive announcements to make soon.
Q3. I am an EXPERIENCED DEVELOPER AND ETHICAL HACKER, do you have plans for HACKATHON so as to check the security of your ecosystem periodically and also invite developers to build?
Alex: Yes! Follow us on Twitter, announcements soon! Expect to see you there!
Vault hill will be selling 10,000 pieces of land over the next few years. The land is broken into 4 islands (2,500), and these islands are further divided into 7 districts. Each district has a different look and feels and is aligned to a human instinct. The world is built to high-poly, so completely different to all over worlds out there today and in dev. Watch our website and socials for more information. Our White Paper is found on www.Vaulthill.io – and it contains all the information about our project and Dev Plans as well as our Project goals and objectives.
Trying to find MEXC AMAs recaps?
It's easy! Explore them in a special section of our MEXC Global blog. Find insights for other recently listed projects at MEXC like Vault Hill.
Start your travel on MEXC Global