In this Telegram AMA recap, you'll find insights about the Thales ($THALES) project. In an event hosted by Miranda from MEXC Global, you will meet Padzank,lead strategist at Thales.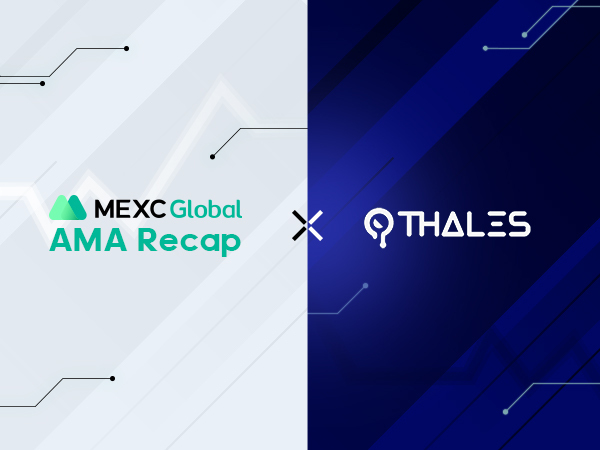 Introduction of Thales AMA Member:
My name is Pavle and I am a lead strategist at Thales. Really excited to be here and answer the community's questions!
Questions from community to Thales:
Question 1:
Miranda: So first can you tell us what is Thales? may be you can share with us more in detail?
Pavle: Born out of the Synthetix ecosystem, Thales leverages Chainlink Data Feeds, trustless order books, novel AMM mechanism, and the decentralized sUSD stablecoin to provide participants with a novel on-chain, permissionless, and non-custodial way to access immutable parimutuel markets and trade positions backed by high-quality data for market resolution.
On Thales you can speculate on whether a certain Chainlink supported asset will be ABOVE or BELOW a certain price point at a certain point in time and these two outcomes for each market are represented by ERC20 tokens. Each of Thales markets is a unique contract that accepts sUSD as collateral which in return mints both sides of the market. Anyone can deposit sUSD in a Thales market and mint these positional tokens.
Question 2:
Miranda: Next can you tell us what triggers Thales to be launched? What are some of the real-world problems/ pain points that Thales aims to solve?
Pavle: The Thales protocol offers a completely novel way of participating in price movements of crypto and non-crypto assets.With a much simpler and easier to understand user experience than other derivative platforms, anyone with an Ethereum wallet is ready to trade on Thales without any limitations.
Simple to use, simple to calculate potential profit and loss, limitlessly composable with tokenized positions framework, massively capital efficient with using the minting solution for liquidity provision.
Question 3:
Miranda: what about the native token of Thales? What is the role of it in Thales and its tokenomics?
Pavle: The THALES token is, first and foremost, a governance token of the Thales protocol. Holders who are staking THALES have voting power and are the main force behind steering the protocol.
Holders can stake THALES for compounding rewards, boost their rewards more by also staking SNX, trading on the Thales marketplace and participating in Thales Royale. Holders can also provide liquidity and accrue LP rewards or bond the LP tokens on Olympus Pro. With the marketplace showing promising performance results in the public beta stage, there are no limitations on what the Thales governance structure might decide for the future of THALES token utility.
Question 4:
Miranda: Thanks @padzank , next would you like to share with us some exciting news or updates with regards to Thales ?
Pavle: Of course! A lot of upcoming things coming to Thales in the short term:
– Massive update to our AMM and our marketplace coming soon, increasing user experience exponentially.
– Exotic Markets product with live demo this week, allowing traders to create their own custom exotic markets around pretty much any event (crypto, sporting, politics, esports etc).
– Working closely with Chainlink to get on-chain sports feeds and bring non-exotic immutable sport markets to Thales to accompany the known crypto markets.
– Deployment of Thales marketplace on Polygon network is to be finished approximately in April with joint trading rewards provided by the Polygon team.
– Structured products built on top of Thales marketplace to start feasibility testing soon.
Question 5:
Miranda: If you were to summarize your project in ONE word, what would it be? Why?
Pavle: That word would be:
Freedom.
Because the ideology of Thales is to provide users with an experience that is aligned with the Defi movement of transparent, tamper proof, composable and immutable financial instruments for all with the foundation represented by the THALES token holders.
Free-asking Session to Thales
Q1. Audit is important for both trust and security. Have you done any audit of smart contract?
Pavle:
We at Thales take security very seriously and it is at the highest priority to have users funds secure.
We have our core smart contracts audited by Iosiro and Certik so far, with Spearbit audit for our AMM contract being implemented and released in the upcoming few weeks.
https://iosiro.com/audits/thales-binary-option-market-smart-contract-audit
https://iosiro.com/audits/thales-airdrop-and-staking-smart-contract-audit
https://www.certik.com/projects/thales
Q2. How can I do my research about your project? Do you have any whitepaper released and can you provide me all the social media links and blogs?
Pavle:
Thank you for inquiring about Thales!
Thales Whitepaper: https://thalesmarket.io/article/whitepaper
Thales Official Blog: https://thalesmarket.medium.com/
Thales Official Twitter: https://twitter.com/thalesmarket
Invite to Thales Discord server: https://discord.gg/v9VYXDvn
Q3. What are the ways for your project to generate revenue in the long run? What is the progress of business development and what are some of your commercial partnerships?
Pavle:
So far during the open public beta, the Thales Automated Market Maker increased it's capital by >200% in three months, showing promising results for the near future and a complete release. It is massively capital efficient.
Any form of routing of the so called revenue to external parties needs to be decided by the Governance Structure of Thales Protocol if it is to be implemented.
Notable commercial partners for Thales would be:
Synthetix – Thales was born out of the Synthetix ecosystem and is in close ties to that protocol.
Chainlink – Thales is a flagship Chainlink integration with really close relations, Chainlink has provided us with custom solutions exclusive for us numerous time already.
Framework Ventures – Thales early Strategic Round was led by Framework, best performing fund in USA famous for support of the Synthetix ecosystem
Q4. Do you have any ongoing or upcoming reward program events, please let us know in detail &do you have any ambassador program as well as your project? More communities hold events to attract more people. That is also the main thing to attract project investors
Pavle:
All of our reward programs are on the Optimism network.
Currently we have Staking Rewards for THALES on our dapp (>80% APR) https://thalesmarket.io/token?tab=staking
LP Staking rewards for providing liquidity (>130% APR) https://thalesmarket.io/token?tab=lp-staking
Olympus Pro bond program where you can acquire discounted THALES tokens https://pro.olympusdao.finance/#/bond/thales_weth_guni
We are also holding a Thales Royale event every two weeks, where you can participate into a battle royale experience over price of ETH.
More info here: https://docs.thalesmarket.io/competitions-and-events/thales-royale-mainnet-live
Next Royale is live this monday!
Q5. Can you list 1-3 killer features of this project that makes it ahead of its competitors? What is the competitive advantage your project has that you feel most confident about?
Pavle:
Simpler and easier to understand user experience than other derivative platforms, anyone with an Ethereum wallet is ready to trade on Thales without any limitations.
Limitlessly composable with tokenized positions framework.
Massively capital efficient with using the novel minting solution for liquidity provision.