S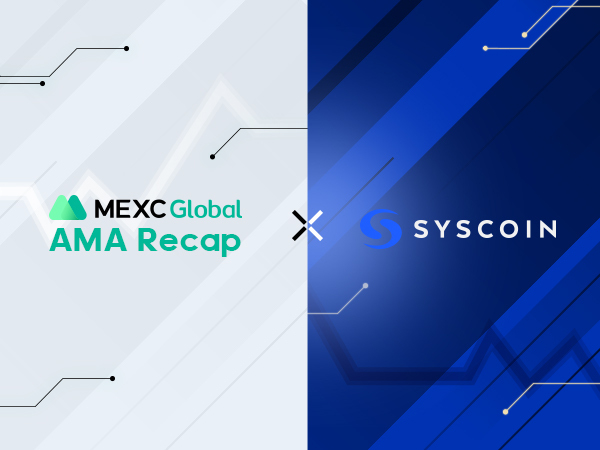 Introduction:
Hello everyone! I'm Bradley Stephenson. I first heard of Bitcoin back in late 2011 and got more involved in the blockchain space around 2014 when I realized how important blockchain is for a better future for our world. Decentralization is a huge passion for me. My background involves over 20 years' professional experience in database development and IT, including for Fortune 500 companies like Nuance Communications, Inc, the creators of Dragon speech recognition systems. I joined Syscoin back in late 2016 when I realized the long-range vision and quality of development of the project. I've been contributing to the project since then and have fully dedicated my time and work to it. I joined the nonprofit Syscoin Foundation as a board member in early 2019.
Questions from community:
Question 1:
Mia: What is Syscoin? Can you share with us more in detail?
Bradley: Syscoin combines the proven security of Bitcoin with the flexibility of Ethereum in a single coordinated platform. Its design makes it the most ideal Layer 1 for scaling smart contracts and computation on top with Layer 2. The project's aim is to elevate Web3 to real economies of scale with ZK-Rollups, Optimistic Rollups and Validium without making sacrifices to base-layer security. The project provides TVL incentives to Defi projects that launch on the platform, and has a young yet rapidly growing ecosystem of Web3 applications.
Roughly 20% of Bitcoin's miners also mine Syscoin by applying merged-mining, the only truly green form of Proof of Work.
For those who are a little more technical:
Syscoin is a coordinated dual-chain EVM platform that is 100% compatible with Ethereum smart contracts. Syscoin features a rollup-centric design that gives Rollups (both ZK and Optimistic) a Bitcoin merge-mined Proof of Work settlement Layer 1 that is enhanced with Finality and is resistant to MEV attacks & selfish mining, and provides a highly efficient form of data availability.
Mia: wow, to be honest, it's a little bit beyond my ability to fully understand. But I belive this is very informative and there are some tech fans in our community who are very happy to know your project😉
Question 2:
Mia: So what are some of the real-world problems/ pain points that Syscoin aims to solve? What are Syscoin's unique selling points as compared to other similar projects in the industry?
Bradley: First, since the description was a little technical, here is a simpler explanation 🙂
Syscoin is the L1 Ethereum-compatible platform with Bitcoin merge-mined security that supports the future of Web3 and smart contracts for Metaverse, IoT, Smart Cities, and global and interplanetary economies. Syscoin's roadmap includes L2 ZK and Optimistic Rollups and Validium for economies of scale. It also includes DAOSYS, a novel DAO with governance-free treasury management and user self-sovereignty, oriented to expand Syscoin's ecosystem.
Now, on to the second question
To get a sense of what Syscoin offers that other platforms do not, take a look at this comparison image:
Syscoin is very different from other Ethereum-compatible smart contract platforms. Today most EVMs are choosing experimental security models like Proof of Stake in the hope of making transactions cheap and fast, and to provide things called Finality and Data Availability which are challenging to solve with Proof of Work. By leaving PoW, they are also departing from the most proven model for decentralization and security, ultimately putting a lot of peoples' value at risk in the long run. Syscoin comes in as the only EVM platform to solve all of those challenges while keeping Proof of Work. And not just any PoW, but Bitcoin's own PoW with roughly 20% of Bitcoin's own miners supporting Syscoin by merge-mining. Essentially, Syscoin is capable of supporting a Layer 2 with all the scaling, speed and low fees that other EVM platforms provide, including Ethereum in the future, yet we accomplish this while retaining the most proven decentralized security model on earth – Bitcoin's.
Unlike Syscoin, the few other PoW contract platforms either do not have a real plan to scale, or they are not Ethereum-compatible which means most developers don't want to use them. Rootstock requires people to spend the world's hardest asset (BTC) on gas fees, and virtually no one really wants to do that, and it doesn't scale.
It's important to ask yourself this: What will happen to a lot of the Ethereum alternative PoS chains once Ethereum has moved to PoS and transactions there are super fast, cheap, and scalable? They are all PoS as well, but Ethereum will have a more robust network. In most cases there will be very few reasons if any to use those other chains. Most will probably become Rollups. In that world Syscoin shines because it offers a true alternative that is capable of everything Ethereum and the others will be, but with proven security.
Question 3:
Mia: What is the role of the $SYS token in Syscoin? Would you tell us more about its tokenomics?
Bradley: First off, SYS is not a token. It is a coin, like ETH or BTC. SYS is the native coin of the Syscoin Layer 1. It is similar to ETH, but there are some important differences. Its supply management is essentially based on EIP-1559, just like ETH. In other words the protocol burns SYS spent as gas fees while also emitting new coins with each block, keeping a balanced supply available for users across the globe. SYS inflation is set to roughly match global population growth. A balanced and available coin supply is very important for a utility-focused platform.
Syscoin is actually two blockchains. One is Bitcoin-based and the other is Ethereum-based, and they are interconnected by way of a special protocol that enables the Syscoin platform to use the best of each to strengthen each. SYS is the native coin of both blockchains and can be transferred back and forth from one to the other in a trustless way.
There are ways to earn SYS as rewards
SYS has been in circulation since 2014 and the distribution of ownership is very broad. For example, of the top 10 largest SYS wallets, at least 8 of them are exchanges. Syscoin has many independent masternode operators, and there are usually 2,400 – 2,500 masternodes running on our network at any given time. You can stake 100,000 SYS in order to operate a masternode and earn SYS as rewards. These nodes play a special role on our network by creating Finality for Syscoin blocks with some things called multi-quorums, BLS signatures, and chainlocks. Users are rewarded for contributing those resources. There are also significant seniority rewards where the longer you own a masternode, the higher your SYS reward percentage becomes. You can check https://sysnode.info for more information on operating a Syscoin masternode.
Mia: That's realy cool👀 So it's a token with a variety of use scenarios and it is pretty distributed and community-driven👍
Question 4:
Bradley: Very community-driven instead of VC-driven. We are open to involving VC's, but ultimately the community rules.
Mia: Are there any exciting news or updates with regards to Syscoin that you would like to share with the users?
Bradley: Yes! We have had a lot of announcements recently including a lot of partnerships, and they keep coming. We recently announced our 2022 roadmap which you can see here:
Everyone should look at this summary of all the recent announcements Syscoin has made though Q1 2022:https://syscoin.org/news/growth-in-review-and-a-glance-at-the-future-of-syscoin
There have been a ton of great annoucements coming from this project.
There's a lot more to come, but I cannot divulge them ahead of time 🙂 So stay tuned.
Question 5:
Mia: If you were to summarize your project in ONE word, what would it be? Why?
Bradley: Disruptive. While there are many words I could choose, like innovative, persistent, etc, disruptive is best. This project has accomplished solving some big challenges that others in the industry actually chose to make sacrifices in order to avoid. By Syscoin doing this, and providing a protocol that essentially flips the trilemma into a trifecta, we are disrupting the EVM segment of the industry.
Free-asking Session
Q1. Have you being audited ? Have not heard you talk about that security of funds is what every investor craves for and plans to escape incase of insecurity if funds,scams and rug pulls ? How strongly built are your security put in place?
Bradley:
Syscoin's entire codebase has been audited by Cyrex Ltd, and US Blockchain Co. Those audit results are publicly available. Things like "rugpull" are out of the question with Syscoin because our project has been active since 2014 when we released our first mainnet. If this were a rugpull it would have happened years ago, but we are still going 😉
Q2. Do you have Whitepaper if yes, please share it with as secondly do you have plans for pre-sale? Now where can we Join it?
Bradley:
Yes! We have several white papers for different Syscoin technologies we've innovated! You can find those here: https://syscoin.org/research-whitepapers/ Syscoin's pre-sale took place way back in 2014. Those days are long gone! However, you can buy Syscoin on great exchanges like MEXC Global.
Q3. Do you have tutorial videos so we can get to know your project more clearly or do you have a YouTube channel or something? can you share it with us?
Bradley:
Yup! Here is a Syscoin Tutorial playlist on Youtube: https://www.youtube.com/watch?v=VzuzDtXNhRo&list=PLBgMFQ40o55m3sJDyE9ogXfpPZ3RgQH7F
Q4. [2095] Is your project a community only for English speaking an countries or for users not of other languages?
Bradley:
The Syscoin community is truly global. We have an ambassador program that involves many different languages and regions, and those channels are very active. You can even get involved yourself! Find all our different community groups here!: https://linktr.ee/syscoinambassadors
Q5. [2095] Almost 80% investors have just focused on price of token in short term instead of understanding the real value of the project. Can you tell us on motivations and benefits for investors to hold your token in long term?
Bradley:
The real way to win in the crypto space is to be an investor more than a trader. Investors think long-term. Syscoin itself encourages long-term holding in a lot of different ways. For one, Syscoin masternode operators get higher rewards the longer their masternodes remain active. A lot of our masternodes are over 3 years old 🙂 The other way is we are ALWAYS pushing to grow our ecosystem and that leads to more adoption and more demand for SYS as a consequence.
Trying to find MEXC AMAs recaps?
It's easy! Explore them in a special section of our MEXC Global blog. Find insights for other recently listed projects at MEXC like Syscoin.
Start your travel on MEXC Global