In this Telegram AMA recap, you'll find insights about the SolClout (SCT Token). In an event hosted by Iris from MEXC Global, you will meet Malay Tripathi and Sunday Adedeji, CEO and CMO of SolClout.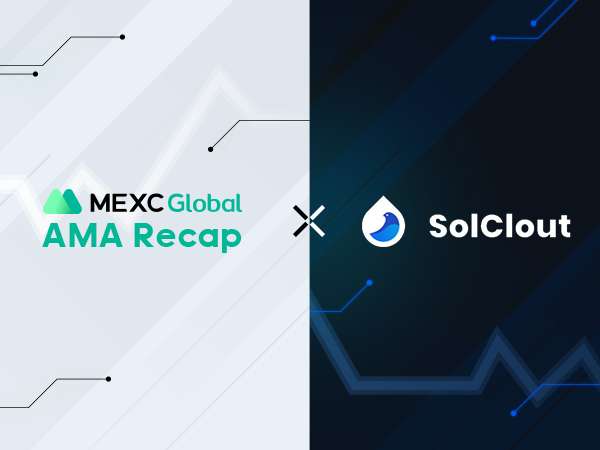 Introduction to MEXC AMA Member from SolClout:
Malay: I am Malay, CEO/CTO of SolClout. I have been in the Blockchain space since 2016 and seen it evolve over time. During this period, I have had the chance to lead several blockchain projects and develop some of them myself. I co-founded a Blockchain development agency and have been experimenting with products in this space since the last few years. I have contributed to over 10+ projects and willing to do more in the future.
Since Q4 2020, I have been fully involved with SolClout and working continously to build the suite of products we envisoned.
Sunday: My name is Sunday Adedeji, CMO of SolClout. I've been in the cryptocurrency market for a long time and all I did was discover exciting projects in the market. I have also enjoyed the marketing, writing, and communications aspects. With these, I have built series of valuable connections and gained a high level of knowledge in blockchain and cryptocurrency. I have worked with and managed marketing for several high-profile blockchain projects and a couple of Blockchain Marketing agencies. I kept looking for an exciting project until I found SolClout and this project really pulled me in. I am sure that we have established a structure that will excite you too. I am set to build a new wave in the blockchain space with SolClout and I believe it will bring a new breath and paradigm to the whole market as we work through it.
Questions about the SolClout project:
Question 1:
Iris: What is Solclout? Can you share with us more in detail?
Malay: SolClout is a social defi ecosystem of apps.
Our product highlights are as follows:
SolClout Starter is a social IDO platform, SolClout Starter allows for projects to establish official communities. Users with best activity could receive allocation for the initial decentralized offering. So it's basically integrating telegram communities into the IDO platform itself and making it more exciting.
SolClout Hub allows for projects to easily launch trading dapps and play-to-earn games. Projects will be able to utilize multitude of services provided by SolClout
SolClout Trading is a social trading platform inspired from Crypto Twitter. Users can signup and connect their exchange accounts and then copy trade other expert traders. Once copy trading, a bot places the same trades that the expert trader you follow places. So this is like you buying a bot suscription without needing to configure trading strategies etc. You just have to follow an expert trader.
SolClout World is the perfect Implementation of metarverse, virtual reality and blockchain to allow blockchain projects to build virtual ecosystem to interact with other projects, investors and influencers.
SolClout Social is a simple blockchain-based social networking feature embedded within the application. Users can post their social updates while using the main application for it's intended purpose.
Question 2:
Iris: What triggers you to launch Solclout? What are some of the real-world problems/ pain points that Solclout aims to solve?
Malay: Our goal at SolClout was always to do something with the social-fi space i.e using the social interactions of a user and combining them with finance. Let me explain how did we plan to do this.
SolClout Starter
This is a social IDO platform. One of the main problems with the IDO space was that project/launchpad owners weren't able to distinguish between fundamentally bullish and speculative users when performing IDO allocations. Most launchpads only use data of tokens staked etc. and use it for IDO allocations.
We plan to use user's social interaction here. So every project pool on the launchpad will have a social feed which will be opened before the IDO date and user's will post messages like they do in any telegram channel/group.
If the messages posted are informative, users will be able to upvote a particular message. These upvotes received by users will be compiled to created a leaderboard which will be used for the IDO allocation. In this way, the whitelist period that most launchpads use where tokens are staked to get whitelisted will be replaced with a social feed and we will be able to grant allocations to the users who are fundamentally bullish. Similarly, for SolClout Trading, it is a social trading platform inspired by the idea of crypto Twitter. You can follow experts traders on the platform and copy trade them.
Question 3:
Iris: What is the role of SCT Token in Solclout? Would you tell us more about its tokenomics?
Malay: SCT Token is the token to be used in the whole ecosystem. Its utility is embedded into various products that come under the ecosystem.
Will be used as Governance token.
Staking and Liquidity mining rewards.
Better swap rates on SolClout Starter for the token holders.
IDO fee incentives for projects whose Investors hold our tokens.
Early access to certain projects on the Starter.
Entry into various trading leagues to be held on SolClout Trading app.
Purchase/Rent Promotion Stands in SolClout World which is a metaverse implementation of blockchain conferences/expos.
Question 4:
Iris: Are there any exciting news or updates with regards to Solclout that you would like to share with the users?
Malay: So we have developed a beta launchpad for Binance Smart Chain. We are working on the preliminiary audit report received from Certik who are auditing the launchpad contracts. While fixing the bugs/vulnerabilities pointed out to us during the audit, we are also working to tweak the contracts to include some of the mecahnisms that can help the projects who do their launch on us to have a more safe and secure launch. Post the changes, the final audit will be done by Certik and we will launch the platform. All of the required frontend work is complete.
In addition to this, we are also working on the SolClout Trading app. We are working on developing the bots that will copy trade for the users who wish to copy trade an expert trader. The mobile UI of the app is ready and API integration is in progress.
We are also looking for NFT artists and are in early stages of working on an NFT marketplace since we believe that NFT's are here to stay and the space will mature even more in this year.
Question 5:
Iris: If you were to summarize your project in ONE word, what would it be? Why?
Sunday: SocialFi. This will be replicated on our products. Such as, SolClout Starter, SolClout Trading and a host of others.
Free-asking Session to SCT Token
Q1. Revenue is an important aspect for all projects to survive and maintain the project/company. How have you been able to build a complete project and what is the way to generate profit/revenue of the token? What is the income model?
Sunday:
Our revenue system is from the platform fee that we charge to projects that would use our social IDO platform. We charge a percentage of fee of the raise.
For the SolClout Social App, we take a percentage of success fee from the profit for usage of trading bot.
For SolClout Hub: This will be a Salas model and people would want to use the application to rent/buy based on their requirements.
Q2. Currently from where i can buy ? Is it possible that I can get only by holding it?
Sunday: We are now listed on three different exchanges, namely, MEXC, Raydium, and Pancakeswap, and more exchanges are in the pipeline. You can buy on any of the exchanges and soon, apart from our launchpad we highly anticipate its release soon, there will be a staking program with good APY. Wait for the official announcement.
Q3. Did you consider community feedback/requests during the creation of your product in order to expand on fresh ideas for your project? Many projects fail because the target audience and clients are not understood. So I'd like to know who your ideal consumer is for your product?
Sunday: Yes, I fully well agree with this, because it's one of the effective ways of expanding the community. In line with this, we are currently recruiting ambassadors that would help take the project and community to the next level.
Trying to find MEXC AMAs recaps?
It's easy! Explore them in a special section of our MEXC Global blog. Find insights for other recently listed projects at MEXC like SolClout. Lots of helpful information for your DYOR!
Start your travel on MEXC Global