In this Telegram AMA recap, you'll find insights about the Solcial project. In an event hosted by Miranda from MEXC Global, you will meet Tina from Solcial Project.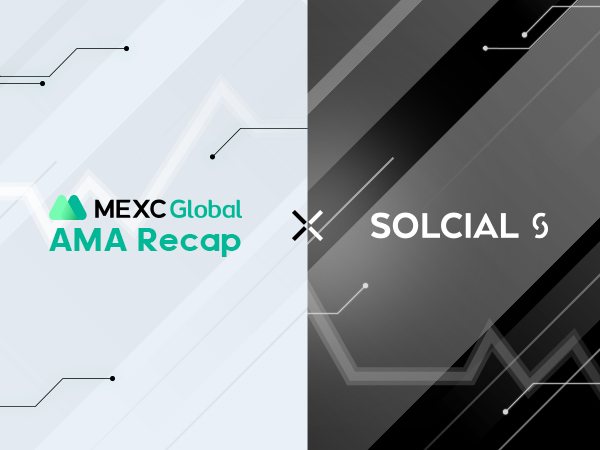 Introduction to Solcial AMA Member:
Hello everyone, my name is Tina. It is great to be here with the MEXC community. I apologize that Parker couldn't be here, but i hope to help introduce Solcial to you all. I have been in crypto for a few years now and joined Solcial with the vision of changing social media and brining Web3 to the masses.
Questions from community to Solcial :
Question 1:
Miranda: What is Solcial? Can you share with us more in detail?
Tina: Solcial is a decentralised social network allowing users to interact without fearing censorship, and allowing content creators to be rewarded fairly at market value and without middleman.
Solcial is a mobile app (iOS and Android), as well as a desktop app, and a website. On Solcial each user has their own token, allowing you to invest directly in people. You get minted 1 millions coins when you signup, that supply is fixed and the same for everyone. These coins are yours, you can keep them or sell them (or send them to friends).
Then to follow people we have 3 subscription levels: you can follow someone for free (Tier 1) to access their public content (similar to Twitter or Instagram), and to access their private content (what we call Tier 2 and 3 subscriptions) you need to own their token, to be an investor in them. That's what we called the "invest-for-subscription" model.
Question 2:
Miranda: Next can you tell us what are Solcial's unique selling points as compared to other similar projects in the industry?
Tina: We have some main differences with other blockchain social networks, the first one is that we're not rebuilding a new blockchain, we're building on top of Solana. And we're building everything as a fully integrated app (like a new Twitter or Facebook).
The second point is the utility of the user token. On Solcial when you buy a user token, you get access to their private content, you subscribe to the person or company, and get something in return. So we reduce the speculative aspect and add utility for each user token.
The third big point is the way we're launching. We're not creating the accounts of influencers, using their names without their content. Instead at Solcial we're launching in a very organic way, through several crypto communities and in a very organic manner. It's a very different approach.
But our user experience is what will set us apart from others. We are offering features that are only possible on Web3 but we will have an experience that is as easy as current Web2 platforms. By focusing on giving the power to the community, they will also have the control in making Solcial a major platform compared to others.
Question 3:
Miranda: What about the native token of Solcial?, what's the role of SLCL in Solcial? Would you tell us more about its tokenomics?
Tina: The Solcial token (SLCL) will be used for 3 things:
1/ as a governance token for voting on the DAO.
2/ for having discounts on trading fees.
3/ and to buy the token of anyone on Solcial, you will need SLCL as the base currency. Each user token is traded versus SLCL (the Solcial token), and you need SLCL to buy the token of anyone. A bit like Chiliz for the Fan tokens, to buy the football clubs coins like Arsenal or PSG, you trade them versus CHZ.
Question 4:
Miranda: Are there any exciting news or updates with regards to Solcial that you would like to share with the users?
Tina: We launched the token last week, we did the TGE. Now we're trading on our first CEX, and we welcome the MEXC onboard. I'm sure most of the traders on MEXC will enjoy our social network and its trading features 🙂
Question 5:
Miranda: All right, here comes our last question, if you were to summarize your project in ONE word, what would it be? Why?
Tina: OPEN. Because we're allowing people to share their ideas in an open way, without censorship. Because on Solcial every user token is simply a SPL token on Solana, allowing people to do anything they want with it (buy or sell, deposit or withdraw to any wallet they want, or even burn it). And because we will open-source our code as well.
Free-asking Session to Solcial
Q1. I want to support your project, Tell us more about the Ambassador Program and in what ways can we participate?
Tina:
You can apply for the ambassador program here: https://blog.solcial.io/english/solcial-ambassador-program/
Q2. Revenue is an important aspect for all projects to survive and maintain the project/company. How have you been able to build a complete project and what is the way to generate profit/revenue of the token? What is the income model?
Tina:
We charge 0.5% trading fee on every trade (when people buy or sell the token of anyone), we plan to keep half of these revenues for our own development, and with the other half we'll do a buy and burn of the SLC on the market (similar to BNB or FTT)
Q3. According to the project's roadmap- what are your most important next priorities?
Tina:
You can check the roadmap here : https://wiki.solcial.io/the-basics/roadmap
Q4. Have you being audited ? Have not heard you talk about that security of funds is what every investor craves for and plans to escape incase of insecurity if funds,scams and rug pulls ? How strongly built are your security put in place?
Tina:
For security we've partnered with Kudelski security (the firm that has audited the Solana blockchain itself) that is auditing us.
Q5. Can you briefly describe your PARTNERSHIP so far and upcoming partnerships?
Tina:
Yes we plan to partner with other crypto and metaverse projects but we can't communicate on that yet.