In this Telegram AMA recap, you'll find insights about the SeekTiger project. In an event hosted by Iris from MEXC Global, you will meet David Stephen, Cofounder of SeekTiger.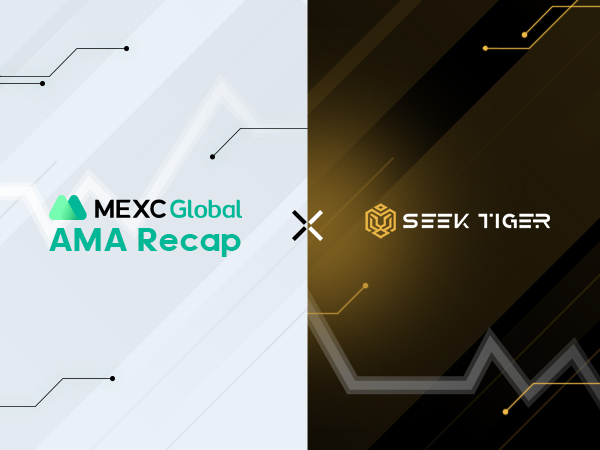 Introduction:
I graduated from the University of California, USA, and was a system architect for an industry-leading automated trading company, where i designed and optimized the infrastructure for large-scale high-frequency trading.
I have extensive skills in cloud computing, SAAS, blockchain technology and networking, including Solidity contracts and overall architecture, and I am an avid cross-platform engineer and player.
I am now responsible for the overall architecture of the platform, outreach and blockchain activities. ✅
Questions from community:
Question 1:
Iris: What is SeekTiger? Can you share with us more in detail?
David: Yes, Seek Tiger is a decentralized chain game platform, that is focused on making a GameFi chain game aggregation platform in view of the idea of Web 3.0, incorporating brilliant agreement requirements and Dao voting governance for worldwide users, GameFi chain game aggregation platform is primarily answerable for making players available with a cross chain aggregation game environment ✅
Question 2:
Iris: What triggers you to launch SeekTiger? What are some of the real-world problems/ pain points that SeekTiger aims to solve?
David: Yes, so SEEK TIGER is aimed at providing both developers(non-Gamers) and Gamers with an easy-to-use game aggregation platform that provides interesting experiences for all users.
We promote the development of GAMEFI ecology, and SEEK TIGER DAO makes decisions and actions to promote development, and encourages everyone to build, govern and share.
Apart from the unique play to earn system we have set up, users can also engage in the trading of our various NFT collections and also synthesize their NFTs to mint a DAO medal of Honor NFT which gives them the power to influence the direction the project goes.
Question 3:
Iris: What is the role of the $STI token in SeekTiger? Would you tell us more about its tokenomics?
David: SeekTiger's native token is $STI, the total supply is 1 billion (currently 962,000,000). Here is a breakdown:
5% goes to the IDO
The community will be invited to participate in IDO in the form of a whitelist, with every address being able to acquire a maximum of 100 units.
20% goes to the DEX
5% will be distributed in the decentralized liquidity pool in quarterly phases and the private key will be destroyed
50% goes to P2E rewards
Mining in the game requires DAO voting to generate mining pool, the total amount of each mining pool shall not exceed 10% of the total pool
15% goes to the DAO
This portion will be distributed to DAO Medal of Honor holders monthly as dividends
10% bi-monthly supply circulation
10% of the entire supply would be released before going mainstream and then every two months, until the total supply is fully in circulation, this process would take 18 months to come to fruition. ✅
Question 4:
Iris: Are there any exciting news or updates with regards to SeekTiger that you would like to share with the users?
David: After IDO, STI Listed on MEXC, XT.star exchanges
Now we are preparing new listings and partnerships with gaming projects
And we will collaborate with gaming guilds!
We're launching our whitelist campaign in our discord channel, users can invite people to earn whitelist and earn free mystery box
For those who don't play P2E games, you can stake your STI token, the APR is 500% and there is a 10% invite bonus.
SeekTiger is also unique in the following ways:
Our features and benefits includes:
ASSET SECURITY GUARANTEE: after the user's game assets are linked, the decentralized management will not disappear because of server failure or operator problems.
Process transparency and clarity: Give processes and rules more control over the execution of programs to solve problems of opacity and trust.
HIGHER RETURN RATE: after the automated process, it can effectively reduce operating costs and provide users with a higher return rate.
GLOBAL MARKET: Traditional game industry uses fiat currency for participation and settlement. Due to differences in regional policies, the involvement of global users is limited. GameFi is borderless and can be circulated globally, allowing more users to participate.
DAO: Aiming at establishing a Web3.0-based DAO chain game aggregation platform, it actively integrates individual game developers or teams, introduces richer GameFi, and provides diversified chain game services for DAO members.
RICH GAMEPLAY: With SEEK TIGER ecology as the theme, we have prepared several games with rich gameplay, which can realize the continuous increase of wealth in experiencing the game and exploring the unknown territory. ✅
Question 5:
Iris: If you were to summarize your project in ONE word, what would it be? Why?
David: Web 3.0
This is because SeekTiger is a DAO ecological service platform based on WEB 3.0, the ecological DAPP includes TIGER DAO VC, Gaming aggregation platform, NFT marketplace, DEX, all DAPPs are governed by DAO; we innovatively combine mystery box, NFT tiger asset with DAO, presenting you a DAO+NFT+GAMEFI+DEFI metaverse ecology! ✅
Free-asking Session
Q1. [1248] Can you briefly describe your PARTNERSHIP so far and upcoming partnerships?
David:
Great question, yes we have many strategic partners that include:
Binance smart chain
Dapp radar
Pancakeswap
DODO
KAKA NFT marketplace
Fishpond
Gate.io NFT marketplace
OKX NFT Marketplace
DeBank
Dapp.com
CoinMarketCap
Coin Gecko
We will also have amazing partnerships with other projects in the near future that will encourage non Crypto people who are also gamers on how to join the crypto space and earn rewards. Stay tuned guys ✅
Q2. What do you think about NFT's what kind of NFT's are you planning to create and if you currently have NFTs what is the most special NFT you have right now? [1248]
David:
Hi Mert, in SEEKTIGER's world, all characters and props are derived from the Genesis Digital Tiger NFT. To reflect the rarity and scarcity of the digital tiger, we will be the total number of Mystery box issues constant for 100W.
Each Mystery box can open a specific digital tiger. Open out the digital tiger storage with my backpack; users can be synthesized, converted, and traded. The box is priced at 10 USDT + 10STI, where 10 USDT is the cost of buying the box and 10STI is the cost of opening the box once.
According to the different attributes of each digital tiger, the scarcity of digital tigers is assigned to 5 levels, which are SSR, SR, S, R, N. The number of digital tigers varies from level to level.
Users can Connect their wallet here;
http://box.seektiger.com ✅
Q3. [1248] What are the benefits of holding your token as long term investment? Can you tell us about the motivation and benefits for investors to keep the your token in the long run?
David:
Hi Crystie, our utility puts us in a league of our own, not many projects out there are capable of handling an NFT, Gamefi and DAO ecosystem. Apart from the unique play to earn system we have set up, users can also engage in the trading of our various NFT collections and also synthesize their NFTs to mint a DAO medal of Honor NFT which gives them the power to influence the direction the project goes.
We believe that with this and the advantages of the SeekTiger platform, Long term Investors will be attracted to our platform! ✅
Q4. [1248] Staking, NFT is very hottest, do you think you will apply NFT technology to your products in the achieved future?
David:
Hi, Yes we will be offering our various users a lot of opportunities for them to earn more $STI tokens aside from playing the game. More information regarding our Staking and Farming program will be announced soon! ✅
Q5. [1248] When will your tokens be listed on the exchange and which exchanges do you plan to list on in the future?
David:
Hello, Yes our $STI token has been listed on MEXC Exchange.
It's also currently listed on DODO exchange, CoinmarketCap, Coingecko.
Soon, $STI will be listed on other big exchanges as plans are already ongoing to list on other exchanges! ✅
Follow us:
Medium: https://medium.com/mexcglobal
Telegram: https://t.me/MEXCEnglish
MEXC trading: https://t.me/MEXCTradeofficial
Twitter: https://twitter.com/MEXC_Global, https://twitter.com/MEXC_Updates, https://twitter.com/MexcResearch
Facebook: https://www.facebook.com/mexcglobal
Discord: https://discord.gg/nc6Jfwn3ap
Instagram: https://www.instagram.com/mexc.global
Trying to find MEXC AMAs recaps?
It's easy! Explore them in a special section of our MEXC Global blog. Find insights for other recently listed projects at MEXC like SeekTiger .
Start your travel on MEXC Global