In this Telegram AMA recap, you'll find insights about the Salo Players project. In an event hosted by Iris from MEXC Global, you will meet Hari Blumare, CEO of Salo Players.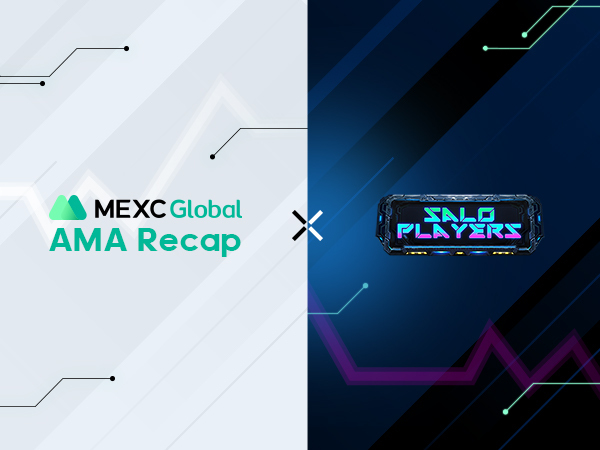 Introduction:
Hello everyone, I'm Hari from Salo Players. I'm so excited to be here today introducing our project to the MEXC community. 😀
Questions from the community:
Question 1:
Iris: What is Salo Players? Can you share with us more in detail?
Hari: Salo Players – The Digital Guardian is the first Shooting Play-to-Earn Game on BNB Chain Ecosystem. The game is also a Metaverse world where Shooting and Role-playing cross each other.
Players will take place as a Guardian Gunner, who shows no mercy for the viruses harming the SALO Network.
You can have a look at the gameplay demo here:
We can proudly say that Salo Players – Digital Guardian is:
– One of the best Shooting GameFi was ever made. With a third-person top-down view, including RPG mechanics such as stats/level up.
– Expanding storyline throughout the development of the game with the theme of CyberPunk and Sci-fi.
– Captivating gameplay: PVE, PVP, Guild Rank, Metaverse, Co-op battles with other online players.
– Innovative Play-to-earn model with applications of NFT and cryptocurrency, aiming for a high-speed action game flow.
– BEP20-based token to easily approach the vast crypto community; Private chain Dapps ensure the stable game operation and optimize players' returns with near-zero gas fee.
Question 2:
Iris: What triggers you to launch Salo Players? What are some of the real-world problems/ pain points that Salo Player aims to solve?
Hari: As we know, in the centralized gaming industry, only the publishers and developers share in the success. Most gamers who invested immense time and money in such games are left with almost no returns. Gamers interact with a system that they have no control over and have no way to return their investments.
It led to the creation of a decentralized gaming ecosystem. GameFi, which is the combination of gaming and decentralized finance, is a system in opposition to the centralized gaming industry. GameFi allows anyone to access and generate finance by playing games or participating in the GameFi ecosystems. GameFi has unlocked an opportunity for players, in which they play to earn, not pay to play.
But, GameFi today still has some problems, like:
Huge waiting times for finality, slow-paced games; High barriers to entry, skyrocketing transaction fees; Focus on money-making strategies as opposed to actual gameplay.
Salo Players is trying to solve these problems, with fast-paced gameplay, low entry barriers, easy access, simple UI, and valuable NFTs.
Salo Players wishes to demonstrate our vision for "GameFi": the combination of entertainment (Game) and an effective, sustainable in-game economy (Fi). Our team is focused on both money-making strategies and the actual addictive gameplay.
Question 3:
Iris: What is the role of the $SALO token in Salo Players? Would you tell us more about its tokenomics?
Hari: There are 3 types of Currencies in Salo Players: $SALO, Byte and iSalo. But only $SALO is our token, i will get to the details.
When playing PVE, you will receive a kind of currency in-game called [Byte] [Byte] is used for Upgrading Character/Gun; Evolving Gun; Buying turn in PvP; and In-game Shop
When playing PvP, you will receive a kind of currency in-game called [iSalo] [iSalo] is used for: Buy items/equipment in Salo Shop; Exchange for $SALO (the native token of Salo Players that is recorded in the BNB chain)
When having stronger character, you will earn more $SALO, which can be traded on DEX and CEX. Not just that, every type of NFTs available in Salo Players can be traded between players with the game marketplace.
$SALO is the native token of Salo Players that is recorded in the BNB chain. $SALO can be used for various purposes, such as:
– Purchasing UBO (User Bio Online). UBO contains Characters Avatar and Gun Fragments.
– Purchasing NFT characters and NFT Guns from the SALO SHOP (In-game market)
– Bid and Offer NFT Character and NFT Guns from the SALO MARKETPLACE (Free market for every player to buy and sell their NFT)
– Exchange for $Byte to purchase upgrade such as Upgrade Chip, Upgrade Plug-in, Evolution Gem
You can find the details of $SALO in our Tokenomics here: https://docs.saloplayers.com/tokenomics
Question 4:
Iris: Are there any exciting news or updates with regards to Salo Players that you would like to share with the users?
Hari: Yes, in the last few days, Salo successfully launched on Hot Cross IHO/Launchpad. We were so glad that we had sold out in less than 12 hours.
Yes, in the last few days, Salo successfully launched on Hot Cross IHO/Launchpad. We were so glad that we had sold out in less than 12 hours.
Currently, we are running a big big Airdrop with Hot Cross, you can check it out here:
https://gleam.io/BcBY1/the-hot-cross-x-salo-players-iho-giveaway
The next stop is the release of our NFT. We are trying our best to bring the Testnet version to our beloved players, probably in July, you all can join the Salo testnet version.
After that, we will collect all feedback, and release the Mainnet version of Salo Players.
Just make sure you don't miss out these events by joining our Twitter, Telegram and Discord. 😀
Here you go:
Twitter: https://twitter.com/saloplayers
TG Group: http://t.me/Saloplayers
TG Announcement: http://t.me/saloplayersann
Discord: https://discord.gg/WGMh7H3dSw
Question 5:
Iris: If you were to summarize your project in ONE word, what would it be? Why?
Hari: This is a tough question haha. As the CEO of Salo Players, I have so many great things to say about our game.
Summarizing Salo Players in 1 word is truly an impossible mission. If I must choose, that word would be: "GEM".
Why? That word said it all. Salo Players is a gem in this industry. Especially, in this bear market, seeking a gem is a hard mission for all of us.
I believe that anyone who has tried our game will fall in love with it. Not only because Salo gave you profit (like any other GameFi project out there), but the game is really fun and addictive to play. Please, do try our DEMO and let us hear your thought:
Free-asking Session
Q1. How could I own NFT and what is the benefit of it? Do you have any guides for beginners?
Hari:
There're 3 types of avatars in Salo Players: Hyper, Rocket, Blaster
With 4 different rarities: Common, Uncommon, Rare, and Epic.
Players can obtain an Avatar by purchasing UBO (User Online Bio) that generates a random Avatar or Buy directly from the Marketplace.
Each avatar will have a basic gun at the start of the game.
Players can obtain new guns through trading on the Marketplace, or craft their own guns from Gun fragments.
There are many types of Guns with different attributes. Each gun will have a unique Element, Shooting mechanism, and bullet attribute.
Q2. Almost 4/5 of investors are focused purely on the price of a token in short term instead of understanding the real value and health of the project. Could you tell us on motivations and benefits for investors to hold your token in long term?
Hari:
We are a game project, so it's our job to keep the game interesting and keep the income for players. We are confident in our awesome gameplay, as more and more players will join, the demand for our token will rise over time.
We have designed our tokenomics nearly perfectly so our Token price will not be easy to manipulate. You can all check it out here:
https://docs.saloplayers.com/tokenomics
And one more thing, don't hold our token, go buy UBO, buy guns, buy Avatar, start shooting to get the yummy rewards xD
Q3. Since NFT is popular nowadays, is there a plan for NFT integration?
Hari:
It is true that the interest in blockchain gaming has been growing steadily through 2021. Blockchain gaming, NFT games, and play-to-earn keyword searches saw a significant increase around the first week of July 2021.
We have seen the enormous growth of the Play-to-Earn Game industry and the beauty of NFT. Therefore, we decided to step into this field, to make our own Play-to-Earn NFT game: Salo Players.
There are 2 types of NFT in Salo Players, one is Avatar and one is Gun.
Q4. Can I earn a passive income from your project? Are there any staking options available for this? What are the benefits of holding $SALO tokens in the long run?
Hari:
Currently, there are 3 ways for players to earn in Salo Players.
First, Players can fight for the reward. Which is also the most popular way. Players can be rewarded in both PVE and PVP mode.
In Single Player – PvE Mode, Players fight against bots to receive $Byte, Upgrade Chip, Upgrade Plug-in, Evolution Gem, and Gun Fragments.
In Multi players – PvP Mode, Players fight with or against other Players for $SALO. This is the main incentive of Salo Players, players will battle with each other for reward and ranking. Rewards will be given to players following the ranking system. The higher the rank, the better the reward!
Secondly, Players can earn by joining our exclusive events like NFT Airdrop, Token Giveaway and many other in-game Events to come.
And thirdly, Salo is an open world, players can freely collect, buy and sell their NFT. The Salo Marketplace works like an auction house. Players can freely bid and offer the NFT they want. The rarer the NFT, the higher the price!
Q5. Are you a global project or a local project? At present, which market are you focused on, or is it focused on building and growing to gain customers, users, and partners?
Hari:
Actually, we are focusing on developing our game. We have a team of game developers who only focus on how to maximize the gameplay and balance in-game economics.
Along with that, we are doing a lot of marketing right now so that Salo Players can reach many many users around the world. We are in contact with a few Guild Games at the moment, this will benefit both Salo Players and members of the community.
Our ultimate goal is to create a game that everyone can enjoy while making money.
Trying to find MEXC AMAs recaps?
It's easy! Explore them in a special section of our MEXC Global blog. Find insights for other recently listed projects at MEXC like Salo Players.
Start your travel on MEXC Global