In this Telegram AMA recap, you'll find insights about the ORIGYN Foundation project. In an event hosted by SenHo from MEXC, you will meet Delfim Cascais (Head of Marketing).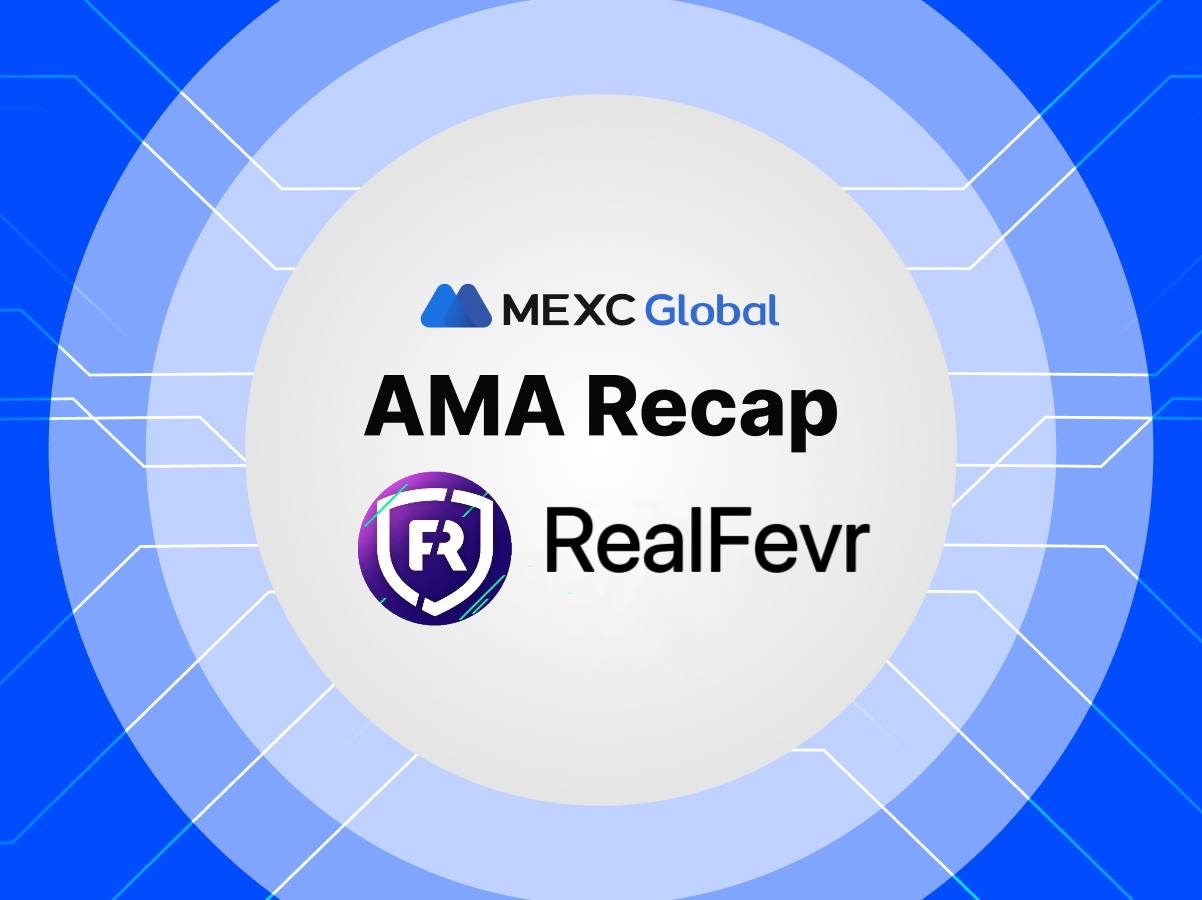 Introduction
Sen Ho: Today, we're honored to have Delfim Cascais, Head of Marketing in our community to give us a more intuitive introduction to their unique project.
Delfim, would you like to say hello and introduce yourself? @delfimcascais
Delfim: Hello MEXC Community!
My name is Delfim and I'm thrilled to be here with you today as the Head of Marketing at RealFevr. I look forward to answering any questions you may have. 😁
Let's dive in!
Questions from the Community:
Sen Ho: 1. What is RealFevr? Can you share with us more in detail?
Delfim: RealFevr is a GameFi ecosystem that revolves around collectible football video moments as NFTs. We have the footage rights to iconic goals and saves from some of the best players in the world, such as Cristiano Ronaldo, Messi, Ronaldinho, and Maradona. These moments are fully licensed by clubs, leagues and federations, ensuring their authenticity. ⚽️
The NFTs are also in-game items of our digital strategy game, FEVR Battle Arena, where you can build your own team and play against others in 1v1 matches. The game is now in an Open Beta stage and follows a sustainable and innovative Play-and-Earn system using the $FEVR token.
Whether you're a football/sports fan looking to collect iconic moments or a gamer seeking new challenges, RealFevr has something for everyone. Join our ecosystem today and start experiencing the thrill of GameFi!
In Sum, RealFevr is composed by:
– NFT Marketplace
– FEVR Battle Arena Game
– $FEVR Token
Sen Ho: 2. What triggers you to launch FEVR? What are some of the real-world problems/ pain points that FEVR aims to solve?
Delfim: NFTs with Utility, backed by IP.
We noticed that sports moments become obsolete and history is erased. With blockchain technology (NFTs) we can immortalize moments and make them available to the next generations to come, in the form of gaming collectibles.
Imagine the thrill of opening a pack and discovering legendary players like Maradona and Ronaldinho, whose skills have become the stuff of legend. These moments are forever captured in the blockchain, creating a permanent record of their greatness that can be appreciated by sports fans for years to come.
In addition to their inherent value as collectibles, our NFTs are algo in-game items.
By bridging the gap between the physical and digital worlds, we're creating a new paradigm between sports memorabilia and gaming.
Basically, we:
– Solve the speculation issue about NFTs, by providing them real utility
– Revitalize the old video archives of leagues, clubs, and organizations by providing them with added value and generating a new source of revenue, while enhancing the fandom!

Sen Ho: 3. What makes RealFevr NFTs different?
Delfim:
– Fully licensed (backed by IP) by football leagues, sports organizations and football clubs, which are official partners of RealFevr.
– Exclusive to RealFevr. For example, Cristiano Ronaldo 1st official goal, is a 1/1 NFT, and will never be minted again in any other platform. Also, we don't repeat NFTs again.
– Rarity: Each collectible has a unique serial number attached and the total amount of copies per collectible is what determines its tier of rarity. The lower the number of copies, the higher the rarity.
– Legal: We work with Cuatrecasas, recognized as one of the best law firms in Europe, to make sure everything we do is legally compliant.

Sen Ho: 4. What is the role of the $FEVR token in RealFevr? And so, what about the TOKEN utility?
Delfim: $FEVR is the fuel of the ecosystem!
FEVR Battle Arena currency: You need $FEVR to buy Tickets to play the paid arenas.
Buying packs: Packs are purchased on our website during Drops, through $FEVR oken.
Staking: You can deposit your tokens in staking pools (staking.realfevr.com) and earn interest
In the future, $FEVR will become the NFT marketplace currency (currently it is BNB), and will also be used in borrowing and lending of decks.

Sen Ho: 5. Would you tell us more about its tokenomics?
Delfim: Sure! $FEVR was launched in July 2021 via Polkastarter and is currently fully vested.
In each pack drop, 40% of The FEVR spent is taken out of circulation. In each pack drop, 40% of the spent $FEVR is removed from circulation. To date, we have accumulated and burned 546M $FEVR, which is equivalent to 3% of the total supply.
As part of our ongoing efforts to reduce supply and increase value, we plan to integrate a burning model in the game, FEVR Battle Arena. Through this model, a percentage of the fee paid by players will be used to burn $FEVR. This "Play-to-Burn" approach ensures that as more players buy tickets to play the game, the more $FEVR will be burned, further decreasing the overall supply.
TLDR: Deflationary 🙂
Free Asking Segment
Q1. We're very interested in hearing more about your roadmap. What is coming up in the short term that is important for our community to know about?
Delfim: Awesome question!
Here is our roadmap:
🎮 FEVR Battle Arena Game:
• Daily Game Quests, Battle Pass & Missions
• Season 1
• Survival Game Mode
• Deck Lending and Borrowing
• Mobile Version
• New Leaderboards
• Step-by-Step Tutorial
• New Abilities
• Action Spells
• Guilds
• Ranked Game Mode
• Tournaments
🚀 RealFevr Platform:
• Referral System
• Public User Profiles and User Profile V2
• Challenges & Achievements
• Marketplace V3 ($FEVR as currency)
• NFT Bidding and Notifications
• Football Clubs Launchpad
• NFT Fusion
• Multi-Languages Integration
• New Games and Products
Also on the Roadmap:
• Partner up with more Athletes as Ambassadors
• Bring Athletes as Users to the Platform
• Onboard More Clubs
• Acquire More Video Licenses from Big Competitions and Other Sports
• New Web3/Crypto Partnerships
• Multiple Exchange Listings
• RealFevr Collectibles in other NFT marketplaces
• UI/UX Improvements
• $FEVR Tokenomics V2
• FEVR Battle Arena in Web2 and Web3 Gaming Platforms
• FBA Ambassadors (Streamers and Influencers)
• Expansion to E-Sports
• Presence at Sports/Tech/Crypto and International Gaming Events
• Integration of other NFT collections in FEVR Battle Arena
• Mass Marketing
…and much more!

Q2. @delfimcascais What are RealFevr marketing strategies and how do you plan on implementing global adoption? How do you intend on getting more users, community and investments from all parts of the world including non-English speakers and communities?

Delfim: E-Sports!
We are planning to go all-in into the gaming market! 🎮
Our upcoming referral program aims to bring in more influencers and brand ambassadors to help promote our game and expand its reach, from different parts of the world.
We're committed to constantly developing and delivering new features every week, and we're actively expanding our team to support our growth. 🏗
As the dust settles in the crypto space, we're confident that only the most promising projects will remain, and we're determined to be among them. 🚀

Q3. Staking programme is very important for any project, Can i stake your token? Do you have any plan of starting staking programme?
Delfim: Regarding staking, we're proud to offer our own staking platform at https://staking.realfevr.com/ , with multiple chain options and staking methods such as Flexible, Fixed, and LP.
We're constantly working to improve our staking options and expand our ecosystem to provide even more benefits to our community, so, In the near future, we plan to offer rewards beyond just $FEVR, including NFTs and Game tickets for staking our token!

Q4. What is your strongest advantage that you think will make your team leading the market?

Delfim: Our main priority is to create the ultimate platform that provides exceptional value to our users. As a GameFi pioneer, we strive to surpass our competitors by continuously innovating and bringing new utility to NFTs. This approach sets us apart from the rest and is one of our biggest advantages in the market.
The biggest advantage we have is being REAL!
REAL project – we build and deliver every single week
REAL team – you can meet us in Lisbon anytime you want!
REAL utility – Both our Token and NFTs have real utility
REAL intrinsic value – Our NFTs are real moments, backed by IP. Not pictures created out of thin air.
REAL partners – Our partnerships span across top-tier global organizations.
We are Real!
Trying to find MEXC AMAs recaps?
It's easy! Explore them in a special section of our MEXC blog. Find insights for other recently listed projects at MEXC

Start your travel on MEXC