In this Telegram AMA recap, you'll find insights about the GamiFi (GMI) project. In an event hosted by Iris from MEXC Global, you will meet Liko, Founder of RankerDAO.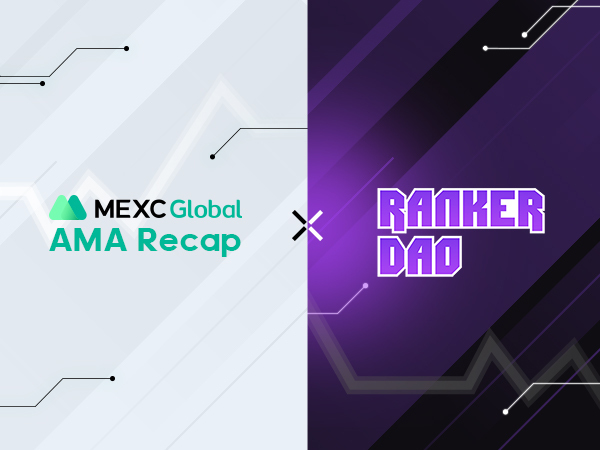 Introduction:
Liko: For over five years, I've been a noteworthy community builder in the world of crypto. I've been involved in several projects, such as Pundi X, Function X, Binance Angels Indonesia, and ProjectSeed – of which I'm also the co-founder.
Aside from my passion for crypto projects, I'm an avid gamer, too, and enjoy spending my free time indulging in different games across a variety of platforms.
Along with my team, who shares the same vision, RANKER aims to help fellow skilled gamers earn a decent living – from various play-to-earn games without compromising on fun.
Its an honor to be credited as a MEXC Pioneer and we look forwards to building the best competitive p2e gaming guild in the space.
Questions about the RankerDAO project:
Question 1:
Iris: What is RankerDAO? Please make a brief introduction.
Liko: RankerDAO, a Decentralized Autonomous Organization(DAO) that empowers crypto adopters to gain access to the biggest trend of blockchain-based activities from various verticals.
Within the DAO, we have Guild of Gamers who congregate around our gaming sub-guild and get the full benefits of their membership of the guild through innovative concepts taken through the emergent Social-Fi ecosystem.
Question 2:
Iris: What was the inspiration behind starting RankerDAO?
Liko: Last year, many of us witnessed how Axie Infinity blew up and disrupted the whole GameFi/P2E space. But not many saw the problem that we did. What we saw was a gap – a lack of a competitive scene for the available P2E games.
So we turned that into an opportunity to help people by providing them scholarships and establishing a healthy competitive scene for the P2E games that we play.
A little fun fact; one of our scholars competed in an Axie Infinity tournament and placed 3rd and 4th place, which got him a nice chunk of $ 🙂
Question 3:
Iris: What are the current games that RankerDAO is currently playing?
Liko: Currently our players are playing Axie Infinity, Pegaxy, Thetan Arena, WonderHero.
In the near future, we will be playing ProjectSEED, MetaGear, SpaceFalcon, SidusHeroes, Souni.io, Remnant.GG, Reign of Terror, and many other P2E partners that we have.
A few of our community guys are telling us to look into Cyball, and we're always open for new game suggestions from our players 🙂
Question 4:
Iris: Can you talk about Roadmap of RankerDAO?
Liko: Sure!
You can find the full roadmap in the litepaper here;
https://rankerdao.com/[RNKR]%20Litepaper.pdf
But, further than that, we also want to get as many scholars as we possibly can, and we are looking at around 1000 by the end of February, and 1500 by end of March
Question 5:
Iris: Can you talk about the utilities of $RANKER tokens?
Liko: For sure!
The main utilities of our $RANKER tokens are to enable our community gamers to advance in their P2E journey.
These include;
Minting out a badge NFT that empowers their scholarships
NFT Launchpad for Future Games
Staking for early access to games ( available next week! )
DAO voting for our Inventory of NFTs
Question 6:
Iris: How about the scholars of RankerDAO? How well off are your community of gamers?
Liko: Our main for our scholars is to enable fellow skilled gamers to earn a decent living – from various play-to-earn games without compromising on fun.
With this philosophy in mind, RANKERDAO is projected to do $6.4m USD in total revenue, while sharing more than half of it to our scholars which is about 3.8m USD this year.
This assumes that we do not grow our inventory of NFTs, but we are here to ensure that we are always actively growing our inventory.
Fun fact; we made these projections 3 weeks ago, and we almost doubled our NFT count in the last 3 weeks.
oh also, one of our scholars sent us this;
Thanks to Rankerdao. I have my own PC now!
fun little thing to have, glad we can enable that !
Iris: wow! that is incredible 👍
Question 7:
Iris: Speaking of Inventory, how many NFTs does RANKERDAO possess now?
Liko: We are close to 1000 pieces of NFTs from various games, naming WonderHero, Axie Infinity, Pegaxy, TheKillBox Arena, with additions coming from multiple game partners that we have.
We counted our partners list a few days ago and we have 30+ partners to help us build this ecosystem of competitive gamers to play P2E 🙂
It'll be a nice journey for everyone!
Free-asking Session
Q1. What are the steps to become a part of your community, and start getting revenues? Where do we buy, where do we sign up? This looks like an amazing project!
Liko:
you can become one of our scholars by minting your badges and joining our discord channel at discord.gg/rankerdao
get verified and get your scholarship!
Q2. Does your project support staking program? If yes, how does your staking system work? What is the requirement for users if they want to stake in your platform?
Liko:
as an event to welcome us to MEXC, there is currently MX DEFI to participate in, you can stake your RANKER to earn more RANKER 🙂
Q3. [1240] where is your head office?
Liko:
We actually don't have one. Being in a pandemic we enable every team member to WFH same as our scholars who are playing P2E games from their homes, PCs, and mobile.
Trying to find MEXC AMAs recaps?
It's easy! Explore them in a special section of our MEXC Global blog. Find insights for other recently listed projects at MEXC like RankerDAO.
Start your travel on MEXC Global