In this Telegram AMA recap, you'll find insights about the Polker. In an event hosted by Miranda from MEXC Global, you will meet Tanya Badere, Admin Manager for Polker.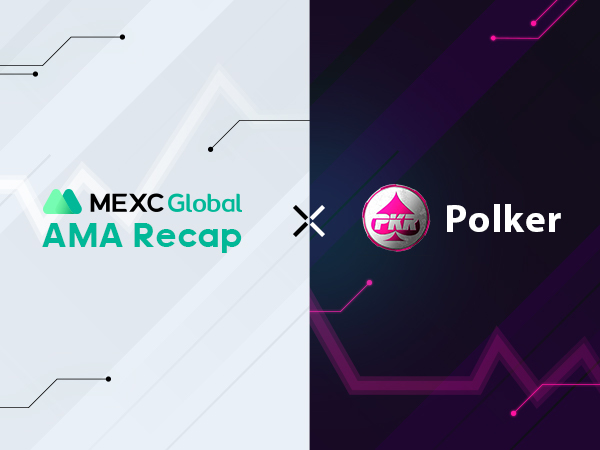 Introduction to MEXC AMA Member from Polker Token Project:
I am Tanya, Admin Manager for Polker. As part of the team, I help build and execute social media strategy through competitive research, platform determination, benchmarking, messaging, and audience identification. I also deal with queries that come in via our social media accounts and email, tracking them down, and making sure that the issues are resolved quickly and satisfactorily.
You're welcome and thank you for having me today. Should you want to learn more, please follow our official accounts to get the latest updates about Polker.
Questions from community:
Question 1:
Miranda: First can you tell us what is Polker? Can you share with us more in detail?
Tanya: Polker or PKR.io is a novel platform that offers multiple protocols that can be implemented alone or in combination. We provide solutions to problems that multiple industries that implement blockchain technology are facing.
One of these protocols is our patented Multi-Crypto Marketplace that allows users/gamers to use their cryptocurrency of choice whilst displaying the live value in the fiat currency of choice. The live price data is pulled from an oracle so that all parties involved have accurate price data displayed in the currency of choice.
With this protocol, users can have an easy check out process, without having to worry or get confused about multiple chains and wallet usage. The use of multiple cryptocurrencies will also make the platforms more accessible to the wider public.
Polker.game is the first use case of PKR.io. It is the first blockchain-based, free-to-play & play-to-earn, Poker NFT game that uses Unreal Engine 4 for immersive and powerful gameplay while utilizing a provably fair system and TRNG technology.
We will be launching on platforms such as iOS, Android, Windows, and streaming platforms with intended support for next-gen VR, with stunning 3D characters, visual effects, and environments.
Our gaming metaverse combines virtual reality with the endless possibilities of blockchain technology. Users will be able to enjoy immersive graphics and play with each other within the metaverse. They'll also be able to edit the graphics and create a personalized gaming experience.
Question 2:
Miranda: Next can you tell us what triggers Polker to be launched? What are some of the real-world problems/ pain points that Polker aims to solve?
Tanya: Our team came together due to a love of three things – gaming, crypto, and cards. That is how we came to develop Polker.game, we wanted to create Polker that's not only fun to play, but also one that players can trustfully.
We have incorporated our Provably Fair System, which uses the potential of the blockchain to provide full transparency in every aspect of gameplay by using our multiple patents-granted technologies. The player is fully protected against fraud and cheating. We store every gameplay action and value as a hash in a smart contract on the blockchain. By taking the raw values and hashing them, you are able to compare and verify the results independently to prove there was no manipulation.
Our True Random Number Generator is a provably fair and auditable technology that uses both SHA-256 hashing in combination with blockchain technology. The protocol uses seed words from the users (typically players) combined with a seed word from the PKR protocol. The resulting SHA-256 hash is then used to interact with a smart contract on the blockchain network. The resulting block header from this transaction is used to create a provably fair random number.
Our graphics is also built on Unreal Engine 4, which powers real-time graphics, highly detailed assets like dealers, environments, tables and visual effects.
We also have our play to earn model that focuses on earning awesome NFTs for achievements in game. This enhances game immersion and helps create our interactive metaverse.
Question 3:
Miranda: Thanks Tanya for these details, next can you tell us something about the native token of Polker, what the role of it in Polker and its tokenomics?
Tanya: $PKR is our native token that powers our platform. It can be used to purchase in-game cosmetics, and our PKR pass, which is used to unlock our play-to-earn model. We are also expanding our tokens utility beyond our ecosystem.
Our maximum supply is 1B. Our tokenomics was recently updated, with all team, marketing, development, and operations allocations locked until May 25th 2022. These tokens will be linearly vested for another 36–60 months. We have also allocated 10% for NFT staking, LP farming, PKR staking pools, etc. to incentivize holding.
You can read the updates at https://polker-pkr.medium.com/?p=d0b4068cfef7. The token primer, which lists the breakdown, can be accessed at https://polker.game/token-primer.
Question 4:
Miranda: Are there any good or exciting news regarding Polker that you would like to share with your community?
Yes!  We  have completed our fourth beta run with NFT integration last  weekend and we are gearing up for the launch of our mainnet later this quarter.   Our metaverse testnet will be released next quarter, and the testnet for our web client and mobile versions in the third quarter.  By the last quarter, we will be launching new games and expanding our metaverse.  To know more, please access our roadmap at https://polker.game/about-us/#roadmap.
Question 5:
Miranda: last question: If you were to summarize your project in ONE word, what would it be? Why?
Tanya: Game-changer!
Why? Polker is free-to-play and play-to-earn and has NFTs, metaverse, 3D Unreal Engine 4 graphics, TRNG and Provably Fair System – elements that we believe will redefine the poker gaming industry.
Free-asking Session to Polker
Q1. Security and anonymity are always prioritized by BlockChain projects in the development of project platforms and technologies. So, do you have any technological solutions or plans to enhance user trust in these issues?
Tanya: Our Smart Contract was fully audited by Beosin. Back in September, the penetration testing and security audit was done by Quinel, a leading independent and internationally accredited testing laboratory/inspection body in the field of gaming, serving the industry for almost 10 years and having laboratories in Italy, Malta, UK and Argentina leveraging international expertise.
We are carrying out extensive penetration tests on the updates that have been made since our last Security Audit. Once the backend, we will have Quinel back on board to run full penetration testing of the game to ensure all aspects of the game are fully secure at launch.
We are working with Raze Network, a cross-chain privacy protocol that can provide end-to-end anonymity for the entire DeFi and Web3.0 stack. With them, we aim to drive the adoption of gaming and personal control over privacy, finances, and entertainment.
Q2. NFTs is hot trending now, Do you have a play to have NFTs in your platform? If so, can you tell us the plans of your project in NFTs?
Tanya: Polker has 2 modes – free-to-play and play-to-earn. The first one lets users play absolutely free, and can be a fun way to spend time with family and friends, without any worries.
Our play-to-earn model, which can be unlocked by purchasing the PKR pass, is centred around our NFT system. Players will have to pit their skills to win our NFT dealers, which can be traded and used to customize their gaming system.
Q3. While you build your project do you take into account community feedback and demands?? While you build your project do you take into account community feedback and demands??
Tanya: Yes, definitely. We would not have come this far without the support of our community. The updates to our tokenomics – extended vesting and 10% allocation for NFT staking, LP farming, PKR Staking pool – were a result of open conversations with our crew.
Also, we will have governance soon for PKR holders. They will get to decide on the new games that we will be launching next, as well as the duration, allocation, and mechanics behind reward distribution on the staking and LP farming
Trying to find MEXC AMAs recaps?
It's easy! Explore them in a special section of our MEXC Global blog. Find insights for other recently listed projects at MEXC like Polker. Lots of helpful information for your DYOR!
Start your travel on MEXC Global