In this Telegram AMA recap, you'll find insights about the Planet IX (IXT) project. In an event hosted by Lucky from MEXC Global, you will meet Fabian YR ( CCO Chief Commercial Officer)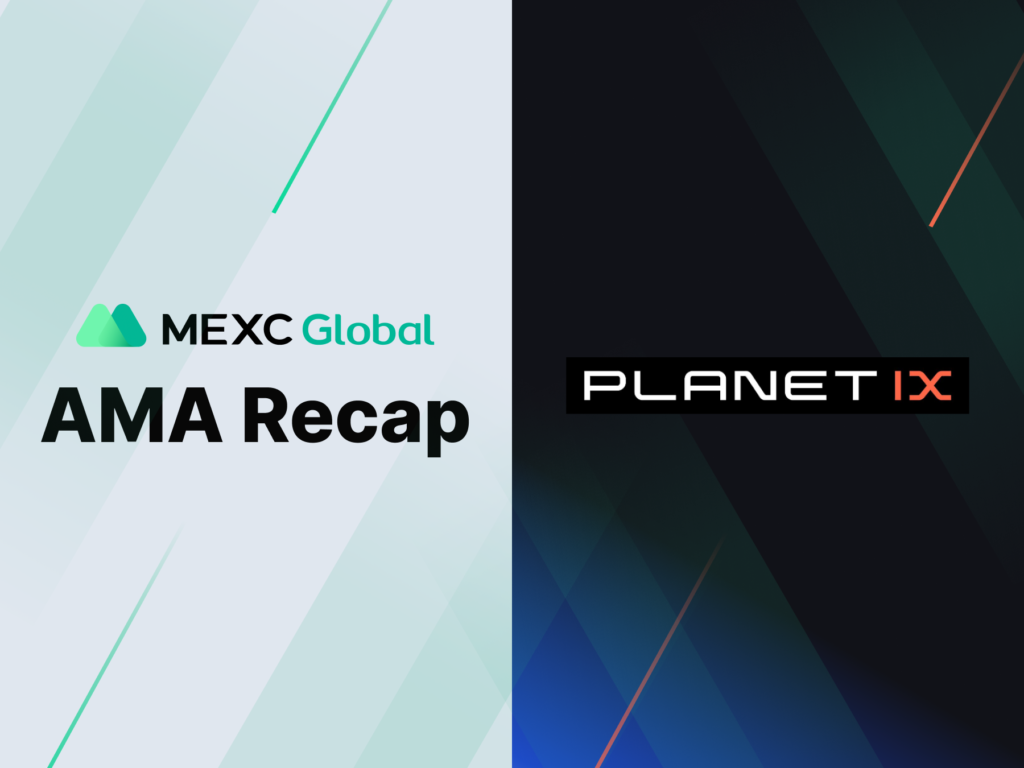 ntroduction:
Lucky : Hello 👋 @FabianYRE would you like to say hello and introduce yourself?
Fabian YR : Hello everyone and thanks for having me onboard MEXC team and community! As mentioned, my name is Fabian Ydmark Reich, I'm the chief commercial officer at Planet IX. Which means that I'm in charge of business development and commercial growth here. I have been actively involved in the crypto space since the start of 2017 and I'm very excited for the interesting developments we are seeing.
I truly believe that the gaming sector within Web3 is well on the way to disrupting the world and changing how users interact with each other, and that is why I joined Planet IX a year ago. Very excited to be answering your questions and bringin awareness to our project that was listed on MEXC yesterday!
Our website: https://planetix.com/mint
TG-EN: https://t.me/+fnORn4MI_WI1NDFk
Twitter: https://twitter.com/Planetix0
Questions from community:
Lucky Q1. What is Planet IX? Can you share with us more in detail?
Fabian YR : Planet IX is a GameFi strategy game, where the mission is to explore the world, collect NFTs, trade them on our Marketplace, challenge each other in Play-to-Earn games and reap rewards from various DeFi functionalities.
However, the game does not stop there. Your digital footprint in this environment will also create a sustainable real-world impact. NFTs are the lifeblood of our game and therefore basically all assets that revolve around our game mechanics are NFTs. These NFTs can either help you progress in the game, or become productive assets that yield rewards for those who are actively participating and playing the game.
The game sets out on a dystopian futuristic planet where the human race has returned after 400 years of circulating in space trying to find a new habitable planet. The game will unfold over a series of seasons, where our users (Agents of Change) need to control the landmass of the, which manifests itself in the form of hexagon shaped land NFTs called PIX.
After controlling the land, AoCs will need to rid the planet of toxic waste and substances in order for us to move into season 2. This is our first p2e element which will be incorporated in our brand new game mechanic that is released in a couple of weeks, called Mission Control.
You can read more about Mission Control here: https://blog.planetix.com/mission-control-the-free-to-play-and-play-to-earn-planet-ix-metaverse-2970c869142c
Lucky Q2. What triggers you to launch Planet IX? What are some of the real-world problems/ pain points that Planet IX aims to solve?
Fabian YR : Very good question, please allow me some time and I will give you thorough answer!
As a Web3 Project we can cater to all people of the world, regardless of race, religion, tradition, location and gender. Even if you are outside of the traditional banking systems, you can access our platform and participate. Our play-to-earn functionalities have enabled people from both low-income and high-income economies to earn rewards, sometimes even becoming financially independent.
As a Web3 Game we are decentralizing the gaming experience through true ownership of game assets (NFTs). Aside from traditional game studios where the company behind the game usually holds all the rights of controlling the game infrastructure. Instead, we transfer the ownership rights to our players and they can utilize their assets as they wish, be it that they sell it on secondary markets or develop their NFTs into productive assets that yield rewards.
Our game lore is also bringing awareness to the environmental impact of the human race on our planet, as we are focusing on the destruction that has been ongoing since the industrial revolution started in the mid 1800s. In our future game mechanics, we will also incorporate a way for users to contribute to real-life sustainability projects and also be able to track their contributions and donations towards whichever cause they are interested in.
You can read all about our game mechanics and future roadmap in our Whitepaper and on our blog!
Lucky Q3. What is the role of the $IX token in Planet IX ? Would you tell us more about its tokenomics?
Fabian YR : very important and good question as well, will try to give as much detail on that as possible below
The $IXT token is our in-game currency and the cornerstone in our tokenomics, it is a non-deflationary token with a fixed max supply that will be distributed over the course of 4 years since we went on-chain in November 2021.
We have decided to only use 1 ERC-20 token in the project and the rest of the in-game assets are either ERC-721 or ERC-1155s. IXT is the ultimate reward token for all DeFi functionalities we have available for our users. For example, when users are trading NFTs in our proprietary Marketplace, the marketplace fees that the smart contract collects goes straight back into community reward pools. Which essentially means that the more you actively participate in the game, the more you can earn.
Actually today, we are replenishing our Territory NFT staking pools with a very handsome payout structure, so all you AoCs in here – keep a lookout in your ix.foundation dashboard!
We are also working hard on the expansion of our IXT ecosystem, and one of our endeavors is of course to bring more awareness through partnerships with centralized exchanges, such as MEXC. We are very glad and excited to be on your platform and we are looking forward to working closely with you going forward ☺️
Lucky Q4. Are there any exciting news or updates with regards to Planet IX that you would like to share with the users ?.
Fabian YR : We have a lot of things upcoming! Let me share some key developments for you
To begin with we are consistently by far as the largest NFT contract on Polygon, you can see for yourself here: https://polygonscan.com/tokens-nft
Our community is extremely powerful which has enabled us to dominate the charts on user activity and holders, and we believe this will only continue to grow and expand as we are working away tirelessly to deploy new features and game mechanics to conquer the world. Currently sitting at 170k $IXT holders we are well on the way to our goal.
Our ambition is to onboard 1 million people to web3 and by doing so we are launching the biggest free2play layer in existence. We are combining money spent in game with time spent in game, and even if you do have several advantages through buying assets, we value the two equally important in order to keep scaling and maintain a sustainable tokenomics model for existing and new players.
When introducing Mission Control, that is just weeks away, we are enabling this and giving our players a clear, manageable overview of their assets. Today we are launching our Territory staking with over 2 million USD in rewards and next week we are releasing the staking of Landmarks, the NFT assets class that collects a stunning 100% of all marketplace commission fees. The future is DAO, decentralized governance and control and we have just started.
This is just a small fraction of all the things we have ongoing, again I would refer to following us on social media and our blog to stay up to date!
I also want to share this graphic with you to illustrate our immensity!
Lucky Q5. If you were to summarize your project in ONE word, what would it be?
Fabian YR : Wow, that's a tough one!
I would like to have 50 words to explain us, but let me give it an honest try!
Hmm.. Ok one word to describe us in our current state would be:
NEW
Well, because everything we do is NEW.
Explaining our game is hard. Because it's about blockchain, Web3, GameFi, decentralization, and tokenomics. Words that people don't always understand. And furthermore, it's a sci-fi game, taking place in the future, in space.
Actually, one word could also be insane. Because the project and what we are trying to do truly is. 😍
hope my answers were clear enough, and if not again I would encourage everyone to have a look at our channels to learn more from both our community and materials!
Free-asking Session
Q1. @FabianYRE Rugg pull is growing in NFT sector. Many projects just create buzz and then disappear with large sums of investor money. Can you explain to me what makes your NFT trustworthy? Which feature will your use to convince people that this is a genuine project and not a bubble?
Fabian YR :
I'll try to begin from the bottom, let's see how many we can get
This is very true @Adela_Biggs_24 and a big problem in the sector. All our smart contracts are audited and our team is doxxed so you know who we are and what we are doing. We have distributed over 10 million USD worth in Airdrops to our community over the past 6 months so I believe that we are showing our true intentions and you can also consult with other AoCs in our community to understand what we have developed and why. Also our extensive 76-page whitepaper should bring you some comfort and insight to the project!
Q2. Can you please provide me your official telegram group links and social media links? I have seen many similar groups
Fabian YR :
Please review our linktree for all our channels: https://linktr.ee/Planet_ix
Q3. Do you have a whitepaper? if yes please share it with us and secondly are you working to AUDIT your project, to make its security more secure and reliable?
Fabian YR :
Hi Ahmed! You can see our whitepaper and other stuff in here: https://linktr.ee/Planet_ix
Q4. Do you have tutorial videos so we can get to know your project more clearly or do you have a YouTube channel or something? can you share it with us?
Fabian YR :
Yes ofc, we have been working hard to actively educate both our community and newcomers. We will be releasing a flurry of interesting tutorials and walk-throughs to get people onboarded to Mission Control, but for the meantime you can get basic tutorials on our Youtube here:
Q5. What are the competitive advantages of your project? What advantages do you have over competitors? What would be your project secure most similar contender in the market today in terms of scalabilplan on utilising to pass your product onto the normal – especially non-crypto people?
Fabian YR :
Very good question and interesting one. As I said before we are transparent with our development and future plans, also our community is extremely powerful which I believe is something that we are not seeing in these current market conditions.
As we mentioned before we are on a mission to bridge non-web3-users through our gaming experience, and we are also working hard on trying to boil down all the different thresholds to make the transition in to our beautiful industry as smooth as possible.
Join our discord to find out more about us, and keep a lookout for AMAs and other events to listen in to and understand more about us.
You can follow me on Twitter: @FabianYReich
Also follow my colleague and our Head of Community: @ChrisPIX12
In order to stay up to date. For example we are hosting a Twitter Spaces next week!


Trying to find MEXC AMAs recaps?
It's easy! Explore them in a special section of our MEXC Global blog. Find insights for other recently listed projects on MEXC
Start your travel on MEXC Global