In this Telegram AMA recap, you'll find insights about the Megaton Finance (MEGA) project. In an event hosted by Sen Ho from MEXC, you will meet Jae, Platform BD Lead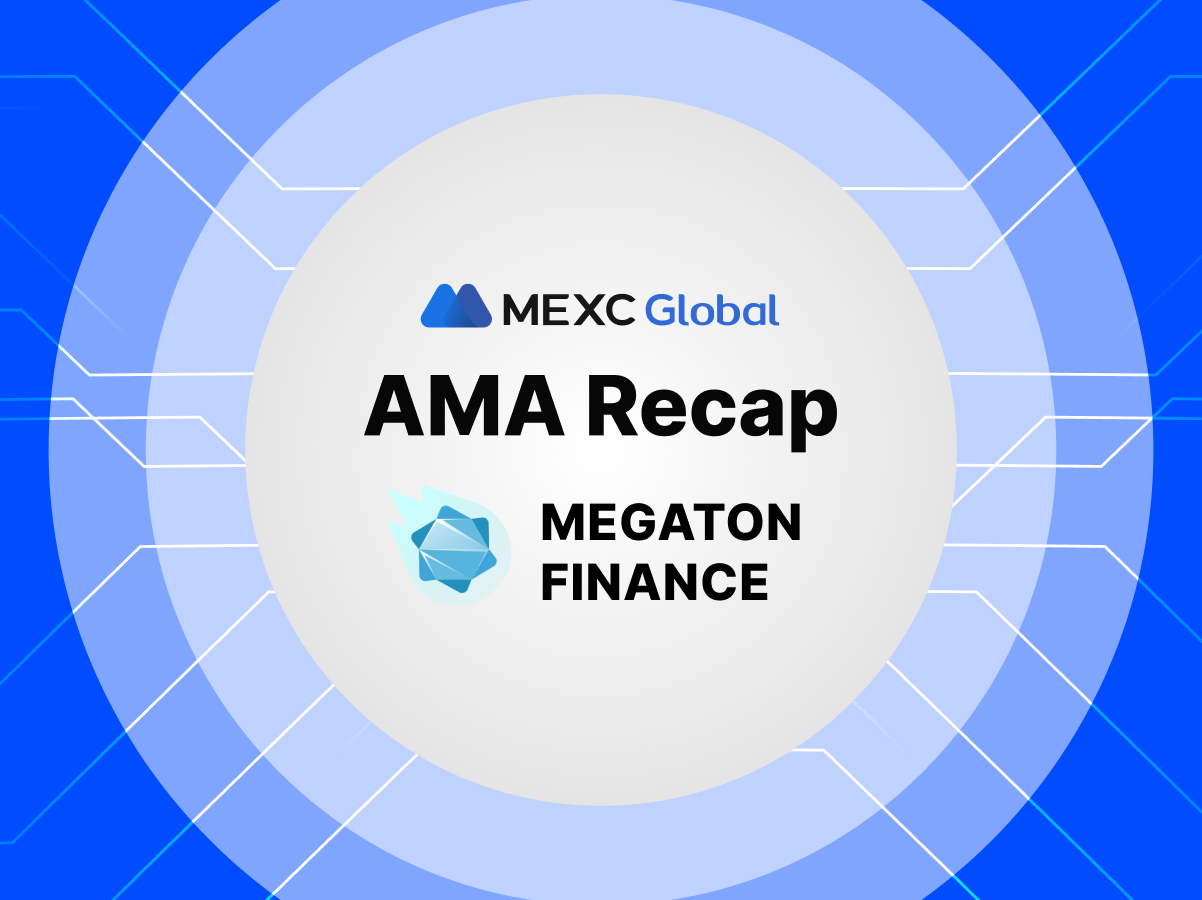 Introduction
Sen Ho: Today, we're honored to have Jae, Platform BD Lead in our community to give us a more intuitive introduction to their unique project.
Jae, would you like to say hello and introduce yourself? @present10
Jae: Hi MEXC community! I am Jae, the BD platform lead of the Megaton finance project at Ozys. I am delighted to be here with you today and would like to give you a brief introduction of our project "Megaton finance" and company OZYS. 😊
Ozys (https://ozys.io) is the leading blockchain developer in Korea, specializing in smart contract-based protocols. We have developed a public staking tool, a cross-chain bridge called Orbit Bridge, and AMM-based DEX protocols such as Klayswap on Klaytn, Meshswap on Polygon, and Megaton finance on TON mainnet.
Our team has gained a reputation with KLAYswap, which is currently the No.1 decentralized exchange on the Klaytn chain with over 1 million users and reached an all-time high TVL of $2.1 billion in 2021. Following this success, we launched Meshswap on Polygon mainnet last May.
At Ozys, we believe in the seamless trading of various assets across multiple chains without any future boundaries. Our ultimate goal is to contribute to the overall growth of the DeFi market. Therefore, we are excited to introduce Megaton Finance (https://megaton.fi/), the No.1 DEX in the TON mainnet, currently dominating 90% of TON mainnet TVL, and our governance token, $MEGA, to the MEXC community through AMA today. I hope that this session will be informative and valuable for you.
Questions from Community:

Sen Ho: 1. What is Megaton finance? Can you share with us more in detail? @present10
Jae: Megaton Finance is a leading autonomous financial protocol on TON, offering yield farming opportunities such as swaps and pair liquidity pool deposits, allowing users to earn interest (yields) using TON coin. And it is the first AMM-based TON mainnet DEX providing yields by protocol token beyond the trading fee.
Megaton Finance has 3 distinct characteristics in business goals.
Firstly, it aims to integrate with Telegram, the most widely used messenger among DeFi users, through the Chatbot function implemented on Telegram, embracing 700 million users. With this integration, we believe even only 1% of the Telegram users' onboarding to the TON mainnet will open the possibility of mass adoption. Ultimately, Megation Finance will be the gateway to acquiring millions of users.
And you can also check more details about TON & Telegram integration: https://cointelegraph.com/news/ton-telegram-integration-highlights-synergy-of-blockchain-community
Secondly, our strong relationship with the TON Foundation leads to the successful launch of the platform with more than 30 partners. And the diverse project collaborations including project token listing, the project's integration with Telegram in-app, co-marketing, etc are the key driving force to create greater synergy between Megaton Finance and TON ecosystem enrichment. 💪🔥
Finally, Megaton Finance is expanding its ecosystem through Orbit Bridge, which connects various networks beyond the TON ecosystem, allowing users to convert assets to multiple networks. Megaton Finance will play a key role in accelerating the strengthening of the TON ecosystem with the TON-supported Orbit Bridge (https://bridge.orbitchain.io/ Global Top 7 Bridge, Total volume $12.5B). It will open the global gateway to embracing not only multi-chain ecosystem users but also bringing the bluechip crypto assets like ETH, BTC, USDT, USDC, TUSD to solidify the foundation of the TON mainnet ecosystem. With the TON mainnet support on the Orbit Bridge, Megaton Finance is creating a gateway for entry into the TON ecosystem from other networks such as Ethereum, Klaytn, and Polygon.
👉 https://coinmarketcap.com/community/articles/638876c97acf9e394c6af43a/
Overall, Megaton Finance's strategy aims to foster explosive growth by targeting both the TON ecosystem and other networks, connecting with Telegram, and channeling all the value of this growth into its token $MEGA.

Sen Ho: 2. an you explain what TON(The Open Network) is and how the network is differentiated from other layers 1 blockchains?
Jae: Okay, allow me to provide an overview of TON (The Open Network). TON is a decentralized layer 1 blockchain backed by Telegram with a global messenger boasting 700 million monthly active users. And Toncoin, the native token of the TON blockchain, is also getting its attention to the recent update of the Telegram wallet function.
As of 2022, TON remains one of the few truly scalable blockchain projects, making it the most advanced blockchain project capable of processing millions and, if necessary in the future, tens of millions of true Turing-complete smart contract transactions per second. Since its inception five years ago, TON has evolved significantly and continues to be at the forefront of general-purpose blockchain technology. The effectiveness of the architectural approach proposed in the TON white paper has been further verified by the high performance proven in various testnets and mainnets based on the TON technology implementations developed over the past few years.
TON is a non-EVM blockchain and has an edge in design and implementation, making it the ultimate solution to meet the high expectations of developers and communities. TON's uniqueness is not limited to the blockchain itself; it has the potential to be integrated into various ways with Telegram Messenger, which boasts 700 million MAU. This is an advantage that does not exist in other blockchains. The TON ecosystem already has hundreds of chatbots and web apps, including wallets, bridges, mining, channels, chats, social networking, and gambling, among others.
For DeFi users, Telegram is an essential platform. The potential of the TON ecosystem is recognized as distinct from other chains. Within a week of the official launch of Megaton Finance, it became the no.1 DEX in the TON ecosystem. This means that the full potential of the TON ecosystem will be utilized in the future, gigantic contributing to the activation of the MEGA token. The relationship, connection, and integration with Telegram will present a new feature in the DeFi market. If blockchain technology continues to develop with the TON foundation, the TON ecosystem will explode.

Sen Ho: 3. What is the role of the $MEGA token in Megaton finance? And so, what about the tokenomics and utility?
Jae: $MEGA token serves as a powerful incentive for ecosystem participants to increase liquidity in Megaton Finance. It enables efficient distribution and value maximization of limited MEGA resources through token economics structures that offer liquidity-based transactions and financial opportunities. The total supply of MEGA is 100,000,000, with the majority supply allocated to Community LP, offering significant rewards to ecosystem participants. The initial MEGA volume was distributed marketing events, contributing to Megaton Finance's swift rise to becoming the top DEX in the TON ecosystem.
Megaton Finance's success is dependent on the community, and therefore, the LP reward volume is allocated the largest distribution portion. Integration with Telegram is also crucial as it means more users, which leads to the activation and value appreciation of MEGA. Upgrading from the v1 to the v2 model will introduce a lending, staking, and governance agenda voting system, turning MEGA into a true Governance Token that empowers users to exercise their rights and contribute to Megaton Finance's development.
$MEGA is distributed through ecosystem contributors such as liquidity pool providers in the current V1 and stakers in the near future v2 model. Presently, $MEGA serves as a governance token for Megaton Finance, with users receiving interest (yield) rewards for pair deposit services and more MEGA tokens will be given to MEGA-related liquidity pools. When the staking function is added, staking participants will earn additional MEGA rewards and can use MEGA to vote on the protocol's agenda. Ultimately, MEGA will serve not only as a pool deposit reward but also as a governance token for the AMM based DEX.

Sen Ho: 4. In such a competitive environment, what is the strength of Megaton Finance against the other protocols in TON?
Jae: Here are some our Megaton Finance factors:
1. High yields for liquidity providers 👩‍🌾:
Other AMM-based DEX players in TON ecosystem do not have their governance tokens, which can only offer a limited yield rate to users who deposit in Yield Farm, and consequently hinders greater user engagement. Megaton Finance overcomes this limitation by offering high incentives through $MEGA. This approach not only attracts more users to Megaton Finance, but also helps to retain them, and enhances the value of the $MEGA token.
2. Advanced Blockchain Technology 👨‍🔬:
Unlike other EVM blockchains, the TON blockchain is non-EVM and Megaton finance has been built from the ground by Ozys' core development team solely by us, no other project can fork our service. Thus, there is no risk of duplicating the same code by 3rd party. This team enables Megaton Finance to integrate various networks and provide users with diverse ways to utilize tokens. Ozys is committed to updating the v2 model in 2023 to ensure that Megaton Finance is self-sustaining and to give MEGA token a deflationary structure and governance identity to maintain and increase its value.
3. Multichain Token Economy via Orbit Bridge 🌉:
Through Orbit Bridge, users can activate their MEGA tokens by utilizing them in various DEXs, such as Megaton Finance, KLAYswap, and Meshswap. Unlike its competitors, the demand and utilization of MEGA tokens will further increase as they are used across multiple infrastructures.
4. Partners 🌐:
Ozys has forged strong partnerships with various organizations, which not only offer users various asset liquidity mining opportunities within Megaton Finance but also contribute to the demand for the MEGA token. By entering the TON mainnet through Megaton Finance, partners can publicize their projects on the global stage and build up exposure to Telegram users in the future. Entering the TON mainnet indicates that they can move away from their native chain and acquire users on other chains. By carrying out co-marketing activities that are directly related to project growth, external publicity, and user benefits, mid- to long-term growth and win-win growth between the project and its partners can be pursued. More partners will join Megaton finance, and we will continue to create synergy with them.
5. Various Token Trading 💎:
Megaton Finance stands as the leading AMMbased DEX on the TON ecosystem by providing users with a diverse range of trading options through the use of the MEGA token. This makes Megaton Finance an attractive option for users seeking a wide range of transaction environments, contributing to its potential for significant growth.
6. User-Friendly Protocol 😀:
Megaton Finance is renowned for its user-friendly interface, which is highly visible and intuitive compared to other DEX. This feature not only makes it easier for existing DeFi users to invest in Megaton Finance, but also helps new users understand the platform and design their crypto asset portfolios with ease.
In addition, the user guide is also available at Megaton finance white paper, so please check: https://docs.megaton.fi/guides/how-to-deposit-assets

Sen Ho: 5. We are also curious about the future direction of partnership. What partners will you collaborate with for the growth of Megaton Finance?
Jae: Given our experience and expertise, our business aims to connect fragmented blockchain ecosystems, and we are particularly interested in the TON mainnet with its high potential. Ozys has been researching the TON blockchain and shares the vision of web 3 mass adoption with TON foundation and TON incubator team, TEB. Our close collaboration with the TON foundation has helped strong backing on the Megaton Finance project launch along with TONcoin fund (main incubator and accelerator for The Open Network (TON)) supporting business networking with reliable official backers such as MEXC ventures, Cypher capital, ORBS, First Stage labs ., etc. 🦸‍♂️
And you can check its more details on the following link:
– https://coinmarketcap.com/community/articles/641956f70a1e31489dba54da/
Our vision is to facilitate seamless asset trading across multiple chains without any limitations, thus contributing to the growth of the DeFi market. And this partnership marks a significant milestone in Megaton Finance's growth and will serve as a crucial foundation for enhancing the value of our governance token, $MEGA. Our commitment to linking different chains with advanced blockchain technology led us to launch Megaton Finance earlier this year after a lengthy period of technology development.
Furthermore, we will keep working with diverse Blockchain project teams even outside the TON ecosystem to encourage them to join the TON ecosystem. For instance, we are exploring a partnership with 🕹P2E game companies that allow players to engage in games via Telegram directly.
Once the integration with Telegram is completed, we expect to see significant growth for Megaton Finance.
In the long run, more token projects will collaborate with Megaton Finance, as it can also create connections with Telegram users outside of the DeFi ecosystem. Thus far, we have entered into more than 30 partnerships, and we firmly believe that this simultaneous expansion will contribute significantly to the growth and development of the TON ecosystem
Free Asking Segment
Q1. @Mokbuljoleper‼️ – Security and anonymity are always prioritized by BlockChain projects in the development of project platforms and technologies. So, does you have any technological solutions or plans to enhance user trust in these issues?
Jae: Thanks for asking 👍
Security is the most important and biggest factor in the blockchain market as the importance of security is the same as protecting the user's assets. In our case, Since the establishment of Ozys in 2018, we have never been hacked, especially in the case of a bridge protocol, which has had many security issues, we are thoroughly securing them through continuous Audit.
Megaton Finance is also preparing for hacking issues through continuous auditing of a famous security company called Certik (https://www.certik.com/), as well as our long-time partner Theori (https://theori.io/) and we are also monitoring the users' reports to react immediately to the security.

Q2. Congrats @MOMIN214 🥂 – How can users stay updated with this project? Are there channels, including local communities where users can get the latest updates?
Jae: You can check out our community channels! Please don't forget to follow us!
– Website: https://megaton.fi
– Telegram (ANN in English):https://t.me/MegatonFinanceChannel
– Telegram (Chat in English): https://t.me/MegatonFinanceOfficial
– Twitter: https://twitter.com/Megaton_Fi
– Discord: https://discord.gg/Megaton
– Support: support@megaton.fi
– Medium: https://medium.com/Megaton_Fi
And we also prepare community channels for non-English speaking users a well
– Telegram (ANN in Korean): https://t.me/MegatonFinanceOfficialKor
– Telegram (Chat in Korean)https://t.me/MegatonFinanceOfficialKorea
– Discord: https://discord.gg/Megaton
– Whitepaper: https://docs.megaton.fi/v/ko/getting-started/megaton
And if you would like to explore TON ecosystem, you may also follow TON Community

Q3. @avnit123 Do you have any video tutorial so we can learn more about your project? Do you have a YouTube channel or something? Can you share it with everyone?
Jae: There is no YouTube channel right now, but we provide guides with text and images on DOCS, Medium, Discord, and Twitter. If you need a guide that users can understand more easily, we will consider creating a video guide. 🙏

Q4. @HUNDA70 – Almost 80% investors have just focused on price of token in short term instead of understanding the real value of the project. Can you tell us on motivations and benefits for investors to hold your token in long term?
Jae: Megaton Finance holds over 90% of the TON chain's shares, and the TON chain is the blockchain that has the strongest ties to Telegram. In the future, Megaton Finance will be developed to be used on Telegram so that even those without deep blockchain knowledge can easily navigate it.
Assuming there are 700 million active users, even if only 1% use Megaton Finance daily, that means 7 million people use the protocol every day. The figure is conservative, and Megaton Finance is expected to generate a higher user penetration and explosive volume of transactions in the future based on the experience of successfully operating KLAYswap on the Klaytn chain.
Ultimately, MEGA tokens will reflect all the value generated from this massive trading volume. The value of MEGA tokens will continue to rise, and MEGA token holders will play an increasingly important role in determining the distribution structure and operating policies of Megaton Finance. This is the reason why you should own MEGA tokens.

Q5. @alexcrypto45 – Can you list 1-3 killer features of this project that makes it ahead of its competitors? What is the competitive advantage your project has that you feel most confident about?
Jae: 1) Combination with Telegram & Offering Seamless User Experience
One of the biggest reasons why Megaton Finance was launched in TON is to provide a strong combination with Telegram & offering seamless user experience. The growth of crypto users is explosive, but the growth of web3 users is not up to this. This is because the entry barrier is too high for users to enter the web3 environment.
Our goal is to create an easy-to-use DeFi environment on Telegram, the most popular messenger. Connecting the Telegram wallet to Megaton Finance will create an environment where any Telegram users can trade through Megaton, and Megaton Finance will provide functions like swap, deposit, margin, and lending through
2) Highly Scalable Multi-chain DeFi with cross-chain bridge
In Megaton Finance, you can utilize assets from several heterogeneous chains and native tokens associated with the TON network. Telegram users can already utilize mainnet assets such as ETH, Polygon, BSC, and Klaytn. We will continue integrating the decentralized blockchain ecosystem into one and present an environment where assets from different chains can be easily handled.
Trying to find MEXC AMAs recaps?
It's easy! Explore them in a special section of our MEXC blog. Find insights for other recently listed projects at MEXC

Start your travel on MEXC