In this Telegram AMA recap, you'll find insights about the Lucretius project. In an event hosted by Iris from MEXC Global, you will meet Mero, CMO at Lucretius.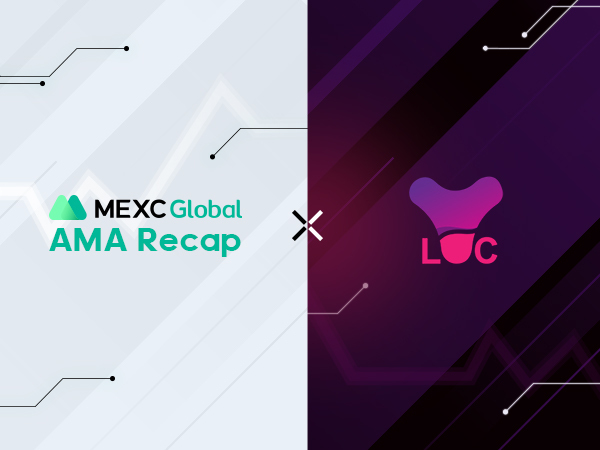 Introduction:
Hello everyone, my name is Mero and I'm CMO at Lucretius. It's a real pleasure to be here today. I'm so excited to talk to you guys about Lucretius and share some of our upcoming plans.
Questions from the community:
Question 1:
Iris: What is Lucretius? Can you share with us more in detail?
Mero: Lucretius is a fun-filled metaverse that has lots of exciting features and events for everyone regardless of their taste or preference.
Both crypto enthusiasts and non-crypto enthusiasts will enjoy an incredibly exhilarating experience in the Lucretius complex.
The complex is a massive structure comprising twenty-seven unique NFT shops, concert and event halls, a general trading and meeting area, a dating section, an art gallery, an exhibition hall, and a general area where users can play a lot of Play To Earn (P2E) games and other entertaining activities.
Users can play different types of games, attend various crypto and non-crypto events such as music concerts, and Ask Me Anything (AMA) sessions, and enjoy a fulfilling virtual life.
Lucretius also has a lot of Decentralized Finance (DeFi) components that players can use to earn money while they have fun.
Players can earn passive income in cryptocurrency by buying shops, houses, cars and other forms of investments in the complex.
Question 2:
Iris: What triggers you to launch Lucretius? What are some of the real-world problems/ pain points that Lucretius aims to solve?
Mero: The inspiration is to create a digital world where anyone can enter into to have fun and meet with other adventurous people from all over the world.
So, we designed Lucretius to simulate the real world in astonishing detail.
Users will enjoy a fully immersive experience that will mirror their real-life activities.
Also, we are creating lots of salaried jobs for our users.
These jobs will be a reliable source of income for our users and we believe that this will help us make the most powerful impact in the real world.
Question 3:
Iris: What is the role of the $LUC token in Lucretius? Would you tell us more about its tokenomics?
Mero: The Luc token is the lifeblood of the Lucretius complex.
It is our native currency and means of payment that players can use to acquire in-game assets,.
It is also a medium of exchange that players can use to trade in-game assets, other NFTs, and tickets for the various concerts and events inside the Lucretius complex.
To investors, the $LUC is part-ownership of the Lucretius Complex and a store of value that will appreciate with time.
The total supply of $LUC is 1,000,000,000 tokens.
The $Luc token is currently listed in four exchanges. They are MEXC, Bitrue, ProBit and XT
We are also working hard and negotiating with several other exchanges to get listed.
Iris: 🔥quick access to buy LUC on MEXC: https://www.mexc.com/exchange/LUC_USDT
Question 4:
Iris: Are there any exciting news or updates with regards to Lucretius that you would like to share with the users?
Mero: Absolutely!!!
We recently released an update for the Lucretius website. We uploaded some exciting mini Play-To-Earn games that players can use to earn points and $LUC tokens
We are holding weekly and monthly draws on our website where players and other active members of the community can win lots of prizes.
There is a countdown on our website lucretius.games for the weekly draw
We also have the Lucretius holders airdrop event on the way. We are rewarding our token holders tokens depending on how many tokens they are currently holding.
The snapshot was done yesterday and distribution will commence on 16th June.
We are also running staking programs for the community to earn LUC tokens.
Staking rewards will be between 80-120% APY depending on the volume of tokens staked and the lock period.
We are working hard behind the scene to bridge our token with other blockchain networks. We will a formal announcement and share more details once the plan is confirmed.
Let me not forget our Burning Mechanism Partners BMP program that we also recently started.
This is a reward mechanism for active members of the community and our other partners.
The BMP list will comprise some categories of users
It will contain our top-100 holders each month,
Our Lucretius Ambassadors
Our solid supporters (active followers on our social media platforms)
Our solid players (those that are very active in our mini-games)
Our tournament winners and other citizens of the Lucretius complex.
Our plan is to distribute two million $LUC tokens to BMPs over a six-month period from July to December 2022.
The Lucretius Burning Mechanism Partners (BMP) is already in full gear.
Solid supporters list is already on our Twitter. We put it up yesterday
We also announced our first two Lucretius ambassadors yesterday on our Twitter @LucretiusNet
We are looking to partner with more ambassadors so please feel free to send us a DM on Twitter @LucretiusNet
Question 5:
Iris: If you were to summarize your project in ONE word, what would it be? Why?
Mero: One word
That would be Exciting!!!
I chose exciting because it captures the vision and mission of the Lucretius complex.
Free-asking Session
Q1. Can you share your social media links so we can keep ourselves updated?
Mero:
Here are our links.
Twitter: https://twitter.com/LucretiusNet
Telegram: https://t.me/LucretiusNet
Website: Lucretius.games
Discord: https://discord.gg/cAUTuGtq
Q2. Currently from where I can buy? Is it possible that I can get it only by holding it?
Mero:
You can buy $LUC tokens here https://www.mexc.com/exchange/LUC_USDT
Q3. Ambassadors play a very important role in every project, Do you have an ambassador program? If yes, how can I be one?
Mero:
We recently launched our ambassador program.
Please send us a DM on Twitter to apply.
Q4. Is your project only for elite investors, how about others with small funds, is it open to everyone?
Mero:
Lucretius is for everyone.
We designed it so that you don't need huge funds to participate.
You can either buy LUC tokens you can afford on https://www.mexc.com/exchange/LUC_USDT
Or
You can earn LUC tokens by playing the mini-games on our website.
You can also participate in our giveaways, contests, and staking programs to increase your earnings.
Q5. What is the most ambitious goal of your project? Could share with us any Upcoming Updates?
Mero:
To become a second home for all our players where they can play a wide range of games, connect with their friends from all over the world, attend life-changing events and generate reliable income while at it.
We plan to become the best metaverse project in the world.
Trying to find MEXC AMAs recaps?
It's easy! Explore them in a special section of our MEXC Global blog. Find insights for other recently listed projects at MEXC like Lucretius.
Start your travel on MEXC Global