In this Telegram AMA recap, you'll find insights about the Single Finance project. In an event hosted by Miranda from MEXC Global, you will meet Single Finance Token Project CFO.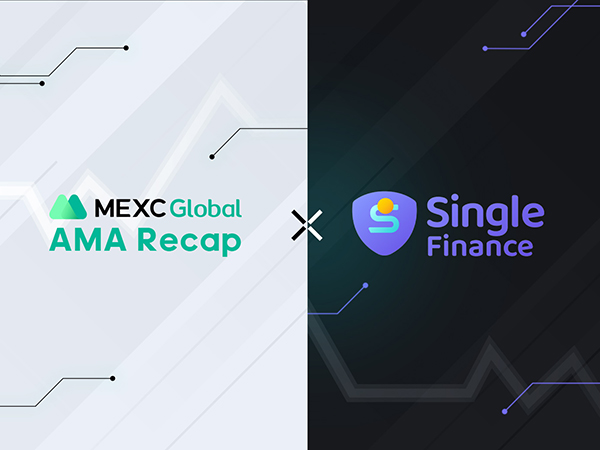 Introducing MEXC AMA member form Single Finance (SINGLE):
Hello everybody! Thank you so much, MEXC Global, for having us here today. Thank you everyone for your interest in Single Finance Token Project. I am the Chief Farming Officer, aka CFO, of Single Finance Token. I will try my very best to share with you the exciting development of Single Finance.
Questions from community to Single Finance:
Question 1:
Miranda: can you tell us what is Single Finance in detail?
Single Finance CFO: Sure. Single Finance is a super intuitive platform for all your Defi investments minimizing correlations to the general market. Everything here is worked out from your injected capital in USD. Everything is visualized. And everything is within your fingertips.
Single Finance is the first DeFi protocol offering USD-based capital-protecting strategies for leveraged yield farmers. We help keep your leveraged yield farming positions safe and stable by protecting your principal with our strategies. We track your performance based on your principal marked to USD, ensuring that both of us know your profits well.
We are also the first to introduce a historical performance tracking database to help you pick your favorite liquidity pairs with quantitative metrics. And we charge performance fees only when you are making money, again, based upon your principal in USD. We are the same team, on the same boat.
Miranda: Definitely something I am gonna need!
Question 2:
Miranda: What triggers you to Single Finance? What are some of the real-world problems/ pain points that Single Finance aims to solve?
Singlecfo: Our project began with a bad experience with existing leveraged yield farming facilities when one of our founders was farming a pair at 3x leverage but suffered a flash loan attack and thus the platform locked all actions. When the asset price changed more than 50% within a few minutes, we got liquidated and lost 105% of our capital from the position. We thought we could have at least gotten half of our capital back, since we monitored the position very closely. Even though we had stared at the screen every minute, our effort was in vain – thanks to the platform policies and extreme volatility.
Miranda: that's terrible☹️
Singlecfo: Motivated by this brutal experience, we started to envision a new platform with high APY plus maximum drawdown. Most importantly, it would be a platform where farmers wouldn't have to monitor the market and do all the complex yet time-sensitive stop-loss procedures manually, with more accurate indicators to reflect the true profits & losses of our positions. At the end, our vision grew and flourished to become the Single Finance platform, providing different Single-Click Strategies of leveraged yield farming to achieve targeted return and manage risk exposure.
Thus, Single Finance was born, offering a human touch to the DeFi world by helping leveraged yield farmers with innovative marked-to-USD capital-protecting strategies and sophisticated historical performance metrics.
Pain points that Single Finance aims to solve:
1.Single Click Pseudo Market-Neutral Strategy to minimize impermanent loss
Single Finance is bringing a human-centric, ultra user-friendly experience and capital protection to DeFi, helping everyone earn more money with ease of mind. The primary goals of both new and experienced farmers are simple: to earn high yields without suffering too much impermanent loss or being liquidated in a flash. Single Finance users can simply supply assets and enjoy our pseudo market-neutral liquidity mining strategy with just a single click.
2. Marked-to-USD Capital Protection Bot
The best thing about Single Finance Token Project is that everything is marked to USD. Not only is APY worked out in USD, but our capital protection mechanism is also based on your initial investment principal valued in USD. Therefore, Single Finance strategy users won't lose more than 15% of their capital in USD, as their capital is protected by a capital-protection bot and a rebalancing bot. Just pick your favorite liquidity pairs and leverage exposure on Single Finance, and our bots will handle the rest to keep your capital safe and your sleep tight.
3. Liquidity Pool Time Machine
This groundbreaking feature provides real return performance data, including trading fees, DEX reward tokens and value changes due to price impact, to help users pick their winning pairs. Time Machine also allows users to compare the performance between farming a liquidity pair versus farming the non-stablecoin asset of the same liquidity pair.
Question 3:
Miranda: Next can you tell us the role of SINGLE Token in Single Finance and also more about its tokenomics?
Single Finance CFO: Sure! The SINGLE token has four main utilities:
Decrease the performance fees.
Increase the mining rewards.
Access exclusive single-click strategies that provide higher returns and lower risks.
Claim our exclusive NFT in a limited period.
Tokenomics: Total supply of SINGLE tokens is 1,000,000,000 (1 billion).
Mining Reserve: 40% (400,000,000 SINGLE) will be reserved for mining Rewards of lending and leveraged yield farming; Minting starts from the product launch day; Mint all within 3 years with a half year halvening mechanism.
Partnership & Ecosystem: 22.3% (223,000,000 SINGLE) will be reserved for paying strategic expenses including listing fees, audits, marketing fee and extra rewards for ecosystem and partners, etc, mint all tokens and vest 5% of the minted tokens at TGE day and lock one month til product launch day. Vest the rest of the minted tokens within 2 years.
Team: 22% (220,000,000 SINGLE) will be reserved for continuous development, mint all and vest 1% at TGE day and lock one month till product launch day. Vest the rest within 2 years.
Liquidity Pool: 2% (20,000,000 SINGLE) will be reserved for expanding Liquidity Pairs across different AMMs/DEXs. Mint and vest all tokens at TGE day.
Seed & Private Sales: 10.7% (107,000,000 SINGLE) will be reserved for providing initial liquidity and bootstrap fees. Mint all tokens and vest 10% of the minted tokens at TGE day. Vest the rest of the minted tokens per 3 months within 1 year.
IDO: 1% (10,000,000 SINGLE) will be reserved for lending pool assets to bootstrap our strategy. Mint all tokens at TGE day and vest all to IDO participants at IDO day.
Advisors: 2% (20,000,000 SINGLE) will be reserved for Single Finance Advisors. Mint all tokens and vest 10% of the minted tokens at TGE day. Vest the rest of the minted tokens per 4 months within 2 years.
Question 4:
Miranda: Next maybe you can share with MEXC community users about some exciting news or updates with regards to Single Finance?
Single Finance CFO: Answer: Of course. Basically we are on track with our roadmap hitting all milestones all the way. And we are glad to share with you some of the latest developments and a bit more detail of our Single-Click Strategies and Liquidity Pool Time Machine.
1. Listing on MEXC at 20/1/2022 utc+8 18:00 and also tons of airdrop events with MEXC users!
2. Our 1st Single-Click Strategy: Pseudo Market-Neutral Strategy
Single-Click Strategy, as the name suggests, is a useful strategy that can be implemented with a single click on the mouse. We aim to provide various useful Single-Click Strategies, the first Single-Click strategy being the Pseudo Market-Neutral Strategy: it aims to achieve the highest possible return while minimizing impermanent loss by borrowing a certain amount of non-stablecoin assets. When using Pseudo Market-Neutral Strategy, you can only use it with liquidity pairs made up of one borrowable stablecoin and another borrowable asset. In execution, our strategy vault borrows an amount equal to the quantity of non-stablecoin assets in the liquidity pool. Therefore, our strategy will begin with a delta-neutral position.
Our vision and advantages would be using automatic bots with more smart strategies to help farmers earn stable high yield with maximum drawdown.
Under this strategy, users can increase return by increasing leverage, or simply choose the leverage exposure they are comfortable with, and all positions will be rebalanced automatically with one single click, beginning with a delta-neutral position.
Miranda: mark on this guys! 20/1/2022 utc+8 18:00
Singlecfo: 3. Liquidity Pool Time Machine launch around NEXT WEEK!
Liquidity Pool Time Machine collects all historical data from full index nodes of all EVM-compatible chains. By doing so, it presents the full breakdown of annualized P&L, including LP rewards, DEX reward tokens, and value change due to token price impact. Notably, it is also the first database to record such performance data in the DeFi world, and the Single Finance team will continue to provide different LP earning metrics to help you pick the best pairs.
Question 5:
Miranda: If you were to summarize your project in ONE word, what would it be? Why?
Singlecfo: SINGLE! Our project was called Single for a reason.
First of all, just like what we have talked about, we envisioned a world where everything would be so simple, all done with one SINGLE click, that all your crypto, DeFi stuff would be well taken care of. And we are getting there. We have the product ready.
And we can't wait to get it launched such that all of you, every SINGLE one of you, can join the journey with us. With just one SINGLE click, and your positions are set. And we are working hard on expanding our SINGLE strategies to cover more and more chains, making our SINGLE Finance protocol the SINGLE platform you will ever need to manage your leveraged yield farming positions.
And don't forget that by holding SINGLE tokens you are also shaping the future of SINGLE, which in turn is also shaping the future of DeFi. So you see, just by getting onboard with us here at SINGLE, it is basically the SINGularity, the SINGLE biggest thing at this very moment that you can take part in that's going to change not only your world, but also the places out there in the whole DeFi universe.
Free-asking Session to Single Token Project
Q1. Regarding the safety and security of your platform what are the security measures adopted and have you done any audit of smart contracts?
Single Finance CFO: We have done our first audit with Certik (Certik will upload the report to their site soon), and we will get our second audit done in Q1 2022! Our engineering team has extensive experience in cyber security and they will work closely with different audit companies to improve our project security down to each line of code.
We cannot overstate the importance of safety and security to us, so we are providing the following features to ensure assets are safeguarded on our platform:
Oracle Guard – When the on-chain price of an asset in your farming pair differs by more than 10% from the median of a batch of off-chain oracles we verify with, the Oracle Guard enters Protection Mode, disabling liquidations and opening/closing positions to protect you from trading at bad prices and taking an unfair loss.
Multi-signature on owner wallet – We will implement Multi-signature contract to protect our owner address in case one of our wallets suffers an attack attempt.
Reentrancy attack prevention – All important functions employ OpenZeppelin ReentrancyGuard library to prevent Reentrancy attack.
Q2. Can you share some Details about Recent Major Achievements done by your project? Also, what are the Future Roadmap & Targets of your project?
Single Finance CFO: All tasks in Q4 2021 were finished on time and here is our roadmap for 2022!
Q4 2021
Submit smart contract codes to Certik for security audit
Deploy MVP on Cronos and Avalanche Fuji testnet
Complete user interface for single-click strategy
Develop cross-chain support for token contracts and core minting logic
Build our own index nodes and develop the core logic of LP Time Machine
Q1 2022
Launch LP Time Machine with chain data of Cronos and Avalanche
SINGLE token launch
IGO on VVS.finance
CEX-MEXC listing (TBC)
Launch single-asset lending and staking vaults for CRO, VVS, USDT, and USDC
Launch a pseudo market-neutral strategy for CRO/USDC, VVS/USDC, VVS/USDT, and SINGLE/USDC
Complete audit with Certik
Q2 2022
LP Time Machine: Ethereum and Binance Smart Chain chain data support
Additional CEX listing
Integrate with additional DEXs to support single-click strategy on new pools
Launch cross-chain bridge
Launch manual re-balancing feature for single-click strategy
Partner with more protocols to expand our ecosystem
Q3 2022
Launch dashboard for portfolio analysis
Launch single-click strategy on more chains
Introduce auto-balancing feature for single-click strategy
Additional CEX listing
Integrate with additional DEXs to support single-click strategy on new pools
Q4 2022
Implement Governance
Integrate insurance coverage
Implement cross-chain single-click strategy
Introduce more market-neutral strategies
Integrate with additional DEXs to support single-click strategy on new pools
Q3. Do you have any plans to attract non-crypto investors to join your project? Because the success of a project attracts more investors who haven't yet entered the crypto world. What are the plans to raise awareness about your project in the non-crypto space.
Single Finance CFO: That's exactly why we choose Cronos as our home chain. Cronos is the EVM chain running in parallel to the Crypto.org Chain. It is not only super easy-to-use, but at the same time faster, cheaper, and greener when it comes to executing smart contracts.
With access to the 10M+ user base of the Crypto.com ecosystem, Cronos acts as the ambassador introducing all CEX users to the DeFi world. Here at Single Finance we share similar visions with Cronos. We hope to make good use of the ecosystem Cronos offers, welcoming all existing CEX users to DeFi with Single Finance, one of the most intuitive DeFi protocols in the world.
Looking for more MEXC AMAs?
Explore recaps in a special section of our MEXC Global blog. Find insights for recently listed projects and helpful information for you!
Start your travel on MEXC Global